Emmy Rossum Became Infatuated With Filmmaking While Directing Shameless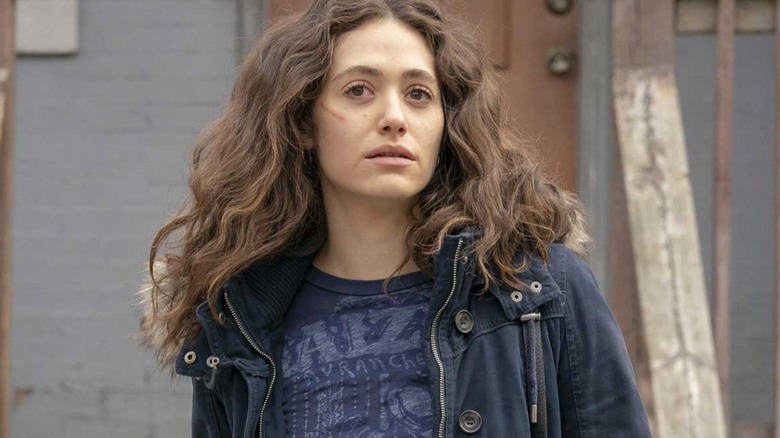 Showtime
After appearing on the big screen in "The Day After Tomorrow" and "The Phantom of the Opera," Emmy Rossum spent the vast majority of the 2010s playing the lead role of Fiona Gallagher in "Shameless." Fiona is the eldest daughter of Frank Gallagher (William H. Macy), an irresponsible single father who has shifted most, if not all, of the burden of raising his five other children onto her. The Showtime dramedy series concluded in 2021 after a lengthy 11-season run. Rossum left "Shameless" after Season 9, in order to pursue other creative endeavors. 
Upon announcing her departure from the show, Rossum admitted that the time spent with its cast and crew had greatly expanded her skillset, and made her truly feel like a part of a large family, much like her character in the series. Not only did she improve as an actress, but she also got the chance to grow as a writer and director. "Shameless" fans are undoubtedly aware of the fact that Rossum directed two episodes of the hit series before departing in 2018, and to hear her tell it, that experience ignited her passion for the process of filmmaking. 
Directing 'put it all into perspective' for Rossum
After her first stint in the director's seat for "Shameless," Emmy Rossum shed some light on the way the experience affected her, both personally and professionally. "I became infatuated with the whole process," Rossum said in a 2016 interview with Variety. She went on to add, "Getting to see the real struggles and the day to day happen and the setbacks and going through casting tapes ... It really put it all in perspective for me." 
Rossum was also engaged to Sam Esmail at the time, the director best-known for being the mastermind behind "Mr. Robot." When asked about whether she received any tips from him, she replied, "The best advice he gave me was [to] be prepared that everything will go wrong. And just to not freak out." As it turned out, Esmail's advice was on point, as many things didn't go Rossum's way during the directing process. In the end, though, her directorial debut on Season 7, Episode 4 of "Shameless" turned out just fine. 
Rossum directed another episode of the Showtime dramedy in Season 8, and hopefully those two entries in her directing portfolio will open up new opportunities in the future. The actress has certainly kept busy since "Shameless." Most recently, she took up the leading role in Peacock's "Angelyne."