Family Guy Voice Actors You May Not Know Passed Away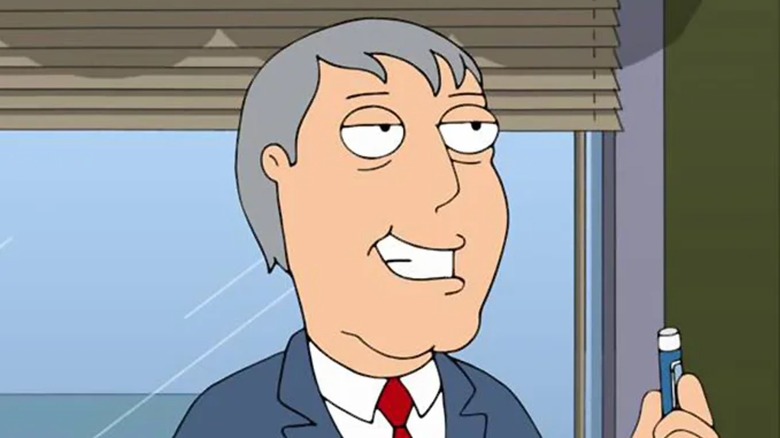 Fox
Despite being canceled multiple times and embroiled in a series of controversies, "Family Guy" has become one of the longest-running animated shows in history. Since its debut in 1999, the show has been on the air for some 21 seasons and has broadcast more than 400 episodes. Created by Seth MacFarlane, it has a core cast that includes MacFarlane, Alex Borstein, Seth Green, and Mila Kunis playing the various members of the Griffin family.
Due to the fact that "Family Guy" often makes references to popular culture and has been on the air for so long, it has included a wide array of guest stars over the years. Many of them have had recurring roles, while others only appeared once or twice throughout the history of the series. Unfortunately, this also means that some people who voiced characters in "Family Guy" have passed away.
Although you may not recognize their names or faces, "Family Guy" fans may well be familiar with the voices of these actors. Here are some of the voice actors from the show that you sadly won't get to hear from anymore.
Florence Stanley (Thelma Griffin)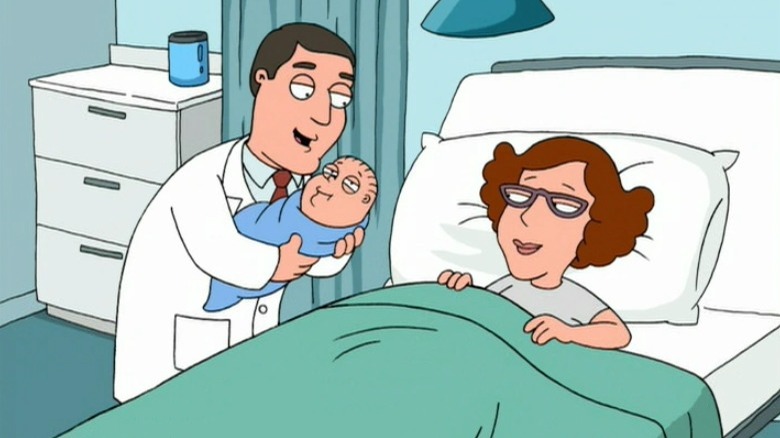 Fox
Florence Stanley first portrayed the character of Thelma Griffin in the Season 2 episode "Holy Crap." Thelma is the mother of Peter and is shown to love smoking and gambling in Las Vegas. Despite being Peter's mom, she has a strained relationship with him and rarely visits. In fact, she isn't mentioned very often by the Griffin family and does not appear in another episode of the animated sitcom until Season 4, although she doesn't have a speaking part.
Stanley was a successful stage and screen actor who rose to prominence with roles in several sitcoms. These included "Barney Miller" and its spin-off "Fish" along with Nurses" and "My Two Dads." No stranger to voice acting, she had a role in the Disney animated film "Atlantis: The Lost Empire" and reprised the role in several other Disney projects. She died on October 3, 2003, after suffering from a stroke. Following the death of Stanley, Thelma continued to appear in "Family Guy" and the voice actor was replaced by Phyllis Diller in the Season 5 episode "Mother Tucker." 
Robert Loggia (Himself)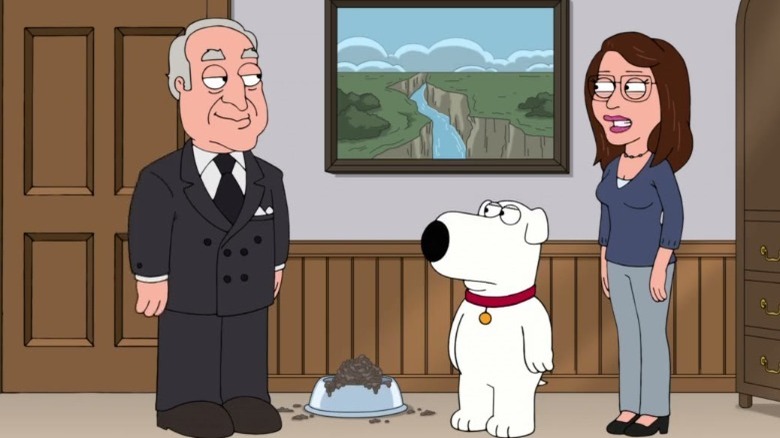 Fox
A fictional version of Robert Loggia first appeared in "Family Guy" in the 2007 episode "Peter's Two Dads." Voiced by John Viener, the character holds Peter up at the airport as he is attempting to fly to Ireland to find his real father. During Season 9, the character appears again in "Brothers & Sisters," this time actually voiced by Robert Loggia. He shouts out to complain about an AIDS joke, revealing his distaste for the attempted humor. Loggia later appeared in "Call Girl" while the character returned with a different voice actor in "Who's Brian Now?"
Loggia was a well-known actor who had been active in Hollywood since the 1950s. He appeared in several "Pink Panther" films and "The Greatest Story Ever Told." He received critical acclaim for his performances in "Jagged Edge" and "Big" in the 1980s and went on to star in the likes of "Independence Day" and David Lynch's "Lost Highway." In more recent years, he had small roles in "Malcolm in the Middle" and "The Sopranos." After being diagnosed with Alzheimer's disease in 2010, Loggia died on December 17, 2011, at the age of 85.
Lauren Bacall (Evelyn)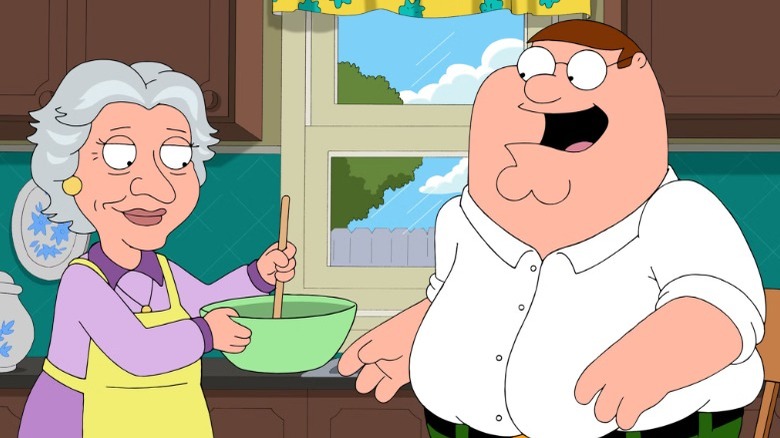 Fox
Actor and model Lauren Bacall voiced a character in a single episode of "Family Guy." She played the character Evelyn in "Mom's the Word" during Season 12. Evelyn is a friend of Peter's mom Thelma and meets Peter when Thelma passes away. Things soon get awkward, though, when she kisses Peter, who begins to develop feelings for her. The pair eventually reconcile but Peter accidentally kills her by snapping her spine when they hug, making it her first and only appearance in the series.
Bacall rose to fame as a model but quickly made her film debut and then had leading roles in movies such as "To Have and Have Not," "The Big Sleep," and "Murder on the Orient Express." She also had minor roles in series like "The Sopranos." Her role in "Family Guy" was her final ever screen credit, although she had appearances in a number of movies and television shows in the years preceding that, including "The Forger" and "All at Sea." Bacall died on August 12, 2014, just a few weeks before she turned 90, from a stroke.
Waylon Jennings (Himself)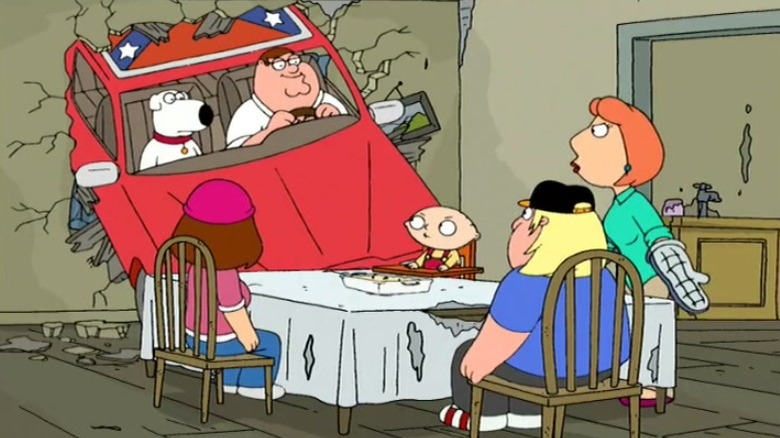 Fox
Musician and actor Waylon Jennings had two early appearances in "Family Guy" before his death. He first provided a voiceover in the third-ever episode of the animated series, narrating a fight between Peter Griffin and someone who tries to steal his watch from a claw crane game. He reprised a similar narrator role in Season 3 for the episode "To Love and Die in Dixie." After Peter and the rest of the family move to the South, he attempts to fit in by painting his car to look like the signature vehicle from "The Dukes of Hazzard" television show. Jennings gives a voiceover as the character flies through the air after driving over a ramp.
This proved to be Jennings' final television appearance. He died on February 13, 2022, due to complications from diabetes, a disease he was diagnosed with years before. He will probably continue to be known for performing in his bands, such as The Waylors, and helping popularize the outlaw country genre. He also provided the theme song for "The Dukes of Hazzard" and for many years acted as the narrator for the show.
Charles Durning (Francis Griffin)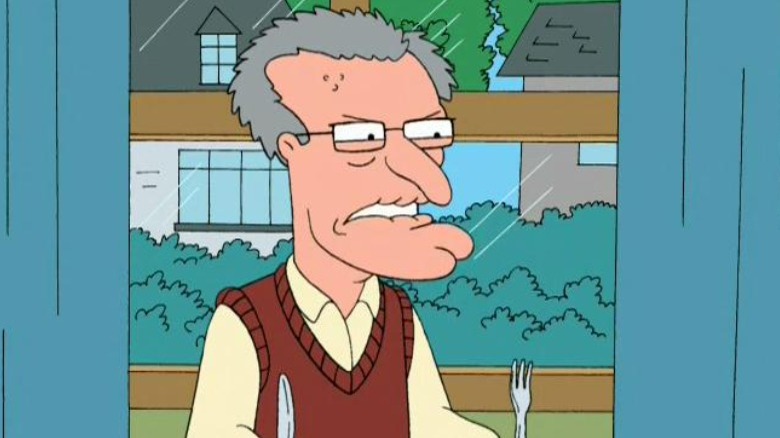 Fox
Having appeared in five episodes of "Family Guy," Charles Durning is one of the few recurring guest stars who have played the same character multiple times in the animated sitcom. He was responsible for providing the voice of Francis Griffin, Peter's adoptive father and the husband of Thelma Griffin. The character disliked Peter and was very strict due to being a devout Catholic. He was eventually killed by mistake when Peter fell on him at Meg's birthday party in "Peter's Two Dads" during the fifth season, when it was also revealed that he was not Peter's biological father. Yet, he would continue to appear in "Family Guy" as a ghost, notably disapproving of Lois' Jewish heritage.
With an extensive career in movies and television, Durning is probably best known for his work in films such as "The Muppet Movie," "The Sting," and "Dog Day Afternoon" in the 1970s. He also had a role in the 1990 film "Dick Tracy" as a police chief who allies with the titular character. The actor died on December 24, 2012, at his Manhattan home, with reports revealing he had died of natural causes. He was 89 at the time of his death. 
Ricardo Montalbán (Mr. Cow)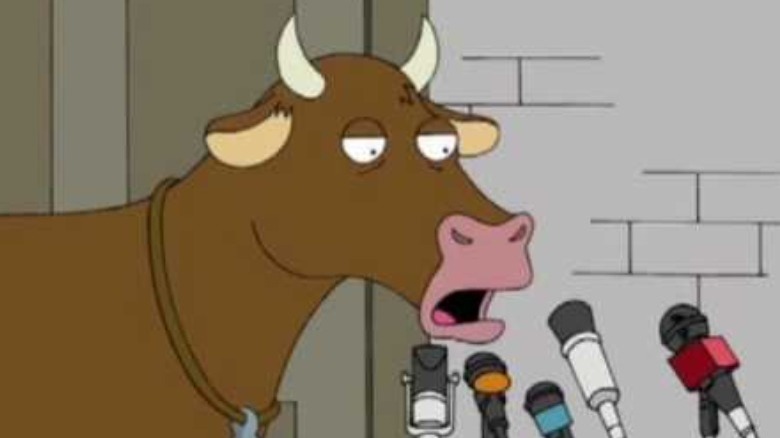 Fox
Actor Ricardo Montalbán voiced a central character in the 2008 episode "McStroke" from Season 6. The story sees Peter have a stroke after eating a lifetime supply of burgers from a fast food restaurant given to him as a reward for saving the owner of the establishment from a fire. When he and Brian seek revenge on the company, they investigate a slaughterhouse and come across a genetically engineered cow that can talk. Mr. Cow works with the pair to expose the slaughterhouse and, once free, asks the Griffins if he can live with them, though they decline due to his large size and the fact he is a cow. Montalbán also had a live-action appearance in the episode "Lottery Fever" as edited footage from "Star Trek II: The Wrath of Khan" is shown that features him as Khan Noonien Singh.
As previously mentioned, Montalbán also played Khan in the "Star Trek" franchise, appearing in the original series in 1967. He played a leading role in the "Planet of the Apes" franchise and had significant parts in television shows such as "Fantasy Island" and "How the West Was Won." His "Family Guy" role turned out to be one of his last, with the actor dying on January 14, 2009, at the age of 88 from congestive heart failure.
Roy Scheider (Himself)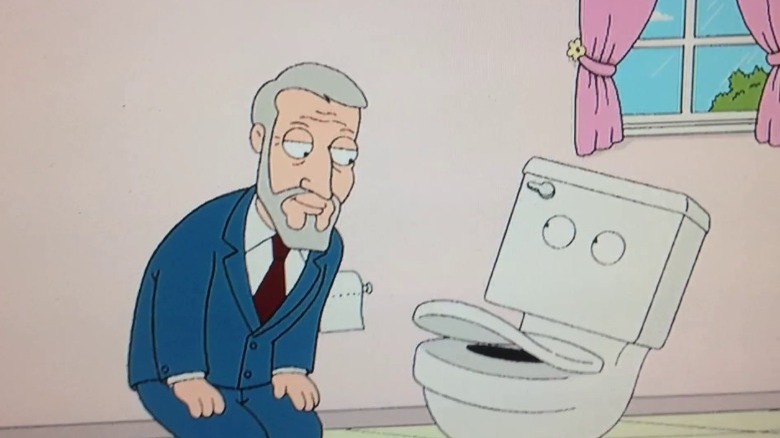 Fox
Roy Scheider first appeared in "Family Guy" in 2007 when he voiced a fictional version of himself in "Bill and Peter's Bogus Journey" as part of an educational video about using the toilet. During the scene, he interacts with an anthropomorphic toilet voiced by Seth MacFarlane, as Brian tries to learn what to do when using a human toilet. He then lent his voice in the episode "Three Kings" in 2009, which was released posthumously and also featured his "Jaws" co-star Richard Dreyfuss.
The actor had a long and varied career, working on films such as "2010: The Year We Make Contact" and "Marathon Man" as well as playing Chief Martin Brody in Steven Spielberg's thriller "Jaws" in 1975. He also played a serial killer in an episode of "Law & Order: Criminal Intent" during the show's sixth season. Scheider's role in "Family Guy" was his final television appearance before his death in 2008 at the age of 75. He died on February 10 in an Arkansas hospital after being diagnosed with multiple myeloma several years previously.
William Woodson (Narrator)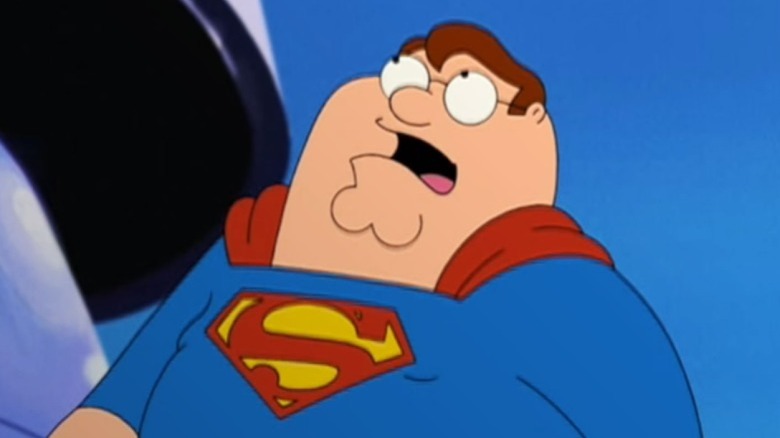 Fox
Often known only as Bill, William Woodson was a veteran actor and voiceover artist. He made a single appearance in the 2009 episode "Family Goy" during Season 8. The story opens with a parody of the television series "Super Friends" and features the main cast as various characters such as Superman, Batman, and Wonder Woman. The scene uses archived recordings from the original show to introduce the heroes, who were performed by Woodson. He utters a new line to mention that Meg is also part of the group simply as herself.
Although his face may not be recognizable, television viewers will almost certainly have heard his voice at some point. He narrated shows such as "Super Friends" and "This Is Your FBI" and provided the opening voiceover for "The Odd Couple." He also voiced the television commercial announcer in "The Naked Gun 2½: The Smell of Fear" and had a role in "Escape From the Planet of the Apes" as a naval officer. He died on February 22, 2017, when he was 99 years old, although no cause of death was provided.
Michael Clarke Duncan (Various)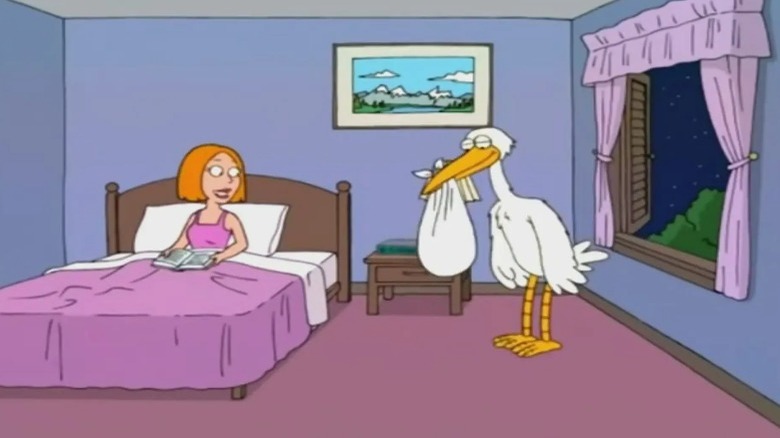 Fox
Unlike many other "Family Guy" voice actors who have died, Michael Clarke Duncan did not play a single character in the show. Instead, he has played a number of different characters. His first appearance came in the Season 4 episode "You May Now Kiss the...Uh...Guy Who Receives," where he played a boy who had taken magic mushrooms. He later voiced the Muppet Fozzie Bear in the 2007 episode "The Tan Aquatic With Steve Zissou" and returned to the show to play a stork who tries to seduce a woman in "Stewie Griffin: The Untold Story." His final appearance came in "Ratings Guy," which was dedicated to Duncan and Phyllis Diller.
Many people will know Duncan from his breakout role in "The Green Mile," which saw him receive widespread acclaim and an Academy Award nomination. He followed that up with roles in films such as "The Whole Nine Yards," "Sin City," and "Talladega Nights: The Ballad of Ricky Bobby." The actor also had plenty of experience voicing characters in the likes of "Brother Bear," Kung Fu Panda," and the video game "Saints Row." He was hospitalized in 2012 after having a heart attack and later died on September 3 from respiratory failure at the age of 54.
Phyllis Diller (Thelma Griffin)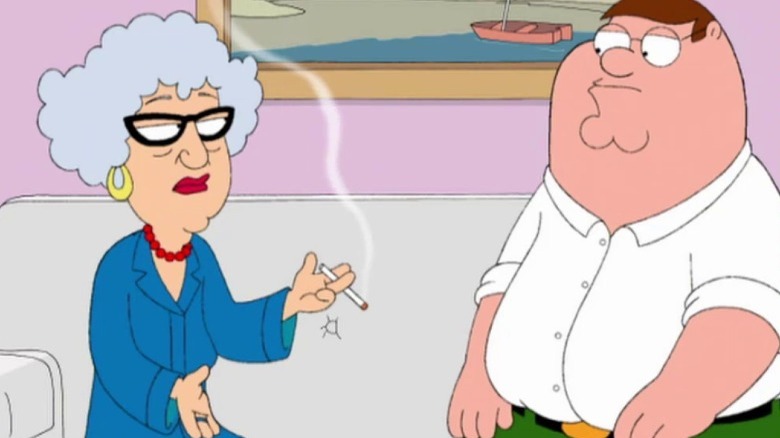 Fox
Phyllis Diller was the second voice actor to take on the role of Thelma Griffin. She played Peter's mother from 2006 until 2012. She was first introduced to audiences in the Season 5 episode "Mother Tucker," where she begins to date news anchor Tom Tucker following her divorce from Francis Griffin—a series of events that devastates Peter. Diller would go on to voice the character in other episodes, including "Peter's Two Dads" and "Padre de Familia," although she rarely had a major role in stories.
The actor had previously worked as a stand-up comedian, a musician, and an author during a decades-long career. Widely considered to be one of the most influential female comedians of her time, she went on to star in dozens of films and television shows. In her later life, Diller was a popular voice actor, portraying characters in the likes of "A Bug's Life" and "The Adventures of Jimmy Neutron: Boy Genius." She died at home on August 20, 2012, at the age of 95 following a long history of illnesses and injuries. Since that time, Lois Griffin voice actor Alex Borstein has voiced Thelma in subsequent appearances.
Frank Sinatra Jr. (Himself)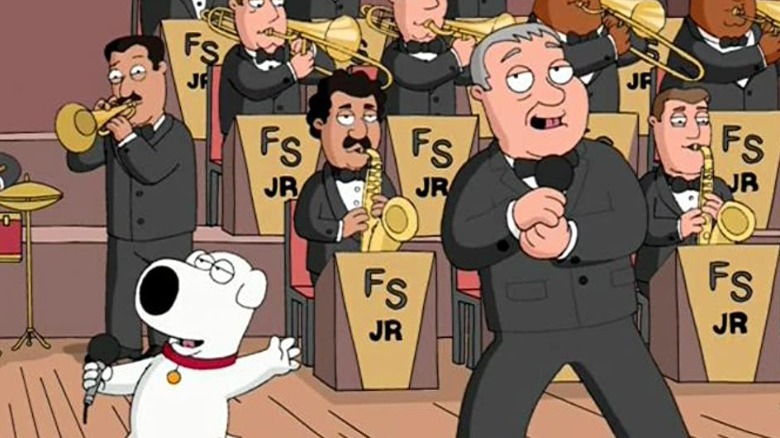 Fox
Between 2006 and 2016, Frank Sinatra Jr. appeared in three episodes of "Family Guy." Depicted as a close friend of Brian, the character first appeared in the Season 4 episode "Brian Sings and Swings," where he offered advice to Brian and sang with him and Stewie. He returned in the seventh season, purchasing the Quahog Cabana Club with Brian and Stewie in the episode "Tales of a Third Grade Nothing." His final appearance came in "Bookie of the Year" in Season 15, with the singer opening an Italian restaurant with the help of Brian and Stewie.
That final episode was released posthumously, as Sinatra Jr. died suddenly on March 16, 2016, while touring. He was 72 years old at the time of his death and was reported to have suffered cardiac arrest. Outside of his work in "Family Guy," Sinatra Jr. was a singer and songwriter much like his father, Frank Sinatra. He had numerous television appearances in shows such as "Son of the Beach" and "The Sopranos" in his later years and was even offered a part on "Star Trek: Deep Space Nine" as the human hologram Vic Fontaine.
Carrie Fisher (Angela)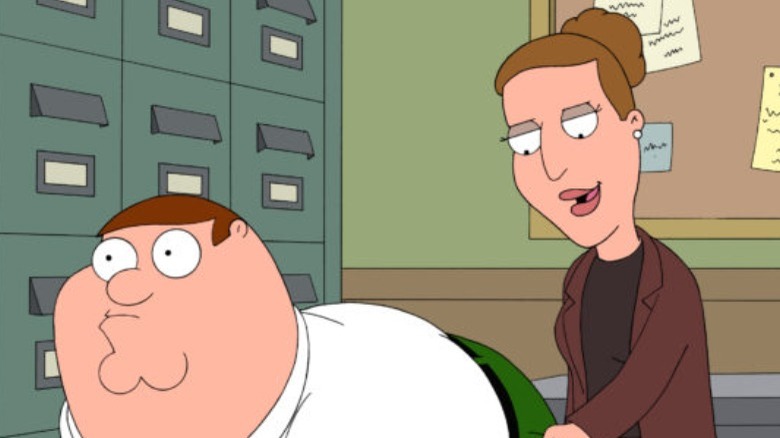 Fox
One of the most notable guest stars in the early seasons of "Family Guy" was actor and writer Carrie Fisher. She provided the voice for Angela in 25 episodes, a character who worked at Pawtucket Brewery and was Peter's boss. While Angela showed disdain for Peter most of the time, she also tried to have sex with him during the episode "Peter-assment" and was first introduced to viewers in "Jungle Love" when Peter gets a job at the brewery. She died during the events of "Pawtucket Pete" from apparently swimming after eating a meal but made small appearances in two later episodes.
Although the actor has appeared in numerous projects, such as "The Blues Brothers" and "30 Rock," Carrie is best remembered for her role as Princess Leia in the "Star Wars" franchise. She died on December 27, 2016, after having a medical emergency on a flight due to cardiac arrest. Fisher's mother, Debbie Reynolds, was also a guest star in a single episode of the animated sitcom before her death the day after her daughter. She provided the voice of Peter's schoolteacher Mrs. Wilson in "Tales of a Third Grade Nothing," which also features Fisher's Angela character.
Adam West (Mayor West)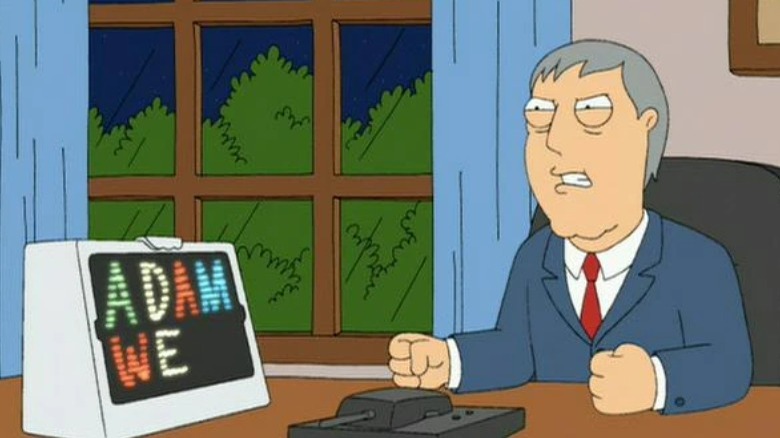 Fox
Adam West is arguably the biggest voice actor from "Family Guy" who has passed away. He voiced the character Mayor West, a character who bore the same name and was essentially just a bizarre version of himself. His first appearance came in the second season episode "Fifteen Minutes of Shame," but he went on to voice the character in more than 100 episodes, often taking part in some elaborate scheme or wasting taxpayer money on pointless endeavors.
The actor first came to prominence in films such as "The Young Philadelphians" before landing his most famous role as the Caped Crusader in ABC's live-action adaptation "Batman" from 1966 to 1968. West would also play his campy version of Batman in a feature film. He returned to the role as a voice actor several times and made guest appearances in "Batman: The Animated Series." As a voice actor, he also had roles in "The Fairly OddParents" and "The Simpsons."
His death was announced on June 9th, 2017, with sources confirming that West died at home from leukemia. He had previously recorded several episodes of "Family Guy," which were aired after his death during Season 16.