Actors Whose Careers Faded After Winning An Emmy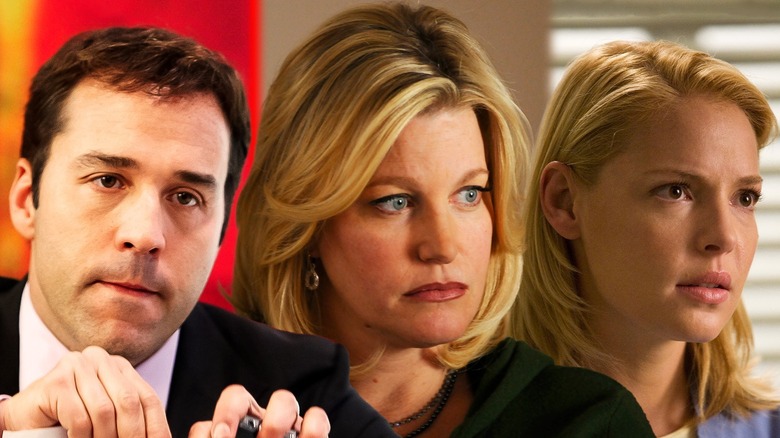 Static Media
Is there any truth to the "Oscar curse," which suggests that capturing the film world's most coveted trophy also puts the recipient's career into a tailspin? There's even another more mean-spirited "curse" reserved for Best Actress winners, which warns that their personal lives will fall apart after the win. On the surface, there is absolutely no proof that the Oscar curse has any substance, and plenty of evidence to suggest that it's false — just look at the careers of actors like two-time winner Anthony Hopkins, Joaquin Phoenix, and Jennifer Lawrence — and yet, one only has to observe the downward career trajectories of Will Smith, Hilary Swank, or Cuba Gooding Jr., and wonder if there's any truth to the legend.
Are other major entertainment awards "cursed"? It depends on what you want to believe. You'll find similar lists of actors whose careers took a plunge after claiming Grammys, Golden Globes, Tonys, and so on, and an equal number who enjoyed even greater fame after their wins. And yet, here's a list (with spoilers) of 15 actors who experienced some sort of decline — whether due to misfortune, capricious luck, or personal problems — after taking home TV's biggest honors. Cursed? Just unlucky? You be the judge.
Jeffrey Tambor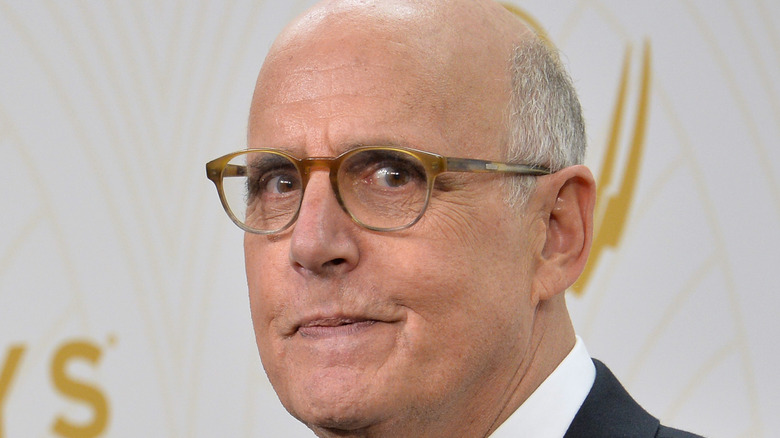 Featureflash Photo Agency/Shutterstock
Jeffrey Tambor was a critical and audience favorite for decades thanks to performances in series like "Arrested Development," "The Larry Sanders Show," and "Transparent," which earned him nine Emmy award nominations and two wins in 2015 and 2016 for his turn as a trans woman. Tambor had been a staple of features and television series from the late 1970s to 2020, amassing an impressive collection of film credits that included "Pollack," Guillermo del Toro's "Hellboy" films, "The Hangover," and Armando Iannucci's "The Death of Stalin." His TV spanned everything from "The Love Boat" and "Three's Company" to "Law & Order: Special Victims Unit."
Following the professional triumph of his Emmy wins for "Transparent," Tambor was accused of sexual harassment by his former assistant, Van Barnes, and his "Transparent" co-star, Lysette Barnes in late 2017. A third accusation of sexual harassment, this time from makeup artist Tamara Delbridge, who worked with Tambor on the 2001 indie film "Never Again," followed days later, prompting the actor to deny the charges and announce his departure from "Transparent." Tambor's behavior was further called to attention by a 2018 New York Times interview with the cast of "Arrested Development," in which co-star Jessica Walter accused Tambor of verbally harassing her. He has remained off-screen since a 2017 episode of "The Orville" and an appearance in the 2020 film "Magic Camp."
Isabel Sanford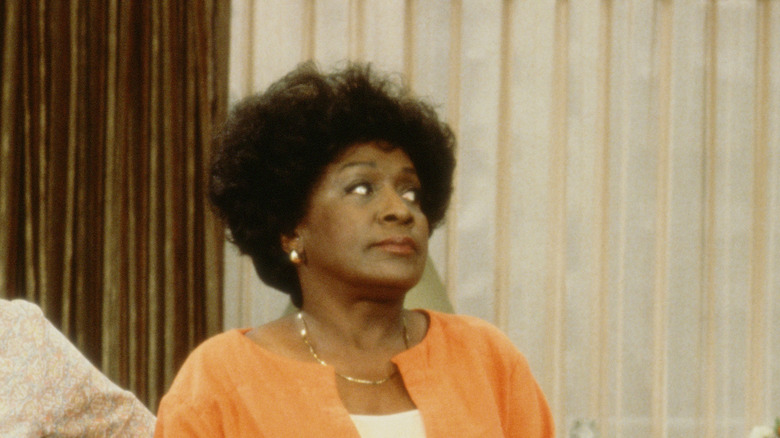 United Archives/Getty Images
Actress Isabel Sanford first played Louise Jefferson on "All in the Family," where she and Sherman Hemsley (as George Jefferson) were neighbors and occasional sparring partners with Carroll O'Connor's Archie Bunker. The characters proved popular enough to warrant their own series, "The Jeffersons," which ran for 11 seasons between 1975 and 1985. Sanford's work as the perpetually patient Weezie earned her seven Emmy nominations, including a win in 1981, which made her the second Black actress in television history to claim an Emmy and to date, the only one to win best actress in a comedy series.
Sanford, who began her career with a critically praised turn as Spencer Tracy and Katharine Hepburn's forthright maid in "Guess Who's Coming to Dinner," remained active in TV guest appearances while on "The Jeffersons." But her film career faded away during her tenure on the show — she appeared in just two features during its network tenure — and when the series ended, her career continued to progress no further than guest shots on series like "Hangin' with Mr. Cooper." Sanford's career arc seemed to echo the lack of opportunities available to Black actors in the 1980s and '90s; an article in the Atlantic cited TV coverage by Jet Magazine which found that few series focused on Black characters during the '80s, and roles were frequently relegated to sidekick status.
Most of her TV appearances were reprisals of Louise Jefferson: She even played the role in a stage version of the series opposite Sherman Hemsley, who also joined her as George for appearances on "The Fresh Prince of Bel-Air" and commercials for Denny's and Old Navy. After a long illness and surgery, she died of natural causes shortly before her 87th birthday on July 4, 2004.
Anna Gunn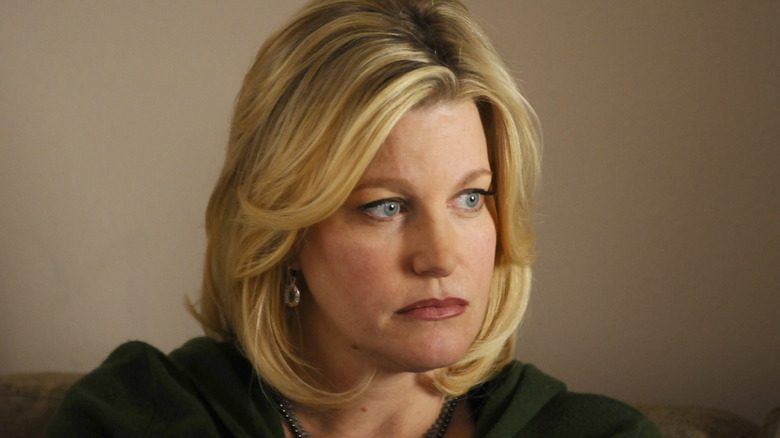 Ursula Coyote/AMC
After years of supporting and recurring roles in series like "The Practice" and "Deadwood," actress Anna Gunn landed her breakout role on "Breaking Bad." Cast as Skyler White, the wife and eventual business partner of teacher-turned-meth-kingpin Walter White, Gunn wrestled with the series' thorny moral issues with exceptional skill, and earned two Emmys and a Screen Actors Guild award for her work. Like many of her "Breaking Bad" co-stars, Gunn set to work on other projects after the show's conclusion, but struggled to find substantial roles in film or television. Gunn also faced an uphill battle throughout her tenure on "Breaking Bad" — reaction to Skyler from some male viewers was so virulently angry and sexist that she penned an op-ed piece about it in the New York Times — that none of her male co-stars seemed to face in the years following the series' conclusion.
Gunn joined David Tennant on "Gracepoint," a high-profile limited series modeled after his popular UK detective series "Broadchurch," but the end result scored mixed reviews from critics and audiences. Her feature film efforts have been equally underwhelming: Clint Eastwood's "Sully" gave her a plum role as a psychologist investigating the titular airliner pilot (played by Tom Hanks), but subsequent films like "Equity" and "Being Frank" failed to connect with a wide audience. Gunn has found consistent work as a guest and recurring player on series like "Shades of Blue" and "Physical," and will recur on "Sugar," the Apple TV+ series with Colin Farrell. But she's yet to find another starring role that complements her considerable talents.
Jeremy Piven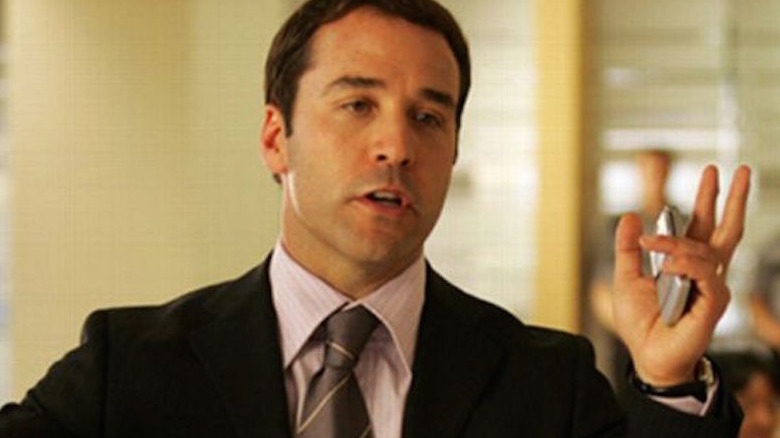 HBO
A high-energy presence in film and television from the mid-1980s to the 2000s, Jeremy Piven was a go-to for fast-talking comic characters, most notably in "Grosse Point Blank," "Smokin' Aces" and "RocknRolla." He found one of his career-defining roles on HBO's "Entourage," where he earned three consecutive Emmy Awards as Hollywood agent Ari Gold. The acclaim afforded by the series' success and his wins led to starring roles in films like "The Goods: Live Hard, Sell Hard" and the ITV series "Mr. Selfridge." However, his career was upended at the height of his popularity by a series of sexual harassment accusations by various women.
An initial account of Piven's allegedly inappropriate behavior was lodged by reality star Ariane Bellamar in 2017; Piven denied the accusations, which were quickly seconded by several other women, including actress Cassidy Freeman ("The Righteous Gemstones") and advertising executive Tiffany Bacon Scourby. Though Piven took a polygraph test in an effort to prove his innocence, the charges continued to mount, with more women coming forward with stories of his alleged misconduct between late 2017 and 2018. Piven's CBS series, "Wisdom of the Crowd," was pulled by the network after 13 episodes, and he remained largely out of circulation, appearing in only a handful of independent features between 2018 and 2021. Piven appears to be mounting a comeback of sorts, with roles in six films, the first of which, 2021's "Last Call," was met with mixed reviews.
Katherine Heigl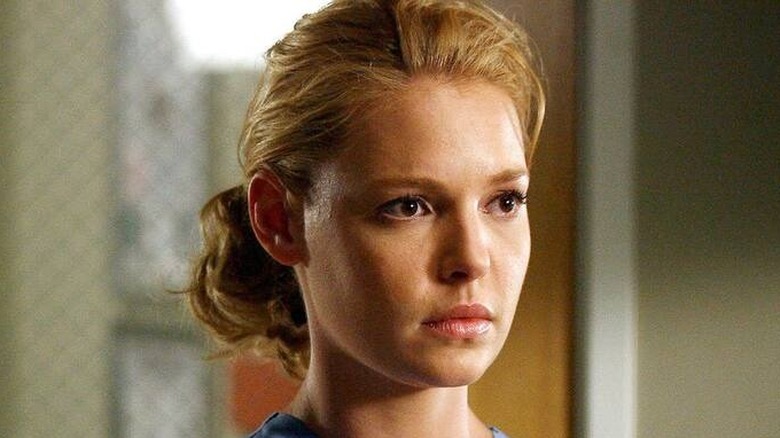 ABC
A former child model and supporting actress in teen-oriented projects like the WB series "Roswell," Katherine Heigl was elevated to star status in the mid-2000s with her Emmy- and Golden Globe-winning turn as Dr. Izzie Stevens on "Grey's Anatomy" and in Judd Apatow's hit comedy "Knocked Up." Labeled the next "It Girl" by Vanity Fair, Heigl's momentum appeared to be derailed by an interview with the magazine labeled the Apatow film as sexist and her role as "humorless and uptight." Such opinions appeared to brand her as "difficult" – a kiss of death term for actresses in a male-dominated industry. Reflecting on the response to the Washington Post (via BBC News) in 2021, Heigl said, "I may have said a couple of things you didn't like, but then that escalated to 'she's ungrateful,' then that escalated to 'she's difficult,' and that escalated to 'she's unprofessional.'"
Heigl also voiced her disapproval of storylines for her "Grey's Anatomy" character, prompting speculation that she would leave the series. The rumors came to pass at the midpoint of Season 6, when she failed to show up for filming; series creator Shonda Rhimes released her from her contract, which allowed Heigl to focus on her film career.
Unfortunately, a string of hits that included "The Ugly Truth" and "Killers" gave way to a wave of flops such as "One for the Money" and "The Big Wedding." The negative press that painted Heigl as "difficult" only made matters worse, and by the 2010s, films like "Home Sweet Hell" and "Unforgettable" were only earning limited theatrical or video-on-demand releases. Attempts to return to network roles on "State of Affairs" and "Doubt" both vanished without a trace, though a two-season stint on "Suits" and her Netflix series "Firefly Lane" fared slightly better.
Felicity Huffman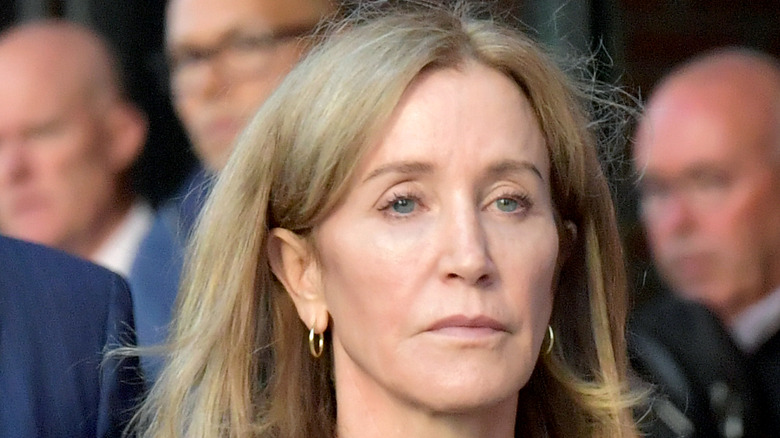 Paul Marotta/Getty Images
Actress Felicity Huffman enjoyed popularity and acclaim on television and in film for nearly two decades, until her career was tarnished by her involvement in a college admissions bribery scandal in 2019. On the small screen, Huffman netted a Golden Globe for Aaron Sorkin's comedy "Sports Night" and an Emmy as Lynette Scavo on "Desperate Housewives," as well as an Emmy nod for the "American Crime" anthology series.
Her feature work included a Golden Globe for her work in the 2005 feature "Transamerica," and turns in Paul Thomas Anderson's "Magnolia" (alongside husband William H. Macy), "Georgia Rule," and "Cake." Her work as Linda Fairstein, who prosecuted the Central Park Five case, in Ava DuVernay's "When They See Us," was earning critical praise when the college admissions scandal broke.
The FBI and IRS charged Huffman as one of the dozens of parents who paid $15,000 to a fraudulent charitable organization, which allegedly went to someone who posed as her daughter to take the SAT in order to improve her scores. Huffman was arrested in 2019 and pleaded guilty to honest services mail fraud that same year. She served 11 days in jail and paid a $30,000 fine at the end of that year. Huffman is slated to return to television in 2023 in "The Good Lawyer," a spin-off of the "Good Doctor" series.
Geoffrey Rush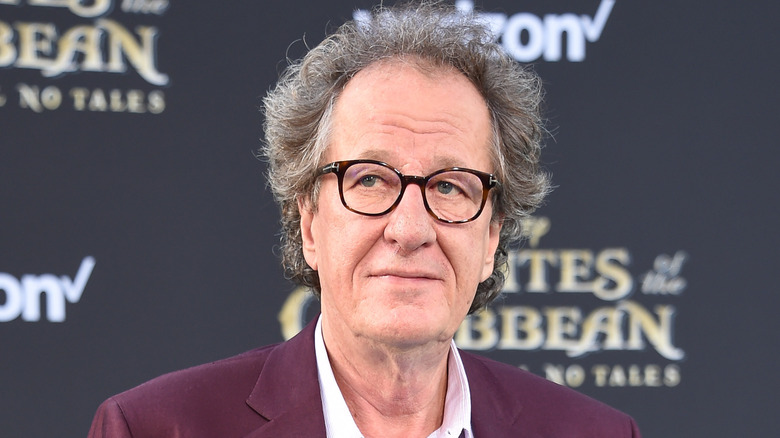 DFree/Shutterstock
One of the most celebrated actors of the late 1990s and 2000s, Australian actor Geoffrey Rush holds not only an Emmy Award for his starring role in "The Life and Death of Peter Sellers" but also an Oscar for 1996's "Shine", two Golden Globe Awards, four Screen Actors Guild Awards, and a Tony Award. Rush has found success in major studio features like the "Pirates of the Caribbean" franchise, "The King's Speech," and "Shakespeare in Love." And for a period of time in the late 2010s and early 2020s, Rush found himself at the center of not one but two sexual harassment cases.
Rush filed a defamation suit against the Australian tabloid The Daily Telegraph for a 2017 front-page story that alleged Rush had acted inappropriately with an actress in a 2015 production of "King Lear." Rush, who stated in an affidavit that the allegations had damaged his career, won the case, but soon had to deal with a similar concern from other actors. Actress Yael Stone, who co-starred with Rush in a stage production in 2010 and 2011, was interviewed by the New York Times about allegations that he had sent her inappropriate texts and even appeared naked in front of her. Rush denied the allegations but also apologized for any distress they may have caused. The flurry of attention put Rush's screen career on hold from 2019 until 2023, when he was cast as legendary comedian Groucho Marx in the drama "Raised Eyebrows" for director/co-writer Oren Moverman.
Michael Moriarty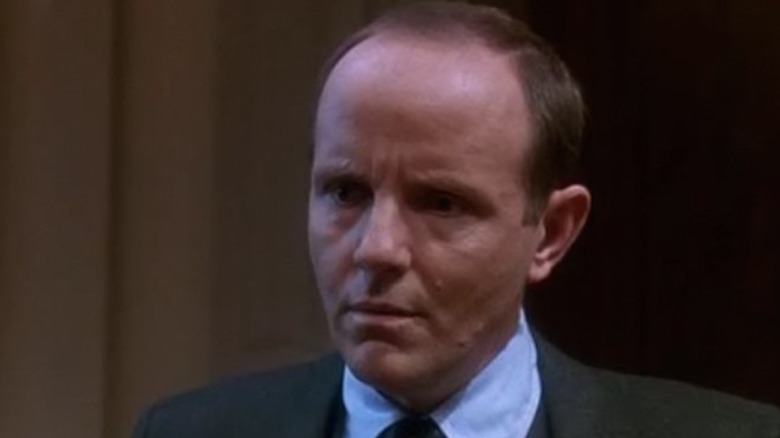 NBC Universal
Actor Michael Moriarty followed an eclectic career path from the 1970s through the 2000s, moving from high-profile studio films like "Bang the Drum Slowly" and "Pale Rider" to the offbeat cult films of director Larry Cohen, "Q" and "The Stuff." He found additional success on TV, scoring Emmys for the 1974 television adaptation of "The Glass Menagerie" and the 1978 miniseries 'Holocaust." He picked up four more Emmy nominations for his role as Assistant District Attorney Ben Stone in the first four seasons of "Law & Order."
Moriarty drew headlines in 1994 when he left "L&O" to protest proposed Congressional legislation to curb violence on television. However, he managed to remain active in features and on television for a period of time, earning supporting roles in films like "Courage Under Fire" with Denzel Washington and even earning a third Emmy for playing James Dean's father in the 2001 telefilm "James Dean." But personal problems, including a struggle with alcoholism and other health issues, appeared to put a damper on his screen work: He drifted through little-seen independent features and Hallmark movies before announcing his retirement in 2007. However, Moriarty has made occasional returns to acting in the last decade, most notably in the indie Western "Gunfight at Dry River."
If you or anyone you know needs help with addiction issues, help is available. Visit the Substance Abuse and Mental Health Services Administration website or contact SAMHSA's National Helpline at 1-800-662-HELP (4357).
Dennis Franz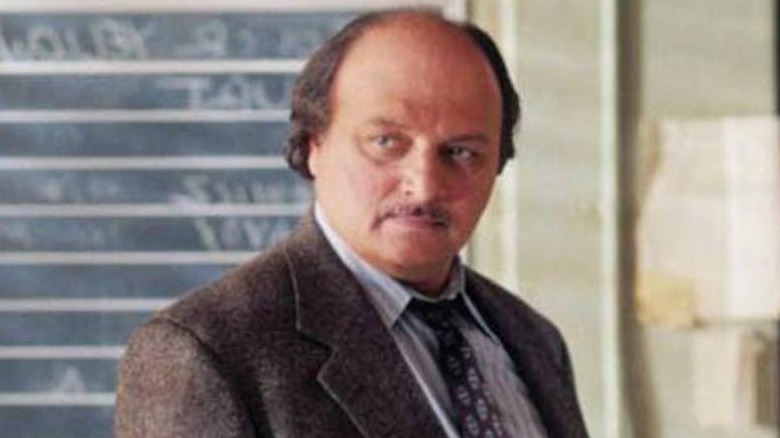 ABC
Dennis Franz honed his acting talents on the Chicago theater scene and in character roles for directors like Brian De Palma and Robert Altman before landing his big break as the abrasive detective Norman Buntz on "Hill Street Blues." The attention afforded to his role didn't translate into stardom, for which he had to wait nearly a decade, when he won the role of Detective Andy Sipowicz on "NYPD Blue," a cop drama from "Hill Street Blues" creator Steven Bochco. Franz drew praise for his turn as the outwardly abrasive cop, whose internal suffering encompassed alcoholism, post-traumatic stress disorder, and estrangement from his family. Franz, who was the sole cast member of "NYPD Blue" to appear in the entire network run, won four Emmys for his work, as well as two SAG Awards.
Franz appeared in a handful of projects while working on "NYPD Blue," including a film version of David Mamet's play "American Buffalo" in 1996 and the Dixie Chicks' video for the 1998 single "Goodbye Earl." But when the series left the air in 2005, he retired from acting to focus on his personal life. Since then, Franz has remained off-screen, save for occasional appearances as a presenter on award shows.
Michael Richards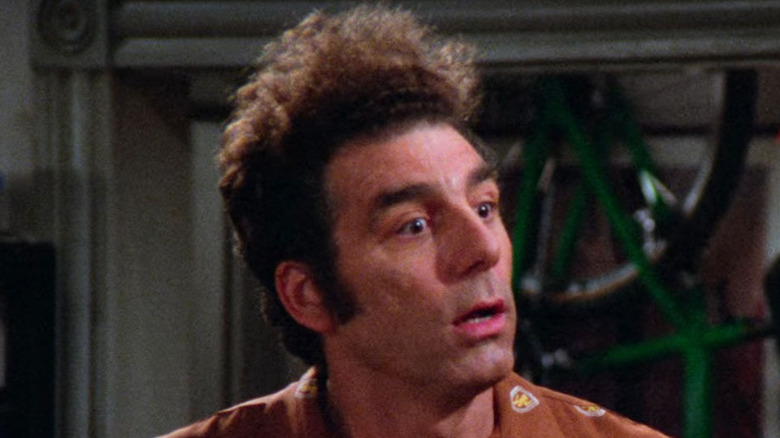 NBC
Though Michael Richards' outburst at the Laugh Factory comedy club in 2006, which saw him shouting racial slurs at a group of hecklers, is frequently cited as the reason for his precipitous career decline, the comedian was already on a downward slope shortly after the end of "Seinfeld." The NBC comedy elevated Richards from cult favorite to network star, earning him three Emmy awards between 1993 and 1997. But his first solo project, "The Michael Richards Show," which aired one year after "Seinfeld" ended, was a disaster, while 1997's "Trial and Error" — the first film to give him top-billing — tanked at the box office.
After apologizing for the comedy club outburst — which he cited on Jerry Seinfeld's interview series "Comedians in Cars Getting Coffee" as one of the primary reasons for his retirement from stand-up — Richards appeared in the short-lived TV Land sitcom "Kirstie," starring Kirstie Alley, and teamed up with his "Seinfeld" co-stars for a three-episode arc on "Curb Your Enthusiasm" about a "Seinfeld" reunion special. His last screen appearance to date was the 2019 indie comedy "Faith, Hope & Love," a vehicle for "Dancing with the Stars" performer Peta Murgatroyd.
Michael A. Goorjian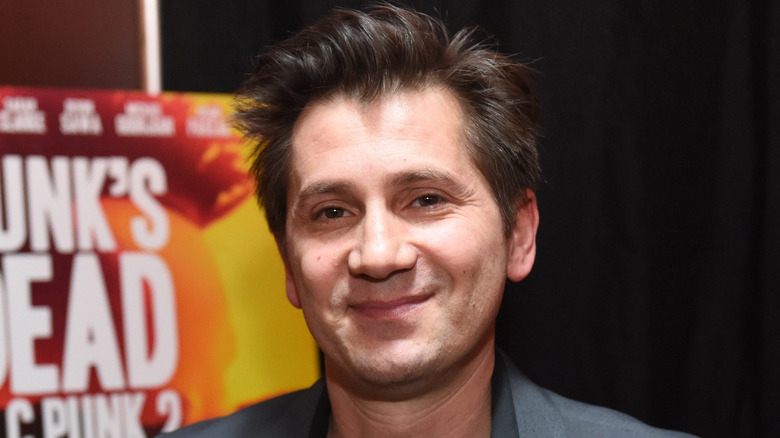 Fred Hayes/Getty Images
Actor Michael A. Goorjian vaulted from bit and supporting player in features and on television to Emmy-winning actor with his powerful performance as a young man with autism in the 1994 TV movie "David's Mother." The acclaim afforded by the win led to higher-profile assignments, including turns as the youthful Charlie Chaplin in "Chaplin" and Matthew Lillard's sidekick Heroin Bob in "SLC Punk!" He also enjoyed a recurring role as Neve Campbell's boyfriend on "Party of Five," which was later promoted to series regular status, but Goorjian declined to continue on the series. He preferred instead to focus his energies on theater and a nascent career as a filmmaker, which led to the 2006 indie feature "Illusion" with screen legend Kirk Douglas.
Goorjian's screen career dropped off precipitously after the release of "Illusion": Though he continued to net guest roles on series like "CSI: Crime Scene Investigation" and "House," Goorjian's film work was relegated to little-seen indie films such as 2006's "Broken." He forged a connection with Hay House, a publishing company headed by self-help author Louise L. Hay, and directed documentaries about her work ("You Can Heal Your Life") as well as that of motivational speaker Dr. Wayne Dyer. In 2016, he reprised Heroin Bob for "Punk's Dead," a mostly unseen sequel to "SLC Punk."
Daniel J. Travanti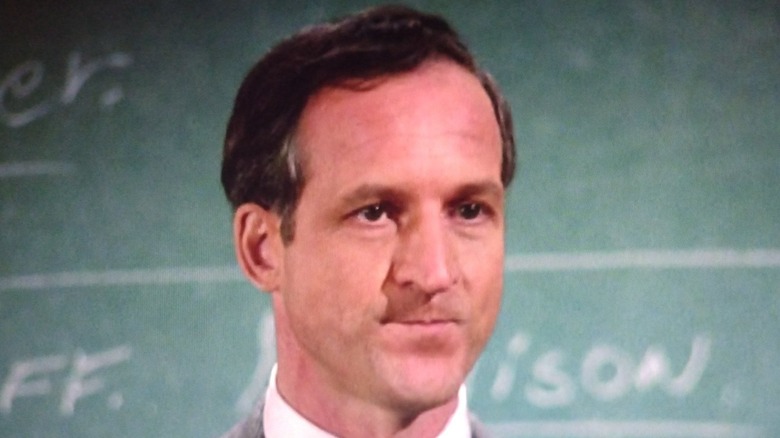 NBC
Daniel J. Travanti had been acting for more than two decades when he landed his star-making turn as Captain Frank Furillo on "Hill Street Blues." The firm but fair cop, who oversaw a bustling urban precinct while navigating his own personal issues, made the Wisconsin native a star at the age of 41 and netted him five Emmy and Golden Globe nominations, including two wins for each laurel. Travanti also parlayed his fame into other notable TV projects, including a turn as "America's Most Wanted" host John Walsh in 1983's "Adam" and as pioneering newsman Edward R. Murrow in the 1986 HBO TV feature "Murrow."
When "Hill Street Blues" ran its course, Travanti remained active on TV throughout the 1990s and 2000s, but few if any of these efforts earned the same degree of acclaim as the Steven Bocho drama. He returned to series work for a short-lived crime drama, "Missing Persons," in 1993 and enjoyed recurring roles on "Poltergeist: The Legacy" and Kelsey Grammer's "Boss," but otherwise drifted through guest roles, forgettable features ("Just Cause" with Sean Connery), and odd TV efforts like a remake of Roger Corman's "The Wasp Woman." In 1993, he seemed to sum up his TV career in an interview with USA Today (via TCM), where he said, "I've been doing mostly mediocre material. I can pretend to others that it was okay, but it wasn't."
Gary Burghoff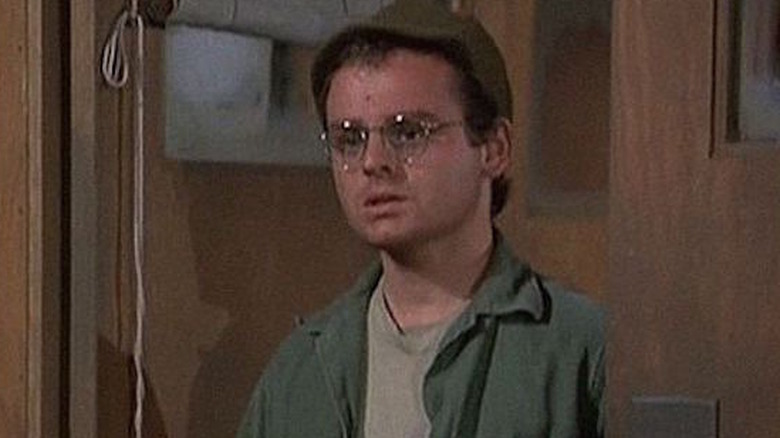 CBS
Actor Gary Burghoff originated the role of Corporal Radar O'Reilly in Robert Altman's feature film "M*A*S*H" and was the sole cast member from the movie to join Larry Gelbart's long-running series of the same name. Burghoff's endearing turn as Radar made him both an audience favorite and earned him six Emmy nominations, including a win in 1977. Two years later, Burghoff left "M*A*S*H," citing burnout and a desire to spend more time with his family. He remained active on TV, primarily as a guest performer on episodic series and game shows.
Radar remained his best-remembered role, and he reprised it three times on TV: He returned to "M*A*S*H" for a two-episode sendoff in Season 8, then appeared as a guest star on the underwhelming follow-up series, "AfterMASH." An attempt to craft a series around Burghoff as Radar titled "W*A*L*T*E*R" never made it past the pilot stage, but he remained active in guest roles and as a commercial spokesman throughout the 1990s. Burghoff also developed a second and critically acclaimed career as a wildlife artist, but in 2010 returned to acting for the independent feature "Daniel's Lot."
Don Adams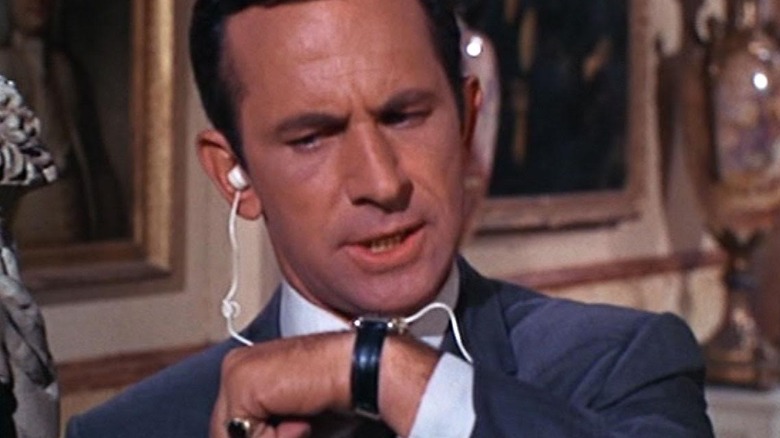 NBC/CBS
The spy spoof series "Get Smart" gave Don Adams enduring fame and three Emmy Awards as inept secret agent Maxwell Smart, but also left the actor, comedian, and writer hopelessly typecast for the remainder of his career. Adams rose to fame in 1965 as Smart — a.k.a. Agent 86 — in the Mel Brooks/Buck Henry NBC series after guest appearances on variety series like "The Perry Como Show." Adams' rat-a-tat delivery and array of catchphrases ("Would you believe...?") made him a popular comedy star for the series' five-season run.
By the time "Get Smart" left its second network home on CBS in 1970, Adams found that the show was both a blessing and a curse. It had brought him fame and accolades as well as financial security, thanks to a deal that granted him one-third ownership of the series. But he also found that audiences wouldn't accept him in any role except Smart, which spelled doom for follow-up series like "The Partners" and "Don Adams' Screen Test." By the 1980s, he was back playing Smart in commercials and the disastrous 1980 feature "The Nude Bomb," or roles that were essentially carbon copies of Smart, such as his long-running stint as the voice of "Inspector Gadget."
He reprised Smart a final time for the 1995 Fox series "Get Smart, Again," but low ratings sank the comeback after seven episodes. Adams closed out his career by lending his distinctive voice to animated series like "Pepper Ann"; he died of complications from a lung infection at the age of 82 on September 25, 2005.
Francis Bavier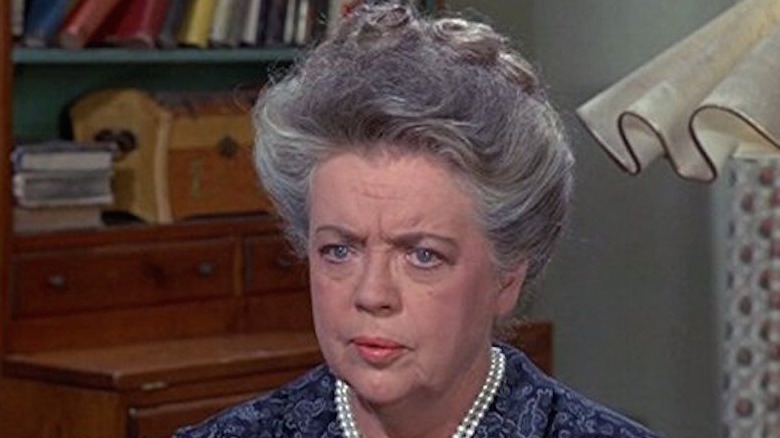 CBS Television Distribution
Though she was a veteran of numerous Broadway shows as well as feature films and television series, actress Francis Bavier was inextricably linked in the minds of viewers to kindly Beatrice "Aunt Bee" Taylor on "The Andy Griffith Show." Aunt Bee dispensed homecooked meals and homespun advice to Andy and his son Opie (played by Ron Howard) for all eight seasons of "The Andy Griffith Show" and later joined the cast of the spin-off series, "Mayberry RFD." For her work on "The Andy Griffith Show," Bavier won an Emmy in 1967.
According to various sources, Bavier had a somewhat prickly temperament when the cameras weren't rolling, and had a love-hate relationship with her most famous screen role. As she told North Carolina television (via YouTube) in the early 1970s, "It is very difficult for an actress to create a role and to be so identified that you as a person no longer exist, and all the recognition you get is for a part that is created on the screen." Bavier's career faded by choice: She retired from acting in 1972 and moved to a home she shared with several cats in Siler City, North Carolina.
Bavier's final years were marked by privacy and ill health: Admitted to a hospital's coronary care unit in November 1989, she was discharged on December 4 and died on December 6 at the age of 86. Multiple conditions contributed to her death, including congestive heart failure, breast cancer, chronic obstructive pulmonary disease, and arthritis.