The American Pickers Spent $700 For A Prop From Michael Bay's The Island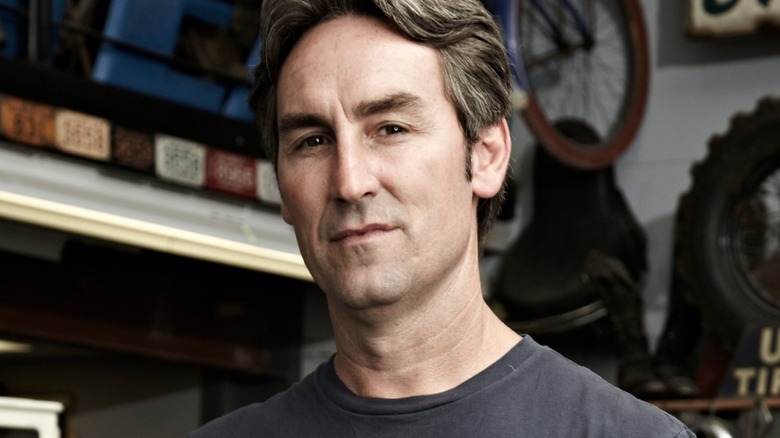 Zachary Maxwell Stertz/History
Antiquing is a huge hobby in the United States and around the world, and it's not hard to figure out why. There's something fun about sifting through piles and boxes of old stuff in search of something, anything, that might strike your fancy. Meanwhile, for the "American Pickers" crew, antiquing is a lucrative business and a solid basis for a television series. For over a decade, the folks on the show have gone on regular road trips across the US with the intent to find all kinds of rusty, worn-out, and otherwise obsolete treasures.
Since "American Pickers" has been around for so long, for the most part, it's easy to guess what the show's hosts might uncover in a given episode. Old tools, automobile parts, furniture, and the like have popped up on the program consistently throughout its run. While there's always something to be learned from these artifacts — and money to be made for the pickers themselves — it can get a bit repetitive seeing them take the spotlight. Thankfully, the minds behind the show aren't opposed to giving time to more unexpected purchases.
For an example of one of the more unusual and exciting buys on "American Pickers," look no further than the time the hosts dropped $700 on a prop from director Michael Bay's 2005 film "The Island."
Mike Wolfe couldn't pass up the Wasp
While on one of their routine picking road trips in Season 14, then-"American Pickers" hosts and current rivals Mike Wolfe and Frank Fritz were intrigued by a mysterious object sitting on the roof of a building. From a distance, it looked to Wolfe like a Batmobile of some kind, so he knew he had to check it out. Come to find out it was actually a prop hoverbike from the movie "The Island" dubbed "The Wasp." With that in mind, Wolfe climbed up to get a better look at it and kicked off what swiftly became a lengthy negotiation process. When the dust settled, he and Fritz scored it for $700.
Though not as well-known as Bay's other efforts like "Bad Boys" or the "Transformers" franchise, "The Island" remains a fascinating entry in the director's filmography. With a stacked cast, including names like Ewan McGregor, Scarlett Johansson, and Michael Clarke Duncan, an interesting dystopian story, and a captivating visual style, it has all the makings of a blockbuster yet never became a hit. Folks on Reddit discussed the film years after its release in a thread by u/romulan23 – a conversation that proved just how divided people remain on it after all this time.
"The Island" may not be Michael Bay's best or most recognizable film, but that doesn't negate how cool the Wasp looks. Mike Wolfe and Frank Fritz made the right call by picking it up.