Lady Gaga Won't Perform Her Top Gun: Maverick Hit At The Oscars (For A Good Reason)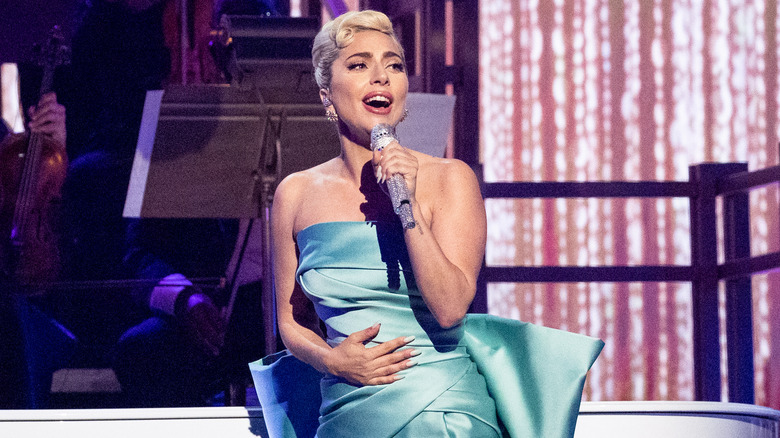 Emma Mcintyre/Getty Images
It is officially Oscar season, with the 95th Academy Awards finally airing on March 12 on ABC. Like every other year, the most critically acclaimed films of 2022 will face off for various awards. Some of the more notable movies nominated in many categories this year include "Everything Everywhere All at Once," "Avatar: The Way of Water," and "Top Gun: Maverick." While some Oscar ceremonies include a lot of niche arthouse films, this year includes a plethora of big box office hits.
The Oscars aren't just known for handing out awards, though. The ceremony often includes comedic skits, presentations, and live music, in the form of songs specifically created (and nominated) for certain films. Perhaps one of the biggest songs nominated for Best Original Song this year is Lady Gaga's "Top Gun: Maverick" song "Hold My Hand." However, Lady Gaga will not perform at the Oscars this year in a strange and unfortunate turn of events. While this may disappoint many fans, there's a really good reason for her absence on the stage.
Lady Gaga is busy filming the Joker sequel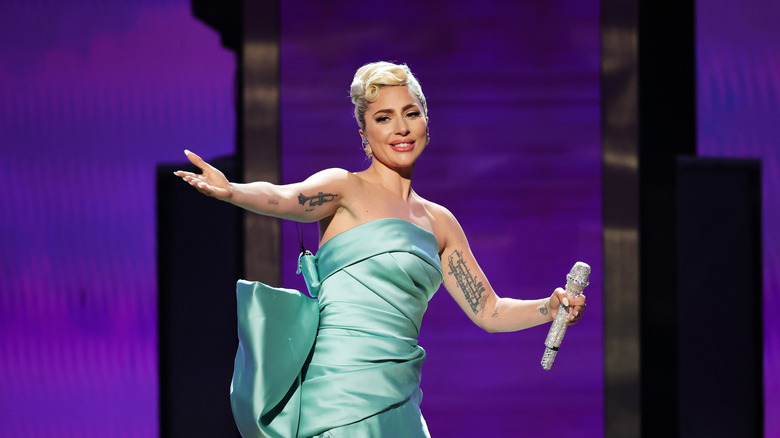 Rich Fury/Getty Images
According to Variety, Lady Gaga will not perform "Hold My Hand" live at the Oscars this forthcoming Sunday, which was written and recorded for "Top Gun: Maverick." The reason for this is actually quite simple: she is currently busy filming "Joker: Folie à Deux," the follow-up to the highly popular 2019 comic book film "Joker." Per the report, Oscars producer Glen Weiss confirmed that Lady Gaga would, in fact, not be performing.
"We invited all five nominees," Weiss said. "We have a great relationship with Lady Gaga and her camp. She is in the middle of shooting a movie right now. Here, we are honoring the movie industry and what it takes to make a movie after a bunch of back and forth...It didn't feel like she can get a performance to the caliber that we're used to with her and that she is used to. So, she is not going to perform on the show."
While it's rare for a nominated song not to be performed live at the Oscars, this reasoning makes sense. Many fans are already aware that Lady Gaga is currently hard at work on the "Joker" sequel. In February, the pop singer revealed an image of herself in "Joker: Folie à Deux" opposite returning star Joaquin Phoenix. So as far as reasons go, it's a pretty good one. Still, it's hard not to be disappointed that such a massively popular musician won't be performing at such an important show for film.