Family Guy Fans Miss Carl And Chris' Pop Culture Rants
H. Jon Benjamin will go down as a legend in animation voice acting for his iconic portrayals of the titular persona in "Archer" and as Bob, the head of the family in "Bob's Burgers." Another character he voiced for a popular animated sitcom may not be as stratospherically popular but is definitely beloved by hardcore fans. Benjamin voiced Carl, who works at the mini-mart in "Family Guy." Viewers miss the character appearing in the show, and they particularly miss his interactions with Chris Griffin (Seth Green).
Carl and Chris often bonded over conversations about movies and attractive Hollywood stars while at the mini-mart. One notable scene involved Chris bartering a conversation with Carl about 1997's "Event Horizon" in exchange for Carl hiring Meg back to work at the store. When Carl agrees to hire her again, he and Chris gush about how cool the horror classic is. In a conversation admiring the beauty of actress Elizabeth Shue while Chris himself works at the store with Carl, they took a detour to talk about the 1995 classic tearjerker "Leaving Las Vegas," appreciating the movie's effectiveness. Carl and Chris share the screen together outside of the convenience store too, like in a "Star Wars" send-up episode where Carl is Yoda training Chris' Luke Skywalker.
While fans think that Carl's absence from the show stems from Benjamin's ongoing commitments to "Archer" and "Bob's Burgers," they miss the character and the conversations that he and Chris shared, particularly those about pop culture. Some fans expressed their longing for more scenes with the lonely cinephile while praising the side character.
Fans sought out Carl's recommendations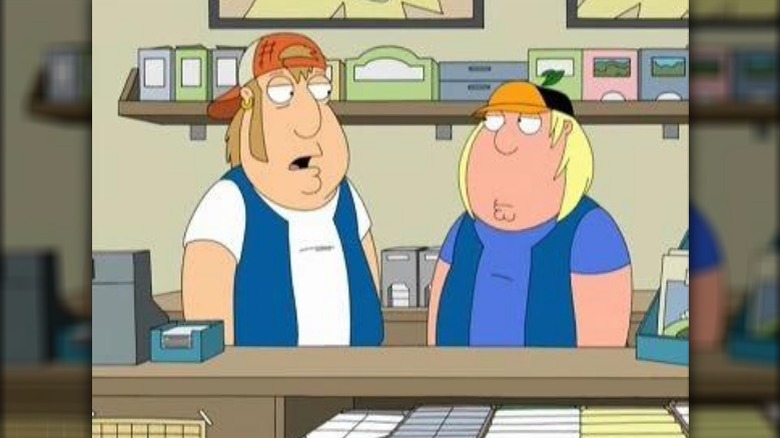 Fox
In a Reddit thread in which the original poster asked if any other "Family Guy" fans missed Chris and Carl's pop culture musings, replies came flying in from viewers who wished H. Jon Benjamin's character would return to the long-running show. Redditor u/noatakun responded with a pop culture reference of their own, "I always hoped they would do a 'Clerks' style episode with these two." Another user was inspired by the characters' recommendation and wrote, "I watched 'Leaving Las Vegas' because of them talking about it. Good movie."
A commenter, u/Toad358 really wanted to hear more of their insights and said, "I would listen to a movie podcast hosted by these two." Redditor u/hermanospollo brought up another fan theory that Chris isn't really Peter's son and asked, "Whoa! Is he Chris' real dad??" One of the actors the pair really dote on in the series is Jennifer Connelly. They talk about how attractive she is in both the forgotten comedy "Career Opportunities" and the Oscar-winning "A Beautiful Mind." u/ParfaitSignificant38 replied to the thread in reference to this, "I can't see Jennifer Connelly without thinking of them."
Redditors went on to quote some of their favorite lines that Carl and Chris shared. Quotes from Carl like, "You don't have to see 'Krull,'" and "Thanks for letting me play Yoda," populate the comments. Fans even love the line when the pair celebrate how cool they thought "Event Horizon" was, "It was the most awesome thing ever. HUG ME!." Fans are hopeful that this bromance will continue as the show goes on. It may be difficult to lock Benjamin down with his busy schedule, but viewers are definitely desperate for more of Carl's hot takes on movies.