Jenna Ortega Performs The Wednesday Dance One Final Time In Her SNL Promo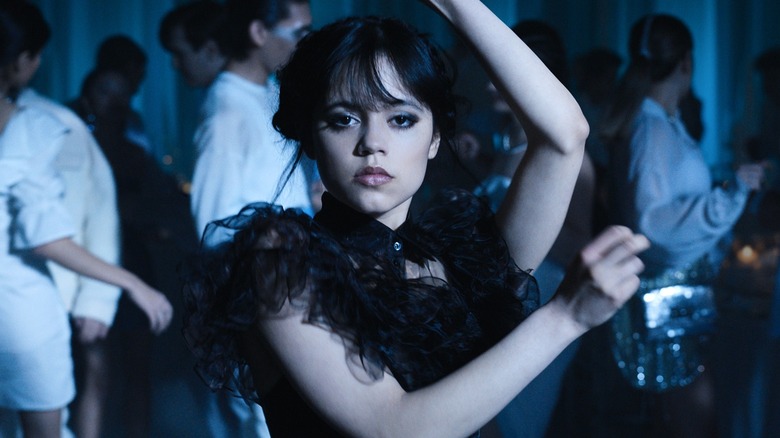 Netflix
Since its premiere on Netflix in the fall of 2022, "Wednesday" has become one of the streamer's most-watched series ever thanks to its unique brand of humor. The show is filled with a wickedly interesting cast of characters, but Jenna Ortega's performance in the title role is certainly an attribute when it comes to the program's binge-watching factor. Whether she is being characteristically cold and emotionless or pointing out the superficiality of her schoolmates, Ortega's Wednesday Addams is a beguiling personification of morbid comedy.
One of her catchiest trends and best moments in the series is undoubtedly her dance scene set to "Goo Goo Muck" by The Cramps that occurs in Season 1, Episode 4 titled "Woe What a Night." The number is funny, engaging, and a little bit cringe, but undeniably macabre thanks to the actor's delivery in unison with the song.
Although the choreographed movement was catchy and unique, some people took her to task for filming the scene with COVID symptoms, but it remains a standout scene in the first season. Ortega has even agreed to perform the number one final time in her hilarious "Saturday Night Live" promotional clip.
The famous dance is the main punchline of Ortega's SNL promo
A promotional teaser has been released to promote Jenna Ortega's hosting of "SNL" on March 11, 2023. In the clip, Ortega is in the studio talking to the members of Please Don't Destroy, who are all dressed in Wednesday Addams attire. She opens the clip by stating how she does not want to do the dance during the promo because she feels like it has already gotten to the point of being oversaturated. It is clear the trio really wants to do the dance, and Ortega begrudgingly agrees to perform with them. The trio is obviously excited, as evidenced by the one member who only dressed up to film the routine. 
In the best tradition of "Saturday Night Live" skits, the recreation is firmly rooted in cringe humor, with Ortega's exasperated expressions during the sketch being a particular standout. The YouTube comment section was all for the rendition and looking forward to seeing the "Wednesday" actor make her debut on the sketch comedy show.