Rick & Morty's Turnin' Turkey Song Has A Connection To Pokémon That Fans Love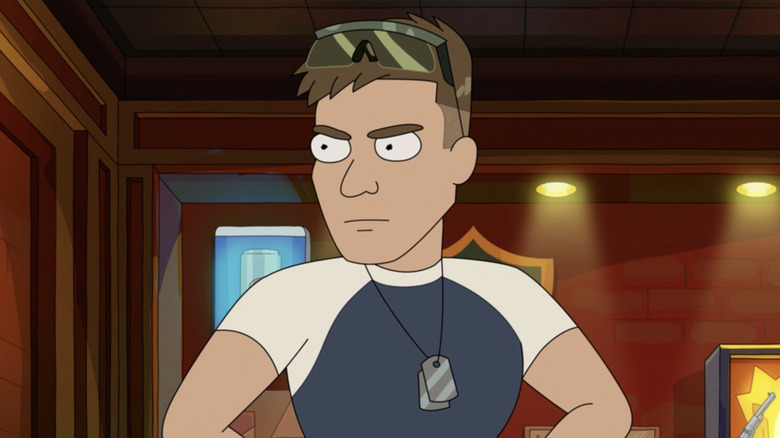 Adult Swim / HBO Max
Because "Rick and Morty" takes place across a wide variety of alien planets and parallel universes scattered throughout the multiverse, it's safe to say that anything is possible whenever Rick Sanchez and Morty Smith (both voiced up until recently by Justin Roiland) set off on one of their high-concept sci-fi adventures. The infinite possibilities afforded by the show's premise have certainly allowed for some pretty wacky episodes in the past — such as the "Interdimensional Cable" anthologies or the episode that saw the Smith household populated by hundreds of zany cartoon characters.
As such, it should come as no surprise that Season 5 of "Rick and Morty" gave fans one of the strangest Thanksgiving specials ever aired on television: "Rick & Morty's Thanksploitation Spectacular." The episode focuses on the White House tradition of "pardoning" a turkey each Thanksgiving, revealing that this tradition has allowed Rick Sanchez to receive numerous presidential pardons by turning him into a turkey each year. The President (voiced by Keith David) is expecting this, however, and enlists an elite group of soldiers to transform into turkeys alongside Rick and prevent him from receiving the pardon.
The transformation of these marines into feathery turkey soldiers is accompanied by an original song titled "Turnin' Turkey" — which, for many fans, might as well be the highlight of the entire episode, since it has a hilarious connection to the beloved anime series "Pokémon."
Jason Paige sings Turnin' Turkey as well as the original Pokémon theme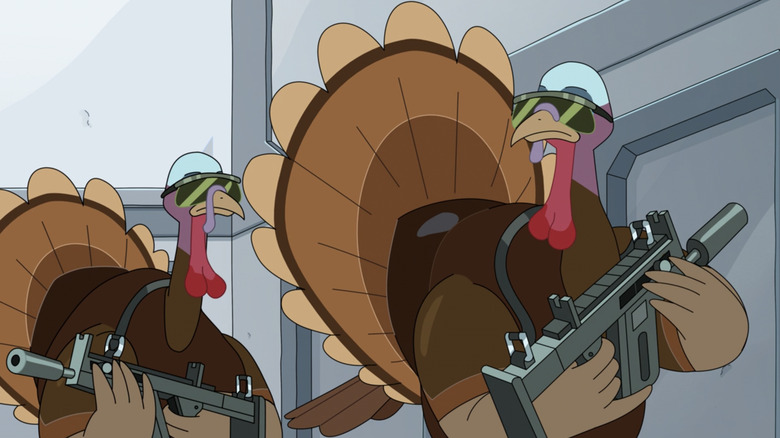 Adult Swim / HBO Max
"Turnin' Turkey" is a country song that satirically references a wide variety of American cultural tropes (including apple pie, pickup trucks, and baseball) and describes the process of transforming into a turkey — though perhaps the most interesting part of this song is the artist behind it. "Turnin' Turkey" is sung by recording artist Jason Paige, who is also the voice behind the classic theme song for the classic 1990s anime series "Pokémon."
The song, which begins with the iconic lines "I wanna be the very best, like no one ever was," is one of the most memorable and beloved theme songs of all time — and as such fans of "Rick and Morty" were overjoyed to learn that Paige was the voice behind "Turnin' Turkey." "The fact the singer is the guy who sang the pokemon intro just makes this funnier," wrote Marco Flores in the YouTube comment section for "Turnin' Turkey." "What a legend. Glad he's still making music," said Zachary Bartolo.
Indeed, when one user pointed out that Paige was the artist behind "Turnin' Turkey," the comment section below was flooded with users praising Paige's work on both songs, fondly quoting lyrics from the beloved "Pokémon" theme, and claiming they could hear the vocal resemblance on this absurd Thanksgiving song. Although this song is a far cry from Paige's previous work, fans have made it clear that he will always be a legend for his work on "Pokémon" –- and that he did an amazing job with the absurd Thanksgiving ballad in "Rick and Morty."