The Room Is Being Remade For Charity With Bob Odenkirk Taking On Tommy Wiseau's Role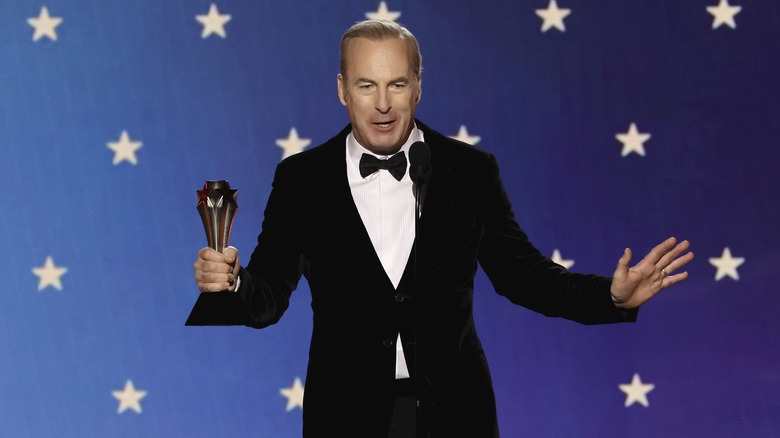 Kevin Winter/Getty Images
In the final moments of "Citizen Kane," Orson Welles gently murmurs "rosebud," paying homage to the illusory nature of memory while crafting one of the finest film endings of all time. Dubbed "the 'Citizen Kane' of bad movies," Tommy Wiseau's "The Room" contains its own treasure trove of lines worthy of critical dissection. Consider "Hi doggy," in which our hero plumbs the illusory nature of saying hi to a doggy.
Fine, "The Room" may not quite be a scholarly pursuit, but it is a subject of endless fascination for scores of midnight movie-goers. Made on a $6 million budget — the origins of which are unknown — the 2003 film dares to ask, what if an auteur didn't know how to direct a movie, run a shoot, or write a coherent script? The result is "The Room," a movie in which the line between genuine affection and a mockable punchline has grown increasingly thin.
James Franco's "The Disaster Artist" sparked renewed interest in "The Room," and Odenkirk appeared as Wiseau's acting instructor in the film. Now, Odenkirk is working on his spin on the cult classic.
Odenkirk's remake of The Room will benefit amfAR
"Better Call Saul" star Bob Odenkirk is gearing up to play Tommy Wiseau's role in a remake of "The Room," multiple Twitter users have confirmed. "I am very excited for the feature-length THE ROOM remake (Shot mostly on greenscreen) in which the Tommy Wiseau role is taken over by Bob Odenkirk – and it's not played as a joke," tweeted filmmaker Justin Decloux. He then posted an accompanying photo of Odenkirk reenacting the original "The Room" poster and a behind-the-scenes still of the famous rooftop scene.
Comedian and activist Cameron Kasky corroborated the story, tweeting, "This is in fact a real thing that's actually happening." He then posted a number of his own images, including multiple cast and crew photos in front of the aforementioned greenscreen. The caption reads, "Best cast Best crew Best day. And even better — the whole thing is to raise money for AMFAR, an amazing charity." Indeed, the nonprofit organization works to support AIDS research and HIV prevention. Kasky also confirmed that Odenkirk will appear alongside Bella Heathcote and Brando Crawford in the film.
Kasky also took to Reddit two months ago to give an update on the film's progress. "He is hysterical in it and every scene took a billion takes because he kept making us break," Kasky wrote on the "Better Call Saul" subreddit. He also tweeted that the film most likely won't be released until after March. Bob Odenkirk, you're tearing us apart.