Murr's Passport Is All Messed Up Thanks To Impractical Jokers Punishments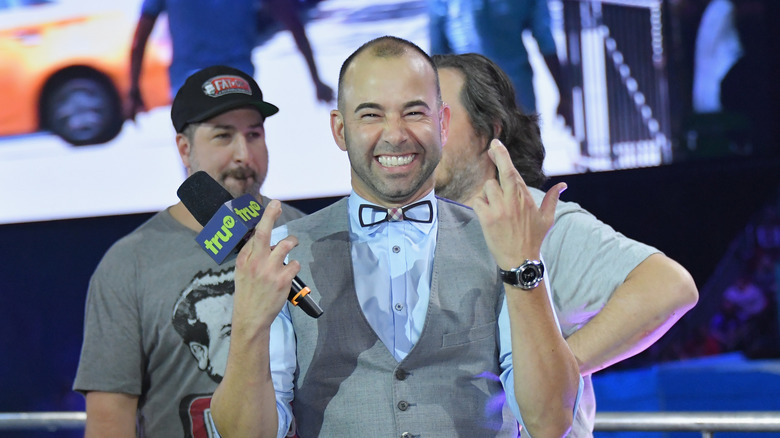 Mike Coppola/Getty Images for Turner
Some "Impractical Jokers" punishments last far beyond when the cameras stop rolling. Just ask Sal Vulcano, who has a tattoo of Jaden Smith, courtesy of Joe Gatto. Another to suffer a long-lasting punishment was James 'Murr' Murray. In "Impractical Jokers" Season 3, Episode 13 ("Browbeaten"), Murr is out-pranked by his fellow cast members and his punishment is to go completely hairless. 
The premise of the long-running TruTV show is simple: four Staten Island friends compete in various tasks to prank people — anything from getting them to sign a ridiculous petition to selling them fake products — and the Joker that loses the most rounds in an episode gets to go through an embarrassing punishment set up by the other three. The four have put each other through the wringer, but Murr's hairless punishment still stands out as one of the most...unique. 
To add insult to injury, after Murr had his eyebrows and the rest of his body shaved, he was forced to take new photos for his driver's license and passport. Oh, and did we mention Brian 'Q' Quinn also had Murr wear a wig made of his hair for six months? 
According to Murr, he's become a running joke with Homeland Security, all thanks to his hairless punishment.
Most agents recognize Murr and his infamous driver's license photo
Speaking with Den of Geek in 2017 after his hairless punishment, James "Murr" Murray revealed that he has run into trouble because he is hairless in his driver's license photo, while he's sporting Brian Quinn's wig in his passport photo.
"They made a wig out of Q's hair and I had to wear it for six months and they made me get a new passport photo. So I've got a driver's license with no hair and a passport with nothing but hair. I look so stupid," Murr said. 
While the "Impractical Jokers" star said it's caused plenty of problems, most TSA agents and other officials he's run into recognize him from the show and know all about the punishment. "The funny thing is, whenever I go through customs, they recognize me from the show, so they're waiting for the passport, they're waiting to see it, and they ask to see my license too. So I've become a running joke to Homeland Security agents," he said. 
If Murr has proven one thing over the years, it's that he's a good sport.