Grey's Anatomy's James Pickens Jr. Praises Shonda Rhimes For Leading The TV Diversity Charge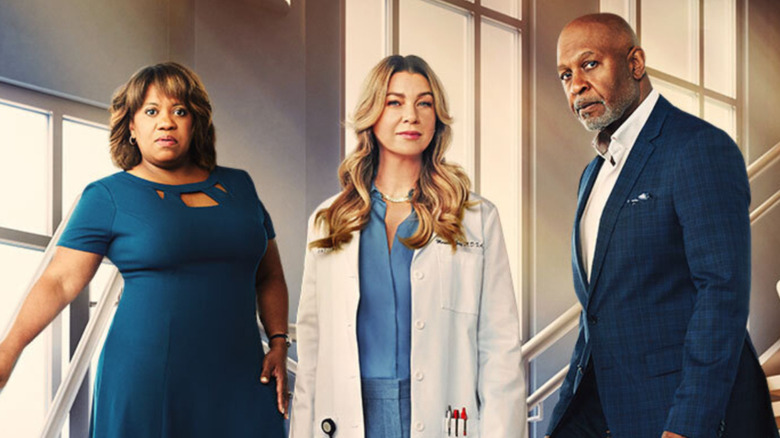 Grey's Anatomy Key Art/ABC
Forget all the things you didn't know about "Grey's Anatomy," because by now, everyone not living under a rock knows it has been a groundbreaker in many ways. For starters, the ABC medical drama is 19 seasons in, making it the sixth longest-running primetime series in TV history, where it still reigns as ABC's number-one drama.
The doctors featured on the show have done some pretty amazing things during their years at Grey Sloan Memorial Hospital. Sure, some were a little farfetched — that one Izzie (Katherine Heigl) scene that went too far by treating a deer with an IV and a defibrillator comes to mind. Yet more often than not, their medical storylines shine through. I mean, who can forget how Meredith Grey (Ellen Pompeo) and fellow doc Amelia Shepherd (Caterina Scorsone) worked on a groundbreaking procedure to cure Parkinson's disease?
From its earliest days under the watchful eye of series creator Shonda Rhimes, "Grey's" stood out for its attention to diversity. Its first season featured interns and doctors of all different races and ethnicities. It wasn't long before viewers were introduced to the show's LGBTQ+ characters, orthopedic resident Callie Torres (Sara Ramirez), followed by Heely-wearing Arizona Robbins (Jessica Capshaw) and, in recent seasons, nonbinary neuroscientist Kai Bartley (E.R. Fightmaster).
While Rhimes quit "Grey's Anatomy" in 2017, her presence is still felt in the hallways of Grey Sloan Memorial. And nearly 20 years after the series debut, one of the original stars says the showrunner is the true groundbreaker.
James Pickens Jr. praised Shonda Rhimes' foresight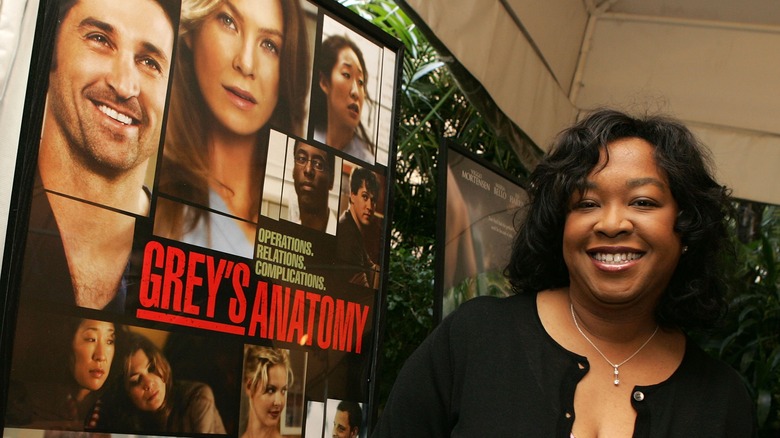 Kevin Winter/Getty Images
When Shonda Rhimes created "Grey's Anatomy," she didn't have a specific plan for casting each character. In an interview with Oprah Magazine, the showrunner said she had auditions with actors of "color" for every role. She also admitted that she hadn't planned to showcase a hospital run by Black doctors. "My goal was simply to cast the best actors," she said. "I was lucky because the network said, 'Go for it.'" Rhimes' ultimately cast Black actors James Pickens Jr., Isaiah Washington, and Chandra Wilson as the Chief of Surgery, Chief of Cardiothoracic Surgery, and head resident in charge of the incoming interns, respectively. 
In 2023, Pickens Jr. told The Lede that "Grey's Anatomy" has been groundbreaking since the beginning and that the show has remained relevant because "everyone's story" is told. "We use the term 'diversity' quite a bit now, but back in 2005, it was not a cliché," Pickens Jr. said. "It was Shonda who said we need to step out of the box here and tell TV stories in a different way than we have before." While praising Rhimes, Pickens Jr. added that "the foresight she had on how she wanted to tell these stories was just amazing."
Rhimes is more amazed that it took so long for someone to have that foresight. In 2021, she told Variety she was "embarrassed for television" because someone should have taken the lead long before her. "We changed the faces that you see on television," she said. "And it should not have taken so long for that to happen."