Superhero Roles That Caused Serious Damage To Actors' Bodies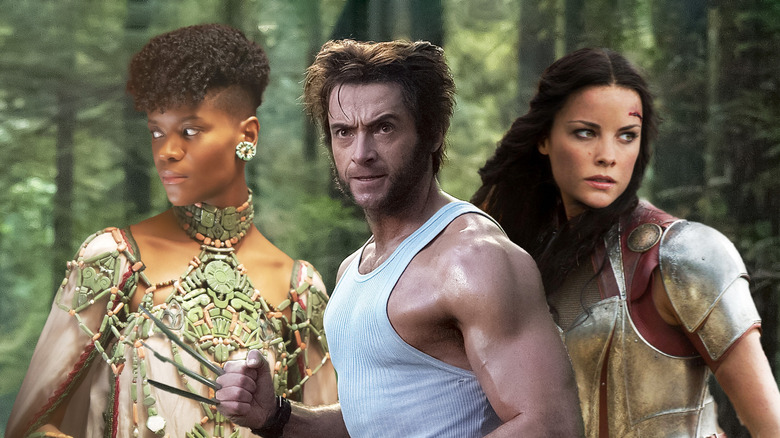 Static Media
Some actors, like Samuel L. Jackson, refuse to do their own stunts, happily handing over the dangerous bits to the professionals. Other stars, like Keanu Reeves, Tom Cruise, Charlize Theron, and Harrison Ford, take pride in pulling off the coolest moves themselves. No matter what, any movie that requires stunt work comes with an inherent level of risk. But when the lead actors perform their own stunts, their injuries can delay or even halt production entirely.
There's an argument for having lead actors perform their own stunts: According to some, it lends authenticity and visual consistency to the film. These days, many actors who play superheroes are totally game, and do a significant amount of their own stunt work. The downside of this willingness to take risks means some superhero roles get their actors injured. This can happen during production of films, television series, and even Broadway musicals. 
No one ever said it was easy to be a superhero, but these actors learned this the hard way. While most of these injuries were remedied with rest and medical care, some exacted the ultimate price for taking on the cape and cowl. Keep reading to learn which superhero roles caused serious damage to actors' bodies.
Jaimie Alexander as Lady Sif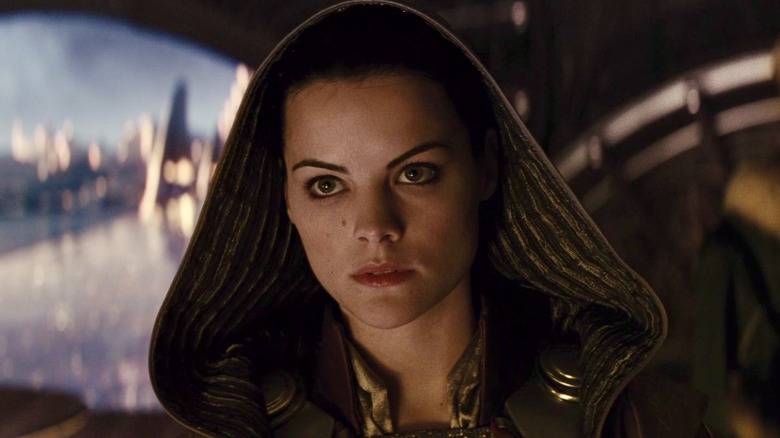 Walt Disney Studios Motion Pictures
Jaimie Alexander, who plays the Asgardian warrior Lady Sif in the "Thor" franchise, suffered various injuries while filming "Thor: The Dark World." Although Alexander was hospitalized, her attitude remained positive. Luckily, the film's production could work around her, giving the actor time to recuperate from her injuries without delaying the production of the movie.
Alexander grew up in Texas with four brothers, was an athlete in her youth, and gravitates towards action roles, making her a natural at performing her own stunts. After injuring herself on the set of "Thor: The Dark World," Alexander told Page Six, "It was raining, it was dark outside ... I went down a metal staircase and slipped and slipped a disc in my thoracic spine and chipped 11 of my vertebrae. I knocked my left shoulder out of place and tore my rhomboid on my right side ... It took me out of filming for a month."
These severe injuries didn't stop Alexander from reprising her role in the "Thor" franchise, nor did they keep her from taking on another stunt-intensive role when she agreed to play Jane Doe in "Blindspot." She also sustained numerous injuries from her stunt work on that series. Despite the pain, she loves doing her own stunts and takes pride in her physical endurance.
Noah Centineo as Atom Smasher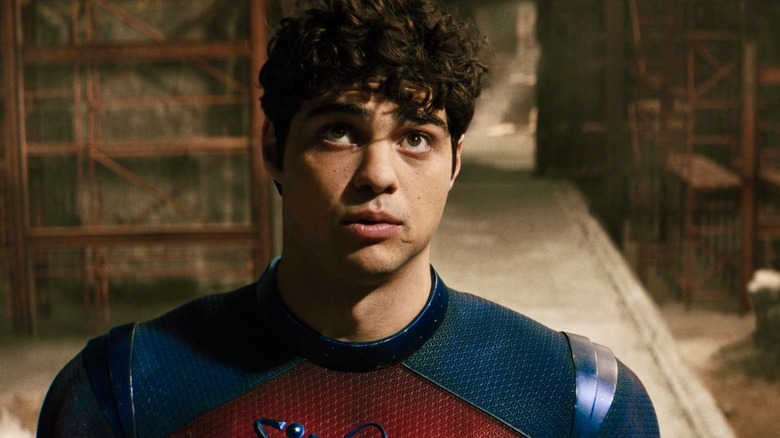 Warner Bros. Pictures
Noah Centineo has enjoyed major success in recent years, what with his lead role in Netflix's "The Recruit" and his performance as Atom Smasher in "Black Adam." But this triumph comes with major costs. Centineo told Jimmy Fallon on "The Tonight Show" that he dislocated his shoulder while shooting a scene as Atom Smasher under the sweltering Atlanta sun. "I pretend to hit my knee on the parked car as I'm running," the star recounted. "And I spin around like 'ahhhh,' like that hurt. And my arm goes up and then dislocates."
Medics struggled to get Centineo's shoulder back in its socket, due to his tight costume. Filming was paused as they cut the sleeve open. After 13 tries, they finally popped his shoulder back in — only for Centineo to immediately pop it back out by lifting his arm to cheer. Luckily, his shoulder was easier to fix the second time. Although it's a fairly minor injury in the grand scheme of things, production ground to a halt while the medics dealt with Centineo's injury, and the wardrobe department surely had to replace his damaged suit.
Robert Downey Jr. as Iron Man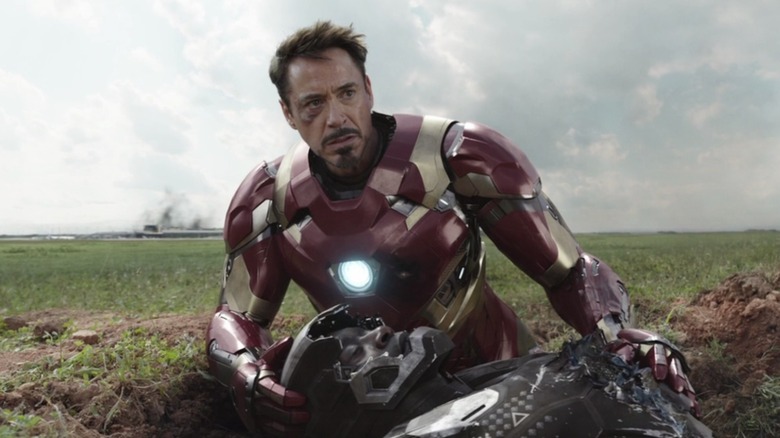 Walt Disney Studios Motion Pictures
Robert Downey Jr. might seem invincible on screen, but he broke his ankle while filming a stunt for "Iron Man 3." Guy Pearce, who played Aldrich Killian in the film, revealed further details to GQ. "Robert broke his ankle in the middle of that film, 'cause he had to do a stunt where he had to jump from one platform down to another platform and be on a cable," the star remarked. "They wanted to rehearse it, and he said, 'No, I don't need to rehearse it,' and he jumped, and the guy holding the cable wasn't ready or something, and he landed hard."
After the film was done, Downey told media outlets his body held up fine, and joked that the delay in production gave them an opportunity to work on the script and make "Iron Man 3" into a better movie. Interestingly enough, the take where Downey broke his ankle actually made it into the movie. Playing a superhero comes with some on-the-job injuries, but Downey takes the hard knocks like a champ.
Chris Evans as Captain America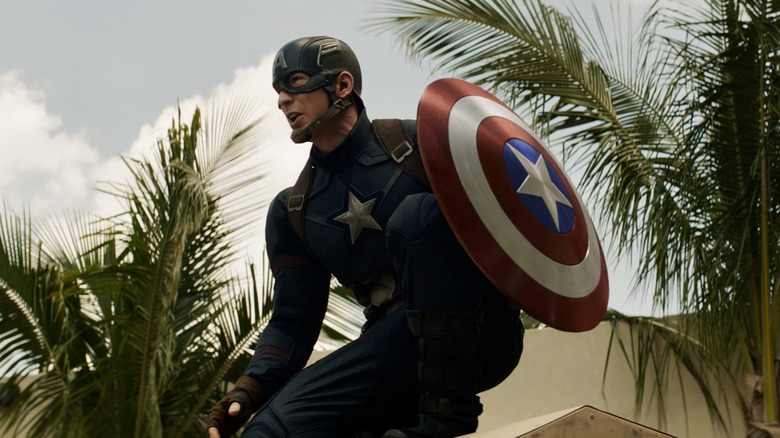 Walt Disney Studios Motion Pictures
Believe it or not, Chris Evans almost turned the iconic role of Captain America down. But once he was on board, Evans embraced the role's more physical aspects, even doing some of his own stunts in "Captain America: The First Avenger." "The good thing about Cap is that most of his abilities are rooted in what a human being is capable of — he's not flying, he's not shooting fire," Evans told MTV News. "For the most part, the stunts involved were hand-to-hand combat, so any time I can put the gloves on and get in the ring, I'll do it."
Unfortunately, Evans injured his arm while filming "Captain America: Civil War." In a pivotal scene, Steve Rogers tries to stop a helicopter from taking off with his bare hands. "That was in the first week of filming. And I actually messed up my arm doing it, I really did," Evans told Entertainment Tonight, "It's a fake helicopter, obviously, but it was drifting beyond the ability of control. I tweaked a little something. To this day, I'm still messed up."
Notably, Robert Downey Jr. wasn't surprised by this injury. When he arrived at the "Captain America: Civil War," set and saw what Evans had been filming, the actor immediately knew that this shot was risky. Luckily, after Evans sustained his injury, Downey was there to help.
Hugh Jackman as Wolverine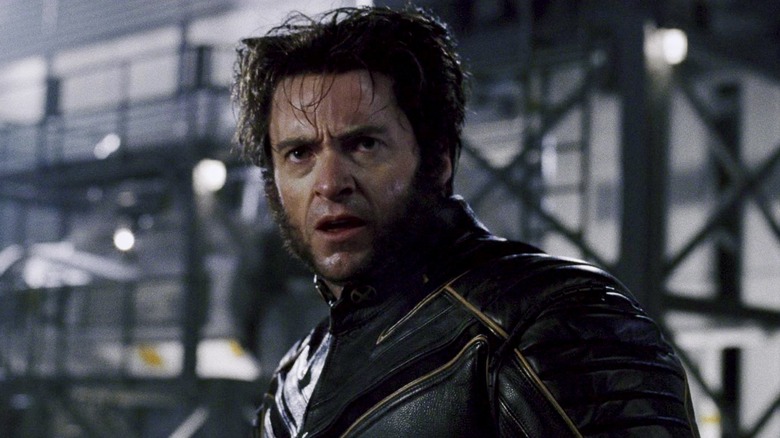 20th Century Fox
Hugh Jackman has suffered a litany of injuries playing Wolverine. During the production of "X-Men," Jackman injured his groin after getting caught in a stunt harness. "That was pretty brutal," Jackman told Yahoo! "I screamed so much, and they kept going because they figured it was me primal-yell emoting." He also smashed his ear during the production of the first movie.
During the production of "X-Men 2," Jackman discovered just how dangerous Wolverine's metal claws truly are when he cut the skin next to his eye — leaving a scar — and his upper thigh. Jackman talked about the latter injury on The Graham Norton Show, explaining that it happened while filming a nude scene. He turned a corner, saw a group of female crew members, and reflexively tried to cover himself. "I did cut myself on the inner thigh," he recalled, as his fellow guests winced in sympathy.
External injuries aren't the only type Jackman experienced while playing Wolverine. During an interview with the BBC, Jackman admitted, "I've done some damage to my voice with Wolverine. My falsetto is not as strong as it used to be and that I directly put down to some of the growling and yelling. My vocal teacher in drama school would've been horrified with some of the things I did." Injuries won't stop Jackman from reprising his iconic role in "Deadpool 3," however.
Brandon Lee as the Crow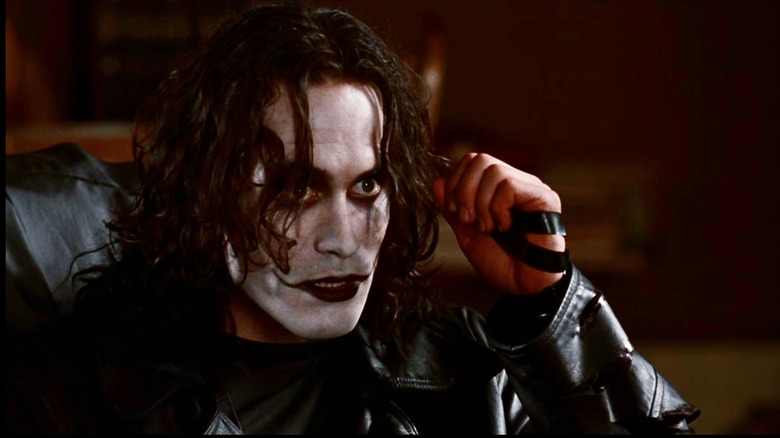 Miramax
"The Crow" follows the titular superhero, an avenging angel with goth-rock swagger, as he seeks revenge for his own death. Sadly, his actor, Brandon Lee, never saw the finished product on the big screen. During production, Lee was shot with a prop gun that contained a real bullet instead of a blank. He died after 12 hours of surgery. His death raised major concerns about firearm safety in the film industry, and remains one of the saddest Hollywood stories of the past few decades.
District Attorney Jerry Spivey declined to press charges against the movie's production company. As he told The New York Times, "There's a part of me that wants to file charges and have a trial. But from a purely legal point of view, I would not feel comfortable." Lee's mother, Linda Lee Cadwell, filed a civil suit and settled out of court. Paramount Pictures backed out of distributing the film because of Lee's death, but it made $94 million at the box office and gained a cult following. In an eerie example of life imitating art, Lee, like his character, was young, talented and on the cusp of stardom when his life was cut short. He will always be remembered for his role in "The Crow."
Jason Momoa as Aquaman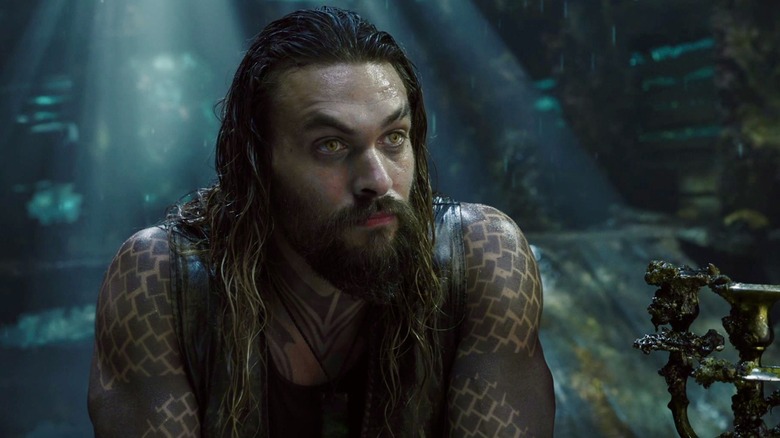 Warner Bros. Pictures
Jason Momoa suffered multiple injuries while filming "Aquaman and the Lost Kingdom," telling Ellen DeGeneres that he scratched his cornea during production — and that's just for starters. "I messed up my eyes," the actor detailed, "just got something in [them] that kind of cut it up. And I gotta get surgery on a hernia. I got ribs out. I'm just getting beat up."
Momoa assured DeGeneres the injuries were well worth it, however. "It's gonna be a great movie," he assured fans. "You're gonna love it." DeGeneres playfully gave Momoa a hard time for getting injured in every movie he seems to make. Momoa chalked it up to his advancing age and passion for filmmaking. It's rough stuff, but he considers it worth it. Moreover, he seems likely to recover before he needs to promote the much-anticipated "Aquaman" sequel.
Robert Pattinson as Batman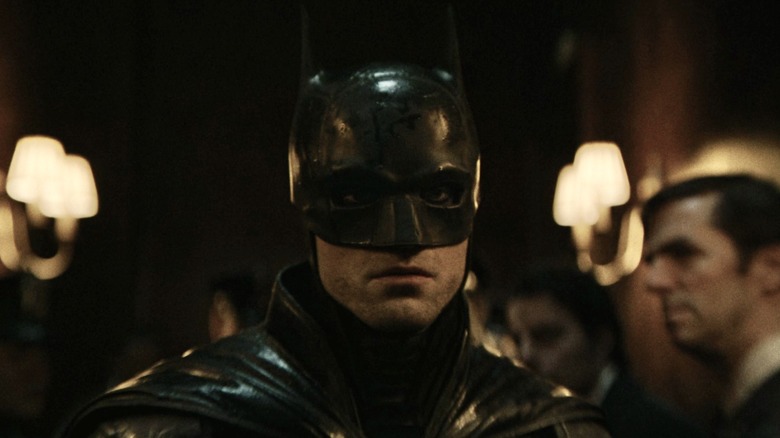 Warner Bros. Pictures
Like many movies affected by the COVID-19 pandemic, "The Batman" saw its fair share of difficulties during production. Some of them even predated the pandemic. Star Robert Pattinson told GQ, "I broke my wrist at the beginning of it all, doing a stunt, even before COVID. So the whole first section was trying to keep working out — looking like a penguin. I remember when that seemed like the worst thing that could go wrong."
Soon the film was shut down because of the pandemic, giving Pattinson plenty of time to nurse his broken wrist and quarantine with the rest of the world. Then, after the movie finally went back into production with new regulations, Pattinson tested positive, and production was paused again. "The Batman" shoot ultimately encompassed a staggering 18 months, leaving the star feeling beleaguered and burned out. In the end, breaking his wrist during a stunt turned out to be one of the smaller challenges Pattinson faced while bringing this new iteration of the Caped Crusader to life during a global pandemic. Maybe someday, after "The Batman" sequel is under his belt and Pattinson has adjusted to playing a superhero, this will all seem minor — but for now, it still looms pretty large.
Jeremy Renner as Hawkeye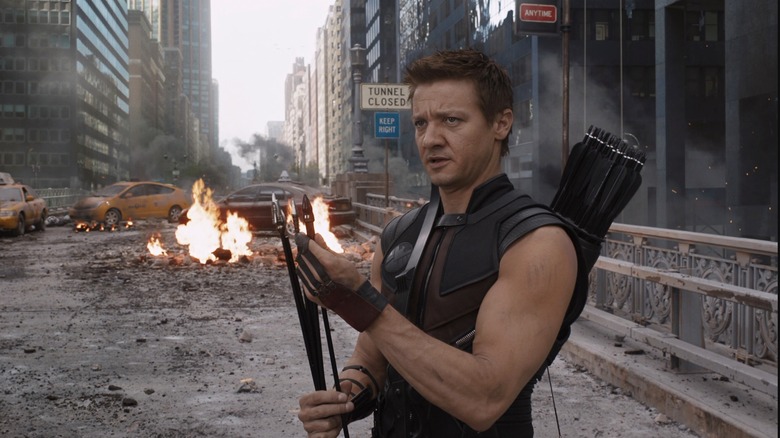 Walt Disney Studios Motion Pictures
Jeremy Renner was in the news in early 2023 after getting injured saving his nephew from being crushed. But this real-life hero has also injured himself playing the superheroic Hawkeye. Renner has made a name for himself by doing his own stunt work, and sometimes, these stunts result in injuries.
While talking with Howard Stern, Renner discussed his committment to doing his own stunts. "You spend so much time and money to try and create a world for people ... you don't want them to be pulled out of the movie by some guy with a bad wig trying to do the stunt," the actor remarked. This incurs a major price tag, however: Renner broke both his arms while filming the action comedy "Tag." Astonishingly, he went back to work the same day.
Renner has gotten beaten up while playing Hawkeye too. While filming a stunt for "The Avengers," Renner tore a muscle in his back and had to take a break from filming. Director Joss Whedon told The Hollywood Reporter, "His fight work is wonderful: precise, heroic, and you seldom have to double him. But one day he just turned wrong and his whole body shut down ... He was in enormous pain, and we had to shut that sequence down and shoot it a couple of weeks later."
Ruby Rose as Batwoman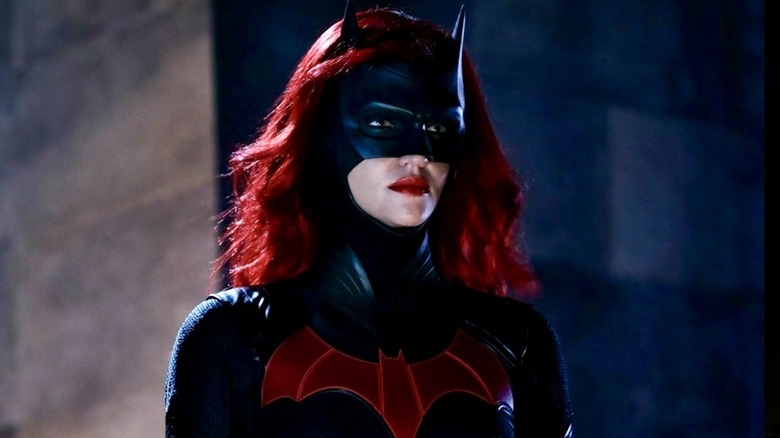 The CW
Ruby Rose sustained a spinal injury while filming Season 1 of "Batwoman." The actor had surgery for two herniated discs, sharing on Instagram, "A couple of months ago I was told I needed an emergency surgery or I was risking becoming paralyzed ... I had herniated two discs doing stunts, and they were close to severing my spinal cord. I was in chronic pain and yet couldn't feel my arms." After this injury, Rose completed filming Season 1.
After Season 1 concluded, Rose departed the series. She later alleged (via Vulture) that she was pressured to return to production only 10 days after surgery, and that the CW production was unsafe. Warner Bros. Television Group denied Rose's allegations, and claimed the actor was let go due to colleagues' complaints. Notably, Rose isn't the only actor who got injured on set: A production assistant was left paralyzed after being injured by a descending lift. We may never know the truth about the set of "Batwoman," but we do know that Rose needed surgery for injuries sustained while playing the titular character.
Christopher Tierney as Spider-Man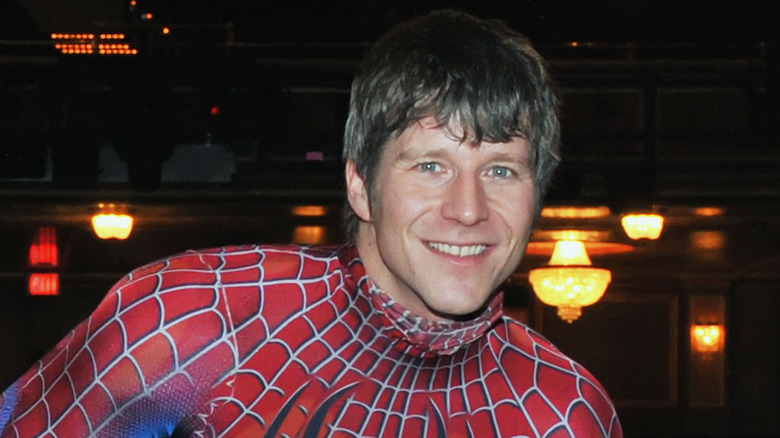 Slaven Vlasic/Getty Images
Aerial stuntman Christopher Tierney was seriously injured while performing in the infamous Broadway production "Spider-Man: Turn Off the Dark." Specifically, he fell 30 feet into the orchestra pit when his tether failed to stop his fall mid-performance. Tierney was far from alone in getting hurt while bringing this production to life: So many "Spider-Man: Turn Off the Dark" performers sustained injuries, it attracted the interest of the Department of Labor and OSHA. "Certainly, the most recent accident will further motivate us to look closely at this production," OSHA spokesperson John Chavez told The NY Post.
After recovering, Tierney told NPR, "I broke four ribs, three of my vertebras. I fractured my skull. I fractured my right scapula and a radial fracture on my elbow." Despite his professed enthusiasm to rejoin the production as Spider-Man's aerialist stunt performer, Tierney left the production in 2013. Tierney's replacement, Richard Kobak, eventually sued Live Nation Worldwide, who maintained the equipment used in the production's high-flying stunts, for the injuries he sustained while performing as Spider-Man. Actors portraying Spider-Man have a long history of getting banged up in the role, but these injuries stand out as perhaps the most severe and extensive.
Letitia Wright as Shuri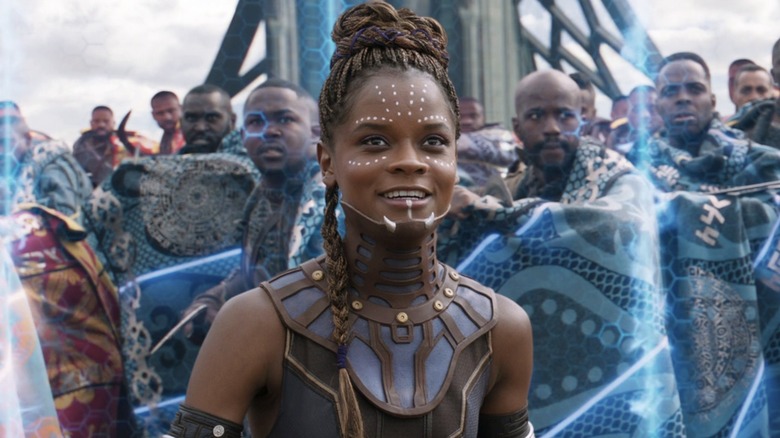 Walt Disney Studios Motion Pictures
While filming "Black Panther: Wakanda Forever" in Boston, Letitia Wright, who plays Shuri, was injured. No one initially expected Wright's injuries — a concussion and a shoulder fracture — to affect the production of the blockbuster Marvel movie. But in November 2021, production on the "Black Panther" sequel was temporarily halted so Wright could recover from these lingering injuries.
After Chadwick Boseman's tragic death, Marvel decided not to recast the role of T'Challa. This meant Shuri embarked on a larger role in the sequel, eventually taking on the mantle of the Black Panther herself. Because of this increased profile, the production needed to give Wright — now the star — ample time to heal from her injuries. Like many movies filmed during the pandemic, "Black Panther: Wakanda Forever" also experienced several delays and setbacks, in addition to being subject to ever-shifting regulations. This forced everyone involved to be flexible.
Marvel Studios executives Kevin Feige, Nate Moore, and Louis D'Esposito sent a note to the cast and crew of the production detailing the need for a delay in filming. "Letitia had a frightening accident on our set during a stunt back in August," the note read. "It was a reminder of the importance of safety at all times in our work, which we know you understand and are committed to. What we had initially thought were minor injuries turned out to be much more serious." Happily, Wright was able to recover, and "Black Panther: Wakanda Forever" made it to theaters.