A Seinfeld Spin-Off Would Have Followed One Of The Show's Most Loved Secondary Characters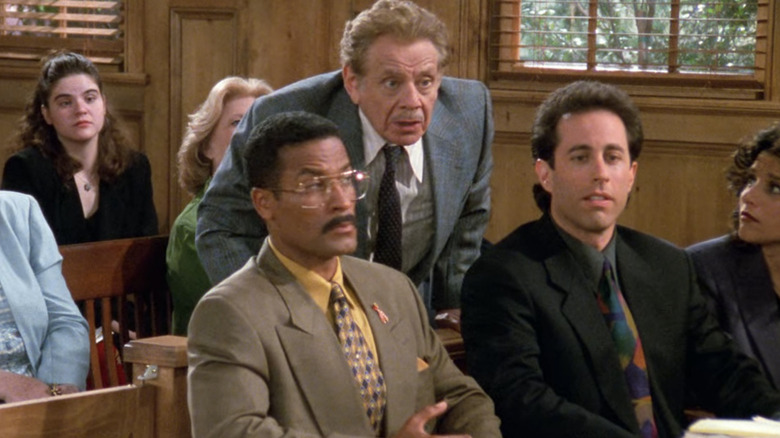 NBC
The "Seinfeld" foursome are a Mount Rushmore unto themselves, not unlike the Beatles, the "Sex and the City" gals, or the Teenage Mutant Ninja Turtles. Indeed, the core cast of "Seinfeld" is such an iconic cultural artifact that individual characters have become shorthand for entire personality types. George Costanza (Jason Alexander), for example, is television's most notorious cheapskate, and Kramer (Michael Richards) is a textbook wild card.
Jerry (Jerry Seinfeld), Elaine (Julia Louis-Dreyfus), George, and Kramer could hardly have endured for nine seasons if not for their hilarious, sometimes ill-fated interactions with the colorful side characters on "Seinfeld." Frank and Estelle Costanza had the star power to command entire episodes, and "Seinfeld" showcased up-and-coming actors like Bryan Cranston before they hit the big time. It's no surprise that the polarizing "Seinfeld" finale elected to reunite those characters one last time.
Any number of secondary characters had the juice to helm their own series. For one "Seinfeld" character, that opportunity almost came to fruition.
Jackie Chiles almost had his own show
NBC
For a character who only appeared in five episodes of "Seinfeld," Jackie Chiles was one of the series' most outstanding, tremendous, stupendous sidemen. Played by Phil Morris, Chiles was a thinly veiled parody of attorney Johnnie Cochran, who rose to fame as a member of the defense team for the O.J. Simpson murder trial. Chiles was a verbose, skilled lawyer whose legal dealings were often undermined by Kramer's incompetence.
For Larry David and Jerry Seinfeld, Chiles was a strong enough character to strike out on his own, and Morris had already revived the character for a series of Honda ads written and produced by the Coen brothers. In 1999, the pair okayed Morris' pitch for a Chiles-centric spin-off series and signed on as executive producers. As Morris told The Chicago Tribune at the time, Seinfeld initially rejected the idea before he came around. "[Jerry] said, `You know, you're right. It's time for this guy. He's a killer character. You're going to be a big-time TV star.' Those were his exact words." Per Morris, the series was angling for a midseason premiere on NBC and was going to take place at "a very austere white law firm, and sparks will fly. Jackie needs to be in constant conflict."
Unfortunately, the series never came to fruition, and according to the San Francisco Chronicle, NBC had no knowledge of the project. Still, Morris has been able to reprise the role for a number of commercials over the years, including an ad for Snyder's of Hanover Pretzel Pieces and a 2010 spot for Jim Beam.