Seinfeld Is Over But Kramer's Lawyer Lives On In Pretzel Commercials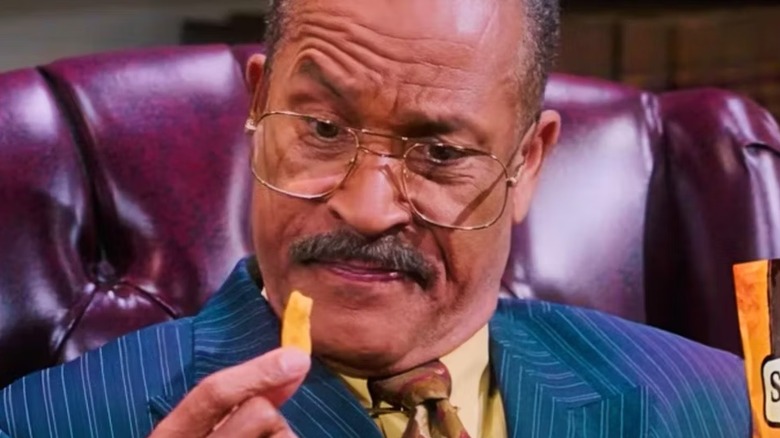 Snyder's of Hanover/YouTube
Over the course of its nine beloved seasons, "Seinfeld" built up quite a collection of eccentric supporting characters. It's hard for fans to pick a favorite, but one of the most cherished (if not the most moral) is fast-talking attorney Jackie Chiles (Phil Morris), who served as a lawyer for the multiple legal battles fought by Cosmo Kramer (Michael Richards). Chiles went on to represent the show's fearsome foursome during their sensational "Good Samaritan law" trial in the show's polarizing series finale.
In a better, more perfect world, Jackie Chiles would have gotten his own spin-off series after the "Seinfeld" finale, like Saul Goodman (Bob Odenkirk) on "Breaking Bad." There are so many directions the character could have gone: he could have taken down powerful corporate adversaries in court like Billy McBride (Billy Bob Thornton) on "Goliath," or maybe he could have moved out of the city and gotten a job as a small-town defense attorney like Matlock (Andy Griffith) on "Matlock." 
We don't live in a world where that happened, but that doesn't mean we've seen the last of Jackie Chiles. In fact, he's back, and he's now representing those who have purchased Snyder's of Hanover Pretzel Pieces.
If you've purchased Snyder's Pretzel Pieces, Jackie Chiles wants to hear from YOU
That's the premise of a new ad campaign from the pretzel people at Snyder's of Hanover, as seen in the video above. The Snyder's YouTube channel features four such videos starring famed attorney Jackie Chiles (Phil Morris), discovering that Snyder's is selling Pretzel Pieces that are bursting with so much flavor they shouldn't even be legally classified as pretzels. That's the basic idea behind this Snyder's ad campaign, and it should have been a recipe for viral gold, but unfortunately it doesn't appear to have caught on. The most widely seen video of the bunch has just 24,000 views, and the least seen one has a paltry 832 views as of this writing. As Jackie might say: it's preposterous, egregious, outrageous!
Sometimes, it seems, the funniest stuff can just slip through the cracks on the internet. Fortunately, this isn't the only time Jackie Chiles has lent his services to a brand in order to advertise them ... or sue them into oblivion. In fact, he's kept pretty busy in the years since he failed to keep the "Seinfeld" crew out of prison.
The character has popped up in several different commercials over the years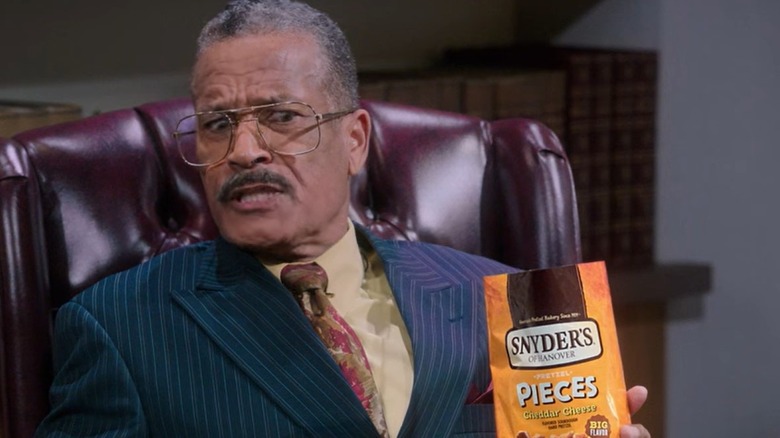 Even the most hardcore "Seinfeld" fans out there might not be aware that this is not the first appearance that Jackie Chiles has made in the advertising world. Just poke around on YouTube a little and you'll see Phil Morris reprising his most famous role to advertise everything from a Honda Odyssey (YouTube) to Diet Dr. Pepper (YouTube). And in 2010, the fast-talking attorney came out of the woodwork once more to "sue the bears" in a commercial for Jim Beam (YouTube).
With Jackie Chiles back once more to advertise pretzels, it would be shocking, distressing, and stupefying not to mention that he is not the first "Seinfeld" alum to serve the public in that capacity. Back in the 1990s, Jason Alexander went from the immortal line "these pretzels are making me thirsty" to actually appearing in commercials for Rold Gold Pretzels (YouTube). Evidently, the connection between "Seinfeld" and pretzels is not lost on the minds of advertisers, even all these years later.