Evan Peters Didn't Know Anything About American Horror Story When He Signed On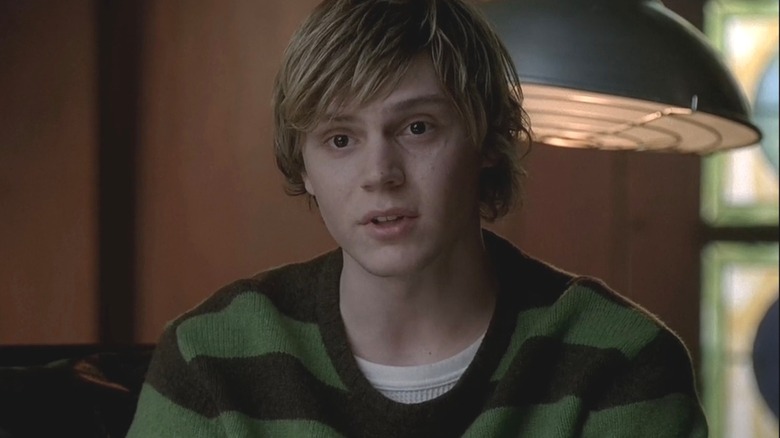 FX
Brad Falchuk and Ryan Murphy's twisted series, "American Horror Story," has been scaring fans for over 12 years. Even though the plot of every disturbing season of the anthology differs, fans can expect to see at least one familiar face of the recurring cast members in each episode. This is particularly true of Evan Peters, who has played 17 characters throughout a total of nine seasons. While speaking to The Wrap in 2018, the "WandaVision" actor noted he was tasked to portray fictional versions of numerous historical figures, including Andy Warhol, David Koresh, and Charles Manson, in the show's seventh season, titled, "American Horror Story: Cult." Peters shared that he did extensive research to play each character and felt drained once Season 7 wrapped filming. "It was mentally and physically exhausting," shared the actor. 
Despite his devotion to his performances on "American Horror Story," Peters knew nothing about the series when he joined the cast for its first season, often referenced as "American Horror Story: Murder House."
Evan Peters had limited knowledge about American Horror Story when he joined the cast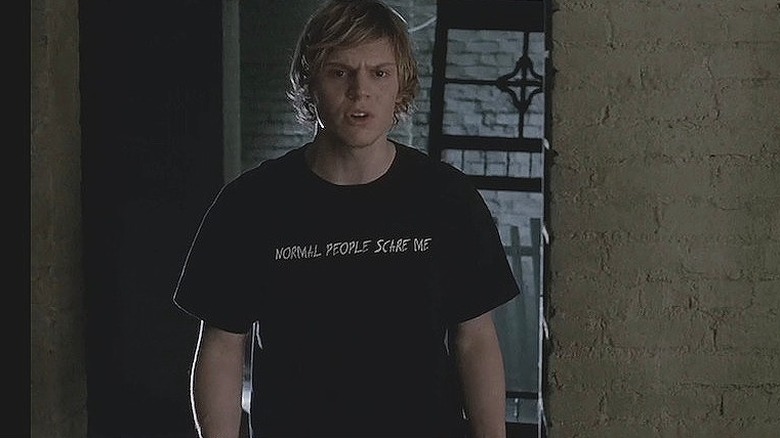 FX
In a 2018 GQ interview, Evan Peters admitted he most enjoyed filming "American Horror Story: Murder House" as he was unaware that the horror series would eventually develop into a complex anthology with interconnecting plotlines. "Season 1 was probably my favorite because... we didn't know what it was. I didn't know it was going to be an anthology series, I didn't know I was going to be playing a different role. I didn't know anything," stated the actor.
Despite having limited knowledge about "American Horror Story," Peters suggested he was excited to be a part of the show because he wanted to continue working as an actor. "I was just happy to have a job," said the "I Am Woman" star. "And happy to have a cool part and being in a show that was, you know, intense and sort of flipped everything on its head, which was cool. So I didn't know any of that stuff going into it."
During the GQ interview, Peters also shared how he secured the role of every parent's nightmare, the murderous teenage ghost, Tate Langdon. He explained he auditioned with a scene from Season 1, Episode 1 ("Pilot"), where Tate recounts what is believed to be a disturbing fantasy to his psychiatrist Dr. Ben Harmon (Dylan McDermott). Peters revealed that his delivery of Tate's upsetting dialogue about a blood ritual impressed Ryan Murphy. "Ryan told me, you know, years later, he was like, 'Because of the way you said that line, that's why you got the role,' And I was like 'oh cool,'" recalled the actor with a laugh.