Johnny Brennan Claimed Family Guy And The Jerky Boys Are 'Forever Intertwined'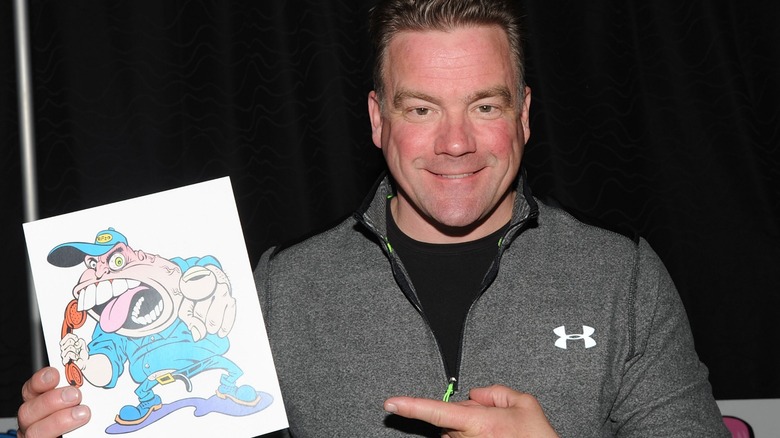 Bobby Bank/Getty Images
One of the most influential comedy acts of the '90s was a duo known as "The Jerky Boys." Predating "Crank Yankers" by over a decade, "The Jerky Boys" rose to prominence with albums featuring over-the-top characters, voiced by comedians Johnny Brennan and Kamal Ahmed, making prank phone calls to unsuspecting victims. The funnymen burst onto the scene when bootlegged tapes of their prank calls played on "The Howard Stern Show" in the early '90s. Several super successful albums and one studio-backed feature film later, the duo finally decided to call it quits in the year 2000. Brennan has continued "The Jerky Boys" act in various incarnations as a solo performer ever since.
Some of the most famous characters to come out of "The Jerky Boys" were Frank Rizzo, Sol Rosenberg, Tarbash, The Egyptian Magician, and Ali Kamal. Brennan voiced both Rizzo, a foul-mouthed everyman who filed numerous complaints over the phone, and Rosenberg, a very insecure man with a never-ending list of ailments. Ahmed voiced both Tarbash, a magician often attacked by the animals in his act, and Kamal, a cab driver who is often assaulted. The characters they voiced played on stereotypes from the time but were influenced by family members of the duo.
Their brash, only-in-the-'90s, in-your-face comedy stylings were a huge influence on future comedy all-stars such as "Bridesmaids" director Paul Feig, "Trainwreck" actress Amy Schumer, and even "Family Guy" creator Seth MacFarlane.
Brennan confirmed his Family Guy characters are influenced by his Jerky Boy characters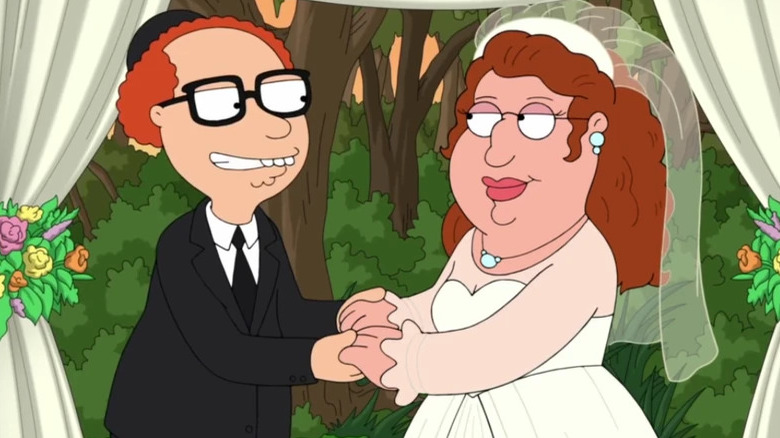 FOX
One half of the legendary duo, "The Jerky Boys," Johnny Brennan would go on to voice several characters in "Family Guy" for longtime fan Seth MacFarlane. Besides playing background characters and additional voices in the show, Brennan has voiced Mort Goldman, the widowed pharmacy owner, and Horace, the owner of The Drunken Clam bar.
In 2017, Brennan held a Reddit AMA, and within it, he was asked about his "Jerky" legacy being tied to "Family Guy." Brennan said, "The 'Family Guy' thing is wonderful. Seth MacFarlane was listening to my stuff as a kid and he is a huge fan that wanted me to be a part of the show from the very beginning." He continued saying that the fandom of "The Jerky Boys" continues, and new fans can find them through the reach of "Family Guy."
He confirmed that some of the characters he voices on the show are extensions of characters he created doing "The Jerky Boys," thus always linking the two pop culture facets for fans. For example, he said that "Family Guy" character and Goldman's Pharmacy owner Mort Goldman may be a cousin to the constantly ill "Jerky Boys" character Sol Rosenberg. Brennan continued, "So 'Family Guy' and 'Jerky Boys' will be forever intertwined in some way."