Young Sheldon's Lance Barber Knows His Credits In TBBT Haven't Gone Unnoticed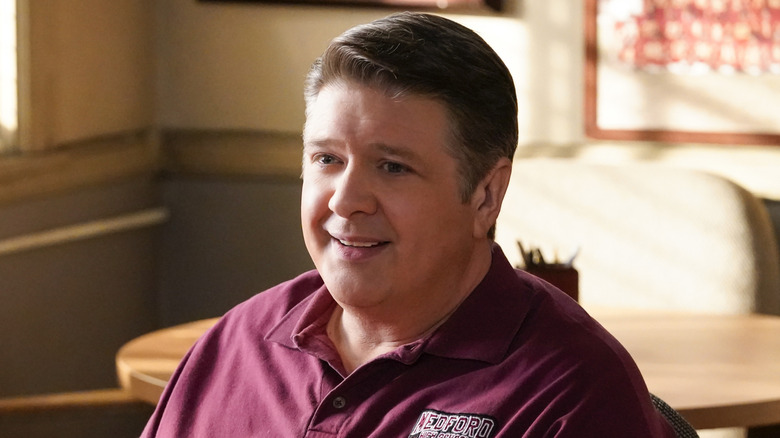 Robert Voets/ 2021 Warner Bros. Entertainment
While "The Big Bang Theory" may have finished up its extremely popular run in 2019 after 12 seasons, its spin-off and prequel series "Young Sheldon" is still running strong on CBS. Currently, in its sixth season, the sitcom focuses on, as the name implies, a younger version of Sheldon Cooper (Iain Armitage) as he grows up in a small town in Texas. Sheldon is often misunderstood by his family and the other people in his town due to his intellect and interest in scientific pursuits.
Nowhere is this arguably more apparent than in his relationship with his father, George Cooper (Lance Barber). George is a war veteran and a former coach and displays personality traits that are the exact opposite of his son Sheldon's. Still, the two do have a loving relationship. However, eagle-eyed fans of both shows may find it odd that Barber stepped into the role of George, considering that he once played an entirely different role on "The Big Bang Theory." And this is something that Barber himself is aware of.
Barber formerly played a bully on The Big Bang Theory
During the Season 5 episode "The Speckerman Recurrence," Lance Barber actually appeared on the episode as the former bully of Leonard Hofstadter (Johnny Galecki) in high school. So it was certainly an odd choice when those involved in the show would later cast the actor as Sheldon's deceased father late in the series and then once again on "Young Sheldon." However, Barber himself realizes that this was bound to be noticed, and he found it fun more than anything, according to an interview with ET.
"It was fun for me because when that happened and I got that job, it was apparent to me that that was going to be noticed, especially from how deep the fans are of those shows," Barber said. "So it wasn't going to go unmissed by the fandom."
Actors featuring in the same show in different parts isn't an entirely new thing when it comes to television. Sometimes an actor works so well that they'll bring them back again, and of course, there's always anthology shows like "American Horror Story" that bring back the same cast members in different roles. Still, it's definitely a bit odd that the casting crew for "Young Sheldon" and "The Big Bang Theory" decided to give the actor such a big role in the former show after he had played such a different role in the latter. But it's definitely not something that Barber seems concerned with at all, and, if anything, it's just a fun little Easter Egg for fans of the sitcom to point to.