1923's Michelle Randolph Was Initially Nervous To Work With Helen Mirren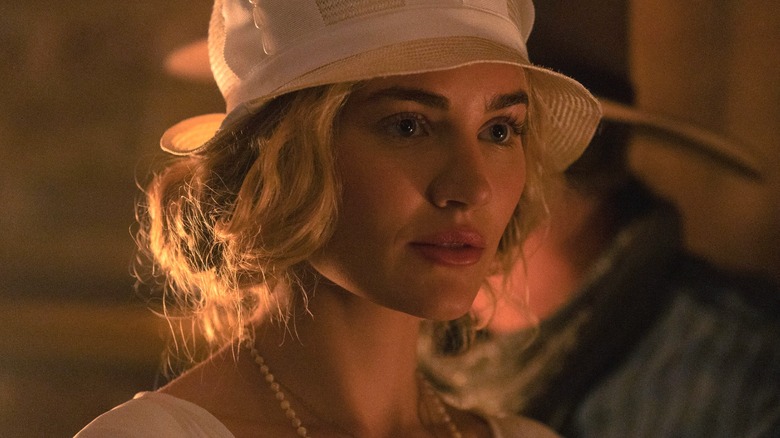 Emerson Miller/Paramount+
In mid-December 2022, Taylor Sheridan dropped yet another strong installment in his rapidly expanding "Yellowstone" television saga. The wild "1923" puts the Dutton family in a fascinating new time period full of trials and tribulations for them to navigate. In doing so, it greatly expands on what has become a pretty confusing Dutton family tree and pulls off some welcome worldbuilding to boot. To succeed on all fronts, "1923" enlisted a strong stable of actors with varying skills and levels of experience. Suffice to say, everyone involved brought their A-game for what became a Paramount+ hit.
Of course, when talking about the "1923" cast, two names stand head and shoulders above all others: Harrison Ford and Dame Helen Mirren. The two Hollywood icons spent decades honing their craft at the cinema before joining Sheridan's TV universe, making them incredibly high-profile additions to the cast list. Not to mention, their presence on set gave their younger co-stars a unique opportunity to learn a thing or two. Although, working with such acting legends can be a bit intimidating, as Elizabeth Strafford actress Michelle Randolph has admitted.
Randolph has shared that when she first got started on "1923," she was a bit nervous to work opposite Helen Mirren, specifically. Thankfully, that discomfort melted away in short order.
Mirren made it easy for Randolph to get over her nerves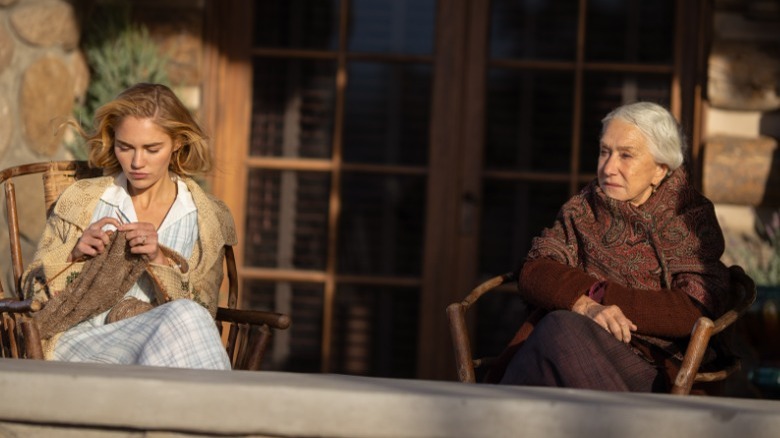 Christopher Saunders/Paramount+
Alongside Darren Mann — the actor behind Jack Dutton — Michelle Randolph spoke to ComingSoon.net about the experience of filming "1923." She even shared her feelings about working with Helen Mirren, which was something that had her a bit anxious at first. "At first, I was really intimidated, but Helen is so kind, and she makes you feel really comfortable on set...I think that's a gift about her," Randolph explained. It's a good thing they got along well, too, seeing as she and Mirren share a decent amount of screen time together in the first season.
As Randolph built a rapport with Mirren, her preparation for "1923" led her to get quite close with her other co-stars as well. In an interview with Wonderland Magazine, she mentioned that going through a rigorous "cowboy camp" designed to teach the cast some of the things they'd be expected to do on the show was a bonding experience. As she told the publication, "We formed the type of closeness that you do when you're a kid and you go to summer camp." Randolph notes that by the time the camp was over and they were ready to shoot, the cast was already exceptionally tight-knit.
With a second season of "1923" on the way, we'll have to see if Michelle Randolph's Elizabeth Strafford will get to spend more time in the spotlight, potentially sharing it with Helen Mirren's Cara Dutton.