The Impractical Jokers' Punishment That Was 3 Months In The Making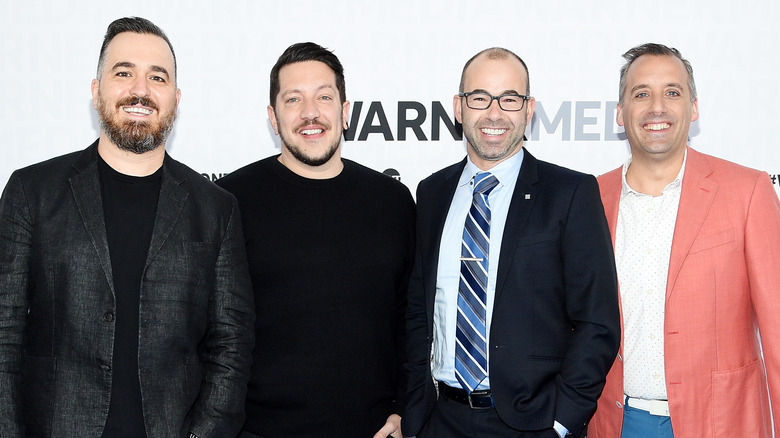 Dimitrios Kambouris/Getty Images
truTV's "Impractical Jokers" has been around for over a decade now, and in that time, it has provided viewers with loads of hilarious moments. Sal Vulcano, Brian "Q" Quinn, James "Murr" Murray, and Joe Gatto — who is sadly no longer on the series — have put each other through the wringer in a variety of embarrassing, painful, and stressful challenges designed to entertain viewers at home. Although, while the challenges are tough to go through with, the punishments that close out "Impractical Jokers" episodes are on another level entirely.
As has been the case since the beginning, whichever joker ends up with the most losses by the end of a given episode must accept their punishment. Sometimes they're scary, like when Murr was forced to go skydiving, and sometimes they're uncomfortable, like the time Q had to teach his parents about human reproduction. Regardless of their nature, though, they're almost always good for a laugh, which is great for the minds behind them. After all, putting together punishments isn't all that easy, with some proving tedious and time-consuming to put together.
In fact, to make one "Impractical Jokers" punishment a reality, the guys had to wait around for three months. Here's why, what the punishment entailed, and who was unfortunate enough to wind up on the receiving end.
Sal, Q, and Joe forced Murr to grow out his chest hair in an unusual pattern
For the Season 4 episode "Doomed," Murr found himself stuck as the night's big loser. As part of his punishment, which saw him chained up and forced to watch his childhood blanket burn to ash, he had to grow out his chest hair in an unusual fashion. "For the past three months, the guys have made me shave my chest except for my nipples," Murr shared shortly before the punishment took place, confusedly pondering what his fellow jokers had in store for him. Little did he realize he'd have his shirt removed before he was restrained in a park and made to witness his blanket's demise.
As if this wasn't bad enough, Murr suffered another hair-related punishment during the following season. In the episode "Browbeaten," he's brought into a barber shop where his eyebrows are shaved clean off — a mere two weeks before his nephew's confirmation and just before the "Impractical Jokers" crew shipped off to London, England. Adding onto the embarrassment, Joe, Sal, and Q then have his light beard and hair shaved off as well. However, the punishment doesn't end there. With nothing more than a circle of hair left on the crown of his head, Murr had to go get a new driver's license photo taken.
Murr's ability to grow hair has repeatedly been used against him on "Impractical Jokers," and one has to imagine that as long as it gets a laugh, it will continue to be for years to come.