Why Larry James From Walker Looks So Familiar
HBO Max
Remakes and reboots are par for the course nowadays. Everything under the sun seems to be getting the treatment, including a television classic, the Chuck Norris-led "Walker, Texas Ranger." The series follows the titular character as he foils the criminal enterprises in his Lone Star State, one roundhouse at a time.
The series got the reboot treatment in 2021, when Cordell Walker made his return to the CW, this time played by Jared Padalecki. After his successful run on the long-running hit "Supernatural," he landed another gig with the studio to revive the beloved '90s series. Besides the lack of a Norris-level beard and roundhouse kicks, there have been a few changes to the character. Most notably, he is now a widowed father in search of those who killed his wife, and he now works with a female partner who is every bit as eager to rough up the bad guys.
One of the more intriguing characters in the series is Larry James. In the pilot episode, we meet the character and learn that he is Cordell's former partner and has been promoted to captain. Not only is he now in charge of a Ranger with authority issues, but he is one of the only black Rangers in the entire division. If you have been watching the series from the beginning, you may wonder where you have seen this actor. This is why Larry James looks so familiar.
Coby Bell was a burned agent in Burn Notice
"When you're burned, you've got nothing." Those are among the first words viewers heard at the beginning of every "Burn Notice" episode for seven seasons. The series follows altruistic secret agent Michael Weston (Jeffrey Donovan), who is burned and disavowed by the CIA. As he searches for the people who set him up and ruined his career, he helps those in need.
Coby Bell shows up in Season 4 of the series as Jesse Porter. In a lot of ways, Porter is Michael's mirror. He is a capable operative who works as an agent for the Department of Defense. In an unfortunate chain of events set off by Weston, Porter also finds himself burned. He eventually joins the team, which also includes Weston's former girlfriend, Fiona (Gabrielle Anwar), and Sam, played by Bruce Campbell.
Bell sat down with Smashing Interviews Magazine and talked about what it was like joining an already-established cast halfway through the series. "They did a really good job of making me feel welcome. But it was my first time coming on to a show when a show was already up and running and successful. Every other show I've been on from the beginning, so this is my first time trying to play catch up. That was a challenge as far as finding out where I fit in with the tone of the show and all that."
He played a declining NFL Star on The Game
"The Game" is a spin-off of the UPN series "Girlfriends," which got a backdoor pilot in the form of a 2006 episode of the same name. Tia Mowry is introduced as Melanie Barnette, a brilliant medical student that turns down an opportunity to attend John Hopkins to follow her boyfriend out to San Diego to pursue his career as a professional football player. The series centers on her for the first five seasons and the developing relationships of the players for the fictional professional football team, the San Diego Sabers.
Coby Bell appears in 147 episodes across nine seasons as superstar wide receiver Jason Pitts. He goes through numerous career pitfalls and developments, along with personal strife. After he gets cut from the team in Season 4, he becomes a correspondent and spends two seasons as an on-air personality. He tries to make a comeback in Season 6, only to be sidelined with a concussion, leading him to retire for good.
Bell had to pull double duty on "The Game" and "Burn Notice," as he revealed in his interview with Smashing Interviews Magazine. "So far, it hasn't been too bad because when 'Burn Notice' ended last season, 'The Game' started. This season there is a couple of weeks overlap, and I'll just see what I can work out schedule-wise."
He went bad on The Gifted
With Disney's purchase of 20th Century Studios, they are free to bring the X-Men into the MCU for the first time. Mutants aren't a new concept to the franchise, as "Agents of S.H.I.E.L.D." used the parallel Inhumans angle to show their capabilities, and Wanda Maximoff, AKA Scarlet Witch (Elizabeth Olsen), is technically a mutant. Up until now, the X-Men's home was on Fox.
"The Gifted" follows a family of mutants who go into hiding from the persecution of mutants by the population. It covers socially relevant themes like hate crimes, bigotry, and acceptance. Coby Bell stars as Jace Turner, an agent for Sentinal Services that hunts mutants out of hatred. His background is revealed to include a daughter lost in a mutant-related incident making him the natural primary antagonist throughout the series. 
The series was created by Matt Nix, who also created "Burn Notice." Bell discussed working with Nix again on the 2017 San Diego Comic-Con (per Showbiz Junkies). "I still had to audition for Marvel and audition for Fox, but the fact that it all worked out and that I'm here ... Matt and I just keep on looking at each other like, 'Dude, this is happening. This is happening! We're making an X-Men show.'"
He enticed a soldier from Bravo on Seal Team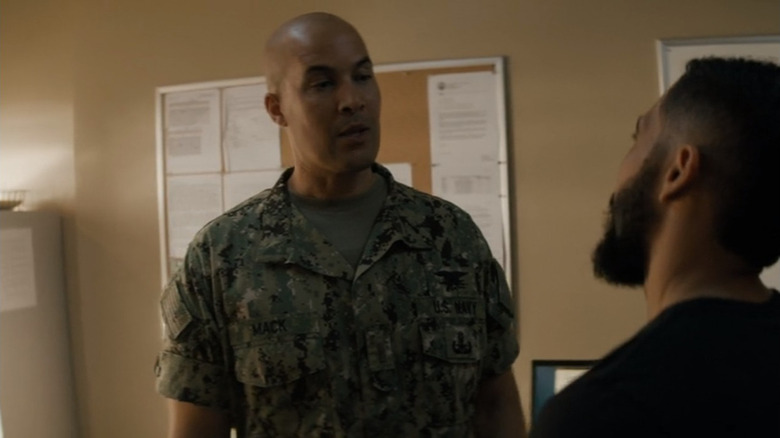 Paramount Studios
David Boreanaz has been a mainstay on television for decades, starting as Angel, a vampire with a vicious thirst for blood and a crush on Sarah Michelle Gellar's "Buffy the Vampire Slayer." He then got his spin-off as the titular character before landing a long-running role in Fox's "Bones." He most recently stars as the lead in "Seal Team," chronicling the personal and professional lives of Navy Special Forces Operators.
Coby Bell makes a small appearance in five episodes of Season 3 as Warrant Officer Glen Mack. At its core, a Seal team is a family. They spend so much time together that they can anticipate every move they are about to make. But when Ray Perry (Neil Brown Jr.) begins to debate leaving the team to pursue the next stage in his career, he stirs emotions, including grief and resentment for Jason Hayes (Boreanaz). Bell appears as the Warrant Officer who looks to facilitate the move for the operator.
The role is more minor than Bell is used to, but it showcases the actor's ability to make an impact in small moments.