The Simpsons' Hank Azaria Had A Genius Audition Icebreaker (& It Hardly Worked)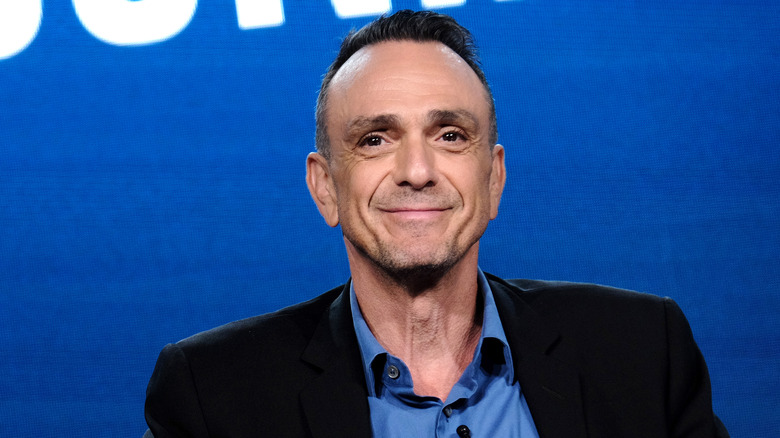 Tommaso Boddi/Getty Images
Hank Azaria is a man of many voices, and he's also a man who's worn many hats during his time in the entertainment world. Aside from voicing dozens of memorable characters for "The Simpsons," he's appeared in many films like "Grosse Pointe Blank" and the 1998 versions of "Great Expectations" and "Godzilla." On the small screen, he played a key supporting role in the Fox sitcom "Herman's Head" and Showtime's "Ray Donovan," and had recurring roles on "Friends" and "Mad About You." 
As a writer, his characters served as the basis for IFC's "Brockmire" (in which he also starred, and which you can binge on Hulu), and he has co-produced series such as "Stressed Eric" and "Huff" (in which he also co-starred). 
He's got a lot of experience under his belt, which means that he's been through many auditions during his time in Hollywood. One has to be cool as a cucumber if you want to survive stardom but, per a recent interview with the actor, it appears that his attempt at breaking the ice with various producers and casting directors early in his career resulted in a few awkward moments that didn't win him much favor.
Azaria's feigned cluelessness drew sincere answers
During a March 6 appearance on "Late Night with Seth Meyers," Hank Azaria revealed that he had a trick for auditioning back in the days when he had to face producers and casting directors. "It never went well, my icebreaker," he admitted. Intending his icebreaker to be a commentary about the absurdity of the audition process, Azaria would reply to the casting director's questions by pretending to be totally naïve about the filmed acting process. "You're going to point a camera at me, but I'm not supposed to notice that?" Azaria said, giving an example of his mock innocence about the entire shooting process.
Azaria's icebreaker didn't work very well when it came to getting him roles — according to his telling, it drew legitimate concern from the casting directors auditioning him, who feared for his mental well-being. And he didn't figure out until he became a producer himself why it was such a bad idea. "I realized that actors are often quite crazy, so they might actually — you don't know that somebody's not having a psychotic break in front of you and needs a reminder the camera's going to be there."
Luckily for Azaria, most of the craziness he's subjected to these days stems from Springfield's unpredictability.