Chris Evans' Ghosted Is Serving Flashbacks Of A Forgotten Tom Cruise Action Flop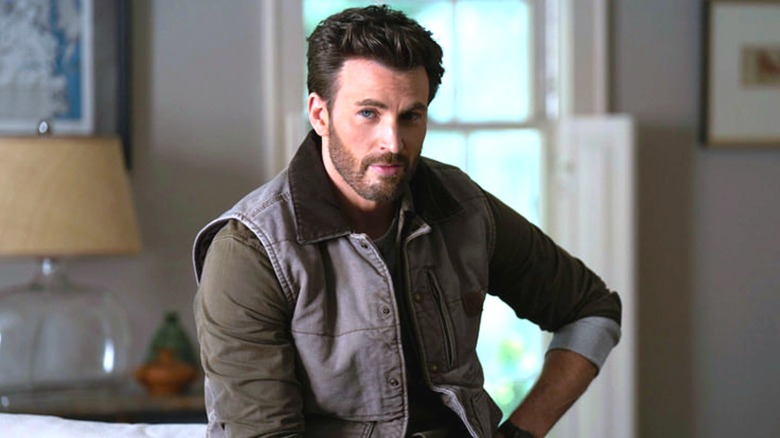 AppleTV+
Apple TV+ prioritizes quality over quantity when it comes to its originals, and this can be seen in everything from prestige dramas to unique comedies to high-octane action projects. The latter category includes such titles as "The Mosquito Coast," "Greyhound," and now the upcoming action-comedy film "Ghosted" starring Chris Evans and Ana de Armas. The movie marks the third on-screen pairing between the actors and allows both the opportunity to return to humor blended with an energized plot in the tradition of "Six Days, Seven Nights" and "Mr. and Mrs. Smith."
The feature's trailer does a great job of laying out what we can expect from the plot as Cole Riggan (Evans) meets and becomes intrigued by the mysterious Sadie (de Armas), who turns out to be an intelligence operative. In addition to action filmmaking, a heavy dose of comic irreverence and romance is on display, which situates the movie in lots of cinematic company when it comes to this mixture. In fact, for many potential viewers, the film is serving them flashbacks of an overlooked Tom Cruise flop.
Ghosted's plot reminds viewers of 2010's Knight and Day
The plot of "Ghosted" is similar to the 2010 James Mangold-directed film "Knight and Day," which stars Tom Cruise and Cameron Diaz in two roles very similar to those played by Chris Evans and Ana de Armas in the Apple-distributed movie. The roles are reversed in "Knight and Day," with Cruise playing the spy and Diaz playing the unwitting love interest, but the tone, style, and basic setup are all quite similar. 
Those who viewed the promo were quick to point out the blatant comparisons between the two works. On Twitter, @johnnygraymusic noted, "They made this movie already," and shared both the existence of "Knight and Day" and the Ashton Kutcher-led "Killers" as examples. Similarly, @prabhu_dot also pointed out the likeness to the Tom Cruise feature, while also adding how "Ghosted" is like the Bollywood film "Bang Bang!," a remake of the Cruise/Diaz project.
On the movies subreddit page discussing the trailer for "Ghosted," u/SQUID_F***** observed, "First thing that came to mind. It really feels identical. A guy falls head over heels, girl turns out to be a spy, they go on a crazy adventure, killing bad guys while arguing about their potential relationship." But despite the similarities, this Redditor did ultimately conclude that this particular sub-genre produces "just easy fun to watch movies." We'll see if "Ghosted" lives up to that particular reputation when the movie hits Apple TV+ on April 21.