Game Of Thrones' Unaired Pilot Was Jokingly Used To Keep Kit Harington In Line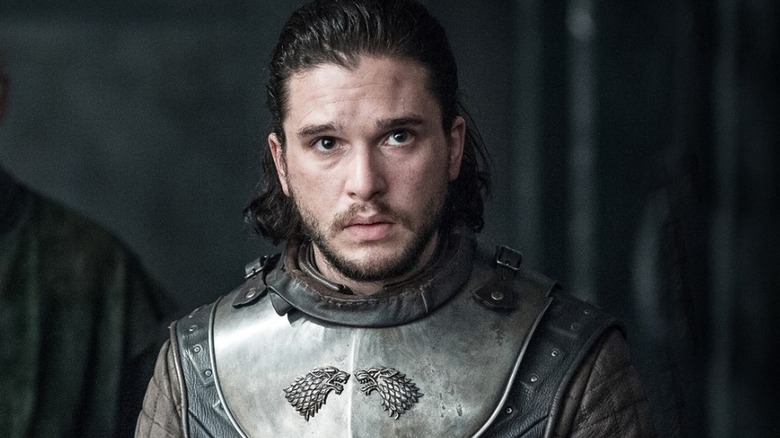 Helen Sloan/HBO
Although HBO's "Game of Thrones" remains one of the most culturally significant and critically acclaimed series of all time, its reputation was undeniably tarnished by its ending, which was universally panned by both critics and fans alike. There's certainly plenty to critique about the final season of "Game of Thrones," but one obvious issue is that it simply doesn't feel at all like the series that came before. The massive CGI battle sequences, breakneck pacing, and single-minded characters of Season 8 are a direct contrast to the show that began in Season 1, which took its time building up a vivid fantasy world full of rich characters who each had their own complex motivations and plans. 
Though these earlier seasons have received a deal more praise than the series' later seasons, it's worth remembering that "Game of Thrones" got off to a very rocky start — more similar to the way it ended than casual fans might expect. Indeed, the unaired pilot for "Game of Thrones" is allegedly so terrible that the showrunners threatened to release it if certain cast members ever stepped out of line ... specifically, lead actor Kit Harrington.
Jon Snow looked so bad in the unaired Game of Thrones pilot that the showrunners sent him screenshots as a threat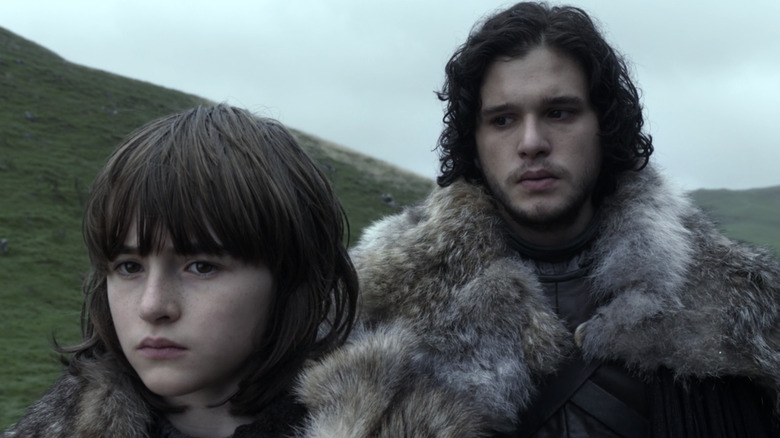 HBO
By all accounts, the unaired pilot off "Game of Thrones" was a dreadful, chaotic mess. From characters adorned with ridiculous hairstyles (including a bowl cut for Jack Gleeson's Joffrey Baratheon), to people forgetting to kneel for King Robert Baratheon (Mark Addy), and an unfortunate instance where a horse in the background of one scene became visibly aroused. And that's not even getting into the cheap fantasy costumes. 
In a 2017 interview with The Guardian, actor Kit Harrington recalled the horrific early look of his character Jon Snow, which featured a wig and forced Harrington to go completely clean-shaven. The final look was so terrible that Harrington says David Benioss and D.B. Weiss have jokingly threatened to release this footage if Harrington ever crosses them. "They said, if I ever piss them off too much, they'll release it on YouTube. Every now and then, they send me a screengrab, just as a threat," Harrington admitted. The fact that Harrington still received screenshots of this early Jon Snow so late into the series makes it clear that the pilot had become a running joke amongst the cast and crew. From all the reports, it sounds like nearly every single character looked "off" in various ways.
Perhaps even funnier is that the showrunners continued to remind Harrington of that awkward wig and shaven face as Harrington became the de-facto lead of "Game of Thrones" itself. In any case, one has to hope that this infamous pilot episode somehow makes it onto the internet in the future — if only to see the horrific costumes and baby-faced Jon Snow that was joked about so often behind the scenes.