Who Did Emily Osment Voice In Family Guy?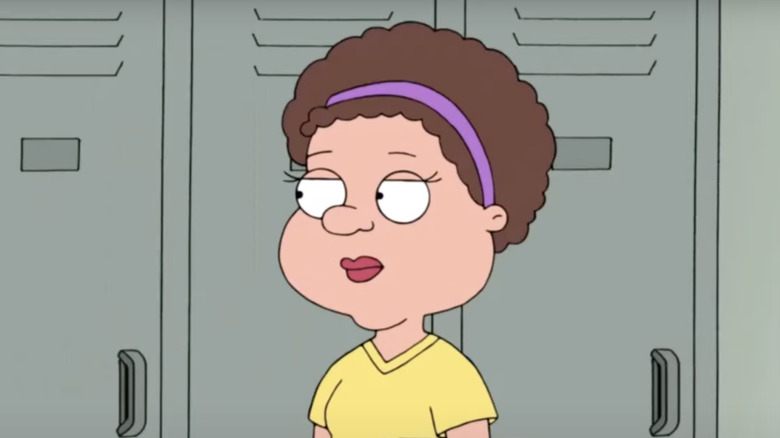 Fox
Many of the dedicated "Family Guy" fans that can't help but partake in every hilarious chapter over and over again probably have noticed that actress Emily Osment sounds quite familiar, especially considering who she plays on the Emmy-winning cartoon "Family Guy."
While some people may know her as the sister to Haley Joel Osment, the actor known for roles spanning "The Sixth Sense" to "The Boys," Emily Osment should most certainly be revered for her skills in the realm of acting. She started at an early age and did not waste any time attaching herself to some big franchises. Many fans of the "Spy Kids" films probably recognize her as Gerti Giggles. And despite some controversy with Miley Cyrus, Osment played the star's best friend, Lilly Truscott, in the "Hannah Montana" series and 2009 film. Her other notable credits include the series "Cleaners," "Young & Hungry," "Almost Family," and "Young Sheldon." She also earned two nominations from the Screen Actors Guild Awards for the honor of outstanding performance conducted by an ensemble in a comedy series for "The Kominsky Method." But her talents are not limited to live-action projects as her above-average vocal abilities have landed her gigs on the Netflix animated show "Dead End: Paranormal Park" as Courtney and the raunchy comedy series "Family Guy." But what part exactly did she play on the long-running animated sitcom?
Meg's friend Ruth is one of Osment's roles on Family Guy
Emily Osment has lent her superior voice talents to "Family Guy" for 26 entries. While there are several characters she has played on the show over the years, the most substantial and consistent part is that of Meg Griffin's friend Ruth Cochamer. Osment took over the role, which was previously voiced for five episodes by Natasha Melnick. Since then, Osment has played Ruth in a dozen entries, including "Road to Vegas," one of the higher-ranked episodes according to IMDb. In addition to Ruth Cochamer, the actress has also voiced several other roles on "Family Guy," including JoAnne 'Jojo' Fuller, Little Miss Muffet, Uncomfortably hot 18-Year-Old-Girl, Kira, and Ashley's Granddaughter. She also did additional voices for the video game "Family Guy: Back to the Multiverse."
But her favorite persona to bring to life in the booth may surprise some fans. "Carrie Underwood is probably my favorite voice I did for 'Family Guy,'" the actress said in an interview with AOL Build. "They booked me as Carrie Underwood, and I said, 'I sound nothing like Carrie Underwood,' but I look kinda like her, and they were like it would be kind of funny if we brought you in for her." Despite not sounding like Underwood, Osment admitted to having a lot of fun playing the singer and revealed that she absolutely enjoyed her time working on "Family Guy."