The Impractical Jokers Added Blind Glasses Last Minute To This Prank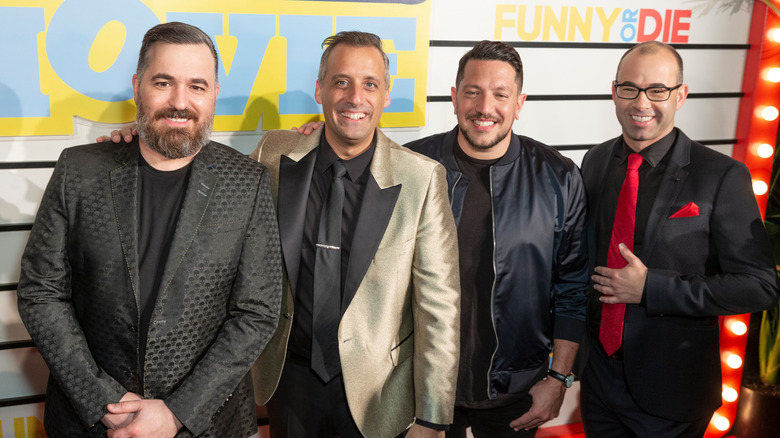 Lev Radin/Shutterstock
"Impractical Jokers" has found success in presenting a very simply premise every week. Each episode consists of a handful of scenes where there's a setup and improv, both from one of The Tenderloins (Brian Quinn, James Murray, Joe Gatto, Sal Vulcano) and another unsuspecting party. 
Each week these Staten Island natives battle it out in a series of challenges, and whoever comes up short goes through a punishment concocted by the other three. The on-the-fly nature of the show is a goldmine for improv, and sometimes the cast comes up with a way to improve a segment in the moment, which translates to increasing the punishment factor for whichever poor friend is on the chopping block. 
The success of "Impractical Jokers" has been so big it's spun off multiple other series and bonus materials from TruTV, including "Impractical Jokers: After Party" and "Impractical Jokers: Dinner Party." The extra content typically gives the cast plenty of time to break down all the behind-the-scenes happenings. According to Murray in a 2015 web chat for TruTV, a pair of glasses making Sal blind in "Impractical Jokers" Season 4 Episode 2 ("Below the Belt") was a last-minute idea that ended up changing the day's whole schedule. 
Sal's shooting schedule was changed so his friends could punish him
One of the challenges in the episode requires Sal Vulcano to work in a barbershop with glasses that blind him. This leads to plenty of shenanigans and a sprinkle of punishment, with Joe Gatto at one point slapping his unsuspecting friend. Another time, Sal sprays hair product all over a customer's back as he struggles to guess where exactly that head of hair is. According to "Impractical Jokers" star James Murray in a 2015 behind-the-scenes special for TruTV, the glasses were a last-minute idea among the guys. 
"It was a collective decision. We were backstage getting ready to shoot, and on set, we had the idea of 'wouldn't it be hysterical if he was blind?' So we sent a production assistant running back to our office to get them where they were. We didn't have them on set that day, and we planted it for Sal's turn," Murray said. 
He revealed they even moved Vulcano's shooting schedule to later in the day so they could get the glasses and unleash the twist on their friend. The blind glasses have made plenty of appearances on "Impractical Jokers." In a recurring challenge, all of the main cast take a turn with the glasses and have to do everything the others say.