Barry Season 4 Will Be Its Last (& The First Teaser Is Here)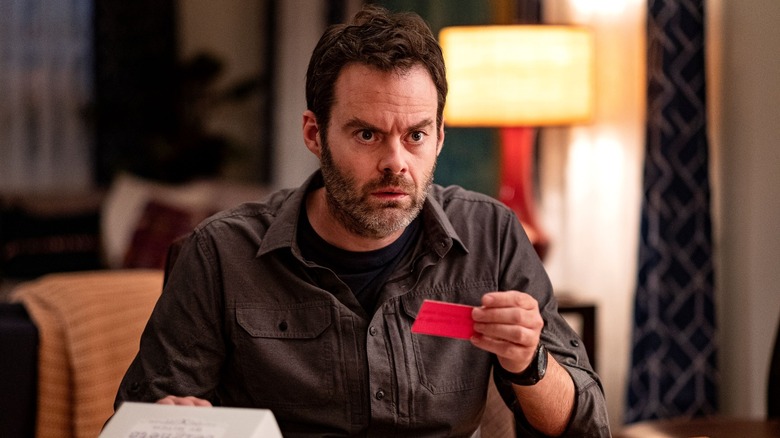 Merrick Morton/HBO
After four seasons of wrestling with his conscious and trying to gain notoriety as an actor, the curtains are closing soon on "Barry." When we last saw the titular hitman at the end of "Barry" season 3, Barry (Bill Hader) was being arrested — thanks to a sting operation set up with the participation of his mentor and acting coach, Gene Cousineau (Henry Winkler). The elder actor baits Barry into attacking and trying to kill Jim Moss (Robert Wisdom), putting him in a very tricky position for season 4.
During an interview with Variety, season 3 director and star Hader confirmed that season 4 of "Barry" will be its final outing. Despite people wondering why the show didn't end with season 3, Hader wanted to wrap the story up more. "There are still so many questions with the other characters, and with Barry — and there are so many things unsaid," he shared. For fans dying to find out what Barry's life in prison looks like, HBO released a fresh teaser for the show's fourth and final season.
Barry's prison life and his bond with Gene
When the season 4 teaser opens, Barry is in prison. As the scene unfolds, we see Barry navigating life in prison and processing Gene's betrayal. However, it appears that he's not shed his connection to his old friends entirely. "Hey, Barry — I got you," Gene sincerely says to Barry on a phone call. Still, he and Barry have a lot of turmoil to sift through together. 
In Barry's case, it seems to be psychological in nature: He's seen hallucinating Gene and other figures in his life walking across the sun-blasted prison yard. There's also a shot of him in a hospital gown, bumping his head into a grimy wall and shouting his frustration. Gene, meanwhile, seems to be doing well professionally — but seems to be an object of menace. He's seen brandishing a gun and looking haunted. We also get plenty of glimpses of Sally Reed (Sarah Goldberg), NoHo Hank (Anthony Carrigan), and the show's beloved regulars. Our final image? Barry holding onto a prison phone with a bruised and bandaged face. He declares "So help me God, if I get out of here, I'm coming for you." The subject of the conversation, naturally, remains guessable. 
"Barry" will return to HBO and HBO Max on April 16.