The Voice: Niall Horan Is Already Making An Impact As A New Coach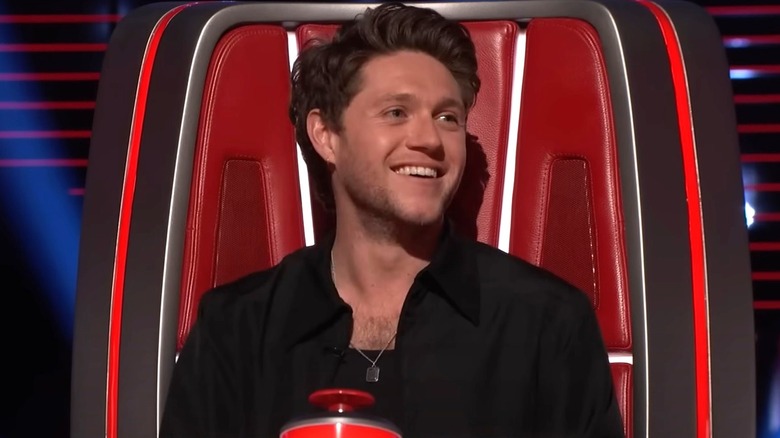 NBC
The career of Niall Horan has officially come full circle. In 2010, the Mullingar, Ireland native was catapulted into the spotlight on "The X Factor UK" Season 7, which saw judge Simon Cowell unite him and four other solo auditioners — Harry Styles, Zayn Malik, Louis Tomlinson, and Liam Payne — to form the boy band One Direction. Over a decade later, Horan is now in the judge's seat, tasked with finding the world's next superstar on NBC's "The Voice."
Horan joins veteran coaches Blake Shelton and Kelly Clarkson and fellow newcomer Chance the Rapper for Season 23 of the singing competition, which premiered on March 6, 2023. Ahead of the inaugural episode, Horan's trio of colleagues shared their thoughts — and fears — about working alongside the "Slow Hands" singer.
Shelton, who is notorious for playing dirty in order to secure the best talent for his team, said in a behind-the-scenes interview, "Niall is, you know, he's riding high right now and he's perfectly at home on this show. ... Even though he's a threat, I'm feeling like a father/son type bond with Niall, mostly because he disappoints me a lot." Clarkson praised Horan's surprisingly vast knowledge of music, while Chance the Rapper said, "He's got a lot of tricks up his sleeve."
These three had good reason to be concerned about Horan's approach to "The Voice." Only one episode into the season, he's already making a massive impact, shocking viewers and his fellow coaches alike.
Niall Horan takes an unprecedented measure to secure his first team member
During the Season 23 premiere of "The Voice," 33-year-old father, Ross Clayton, from Oklahoma, earned a four-seat turnaround thanks to his rendition of Keith Urban's "Blue Ain't Your Color." At this point, Team Niall had zero members, and the coach was ready to pull out all the stops to secure some promising talent. In order to have a one-on-one conversation with Clayton (and prevent Blake Shelton from guilt-tripping the contestant by saying it's his final season on "The Voice"), Niall Horan got up and spun the other coaches' chairs back around, much to their astonishment. Chance the Rapper exclaimed, "I didn't know you could do that!"
Horan said to Clayton, "That's why I spun them around, I didn't want to hear anymore crap. He [Shelton] was just about to go, 'This is my last season on this show, it would be an honor and a privilege.'" Horan added, "Your voice is absolutely incredible. You have that country tone to your voice, but to me, I was hearing so much soul." This unprecedented move by Horan paid off, with Clayton becoming a proud member of his team.
So far, viewers of "The Voice" are loving the addition of Horan to the coaching panel. On Twitter, @EmilyOwenWX said, "@NiallOfficial being a coach on @NBCTheVoice is the best thing to ever happen to the show and I said what I said."
Based on behind-the-scenes commentary from Horan, it will be interesting to see how the rest of Team Niall takes shape. He said, "I want a bit of everything. I'm like one of those people that actually do listen to it all, different genres, and don't just say it."