What Has Angie Harmon Been Up To Since Law & Order?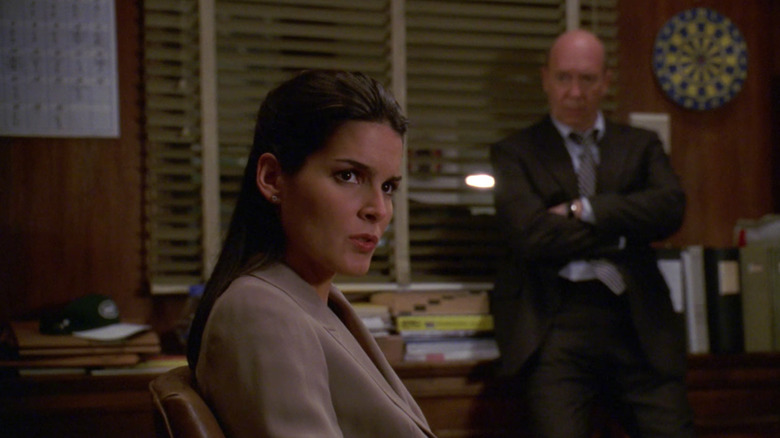 NBC
Angie Harmon began her modeling career as a teenager when she appeared on the cover of Seventeen Magazine in 1987 at just 15 years old. But it was a chance encounter with David Hasselhoff that kickstarted her transition from model to actress. "He discovered me on a plane and offered me a role on ­'Baywatch Nights,' but I said, 'No, thank you,' because I'd never had an acting lesson," Harmon told Parade. "The opportunity came back, and I will always be thankful to David for believing in me."
Following her breakout role in "Baywatch Nights" from 1995 to 1997, Harmon joined the cast of "Law & Order" as Abbie Carmichael in 1998. The character came on to replace Jamie Ross (Carey Lowell) as the assistant district attorney to Jack McCoy (Sam Waterston), and Carmichael, a hardline conservative, spent her tenure on the series debating cases with her more liberal colleagues.
Harmon ultimately spent three seasons on "Law & Order," including a number of appearances in Season 1 of "Law & Order: SVU." Here's what the actress has been up to since departing the series in 2001.
Harmon helmed her own crime series in Rizzoli & Isles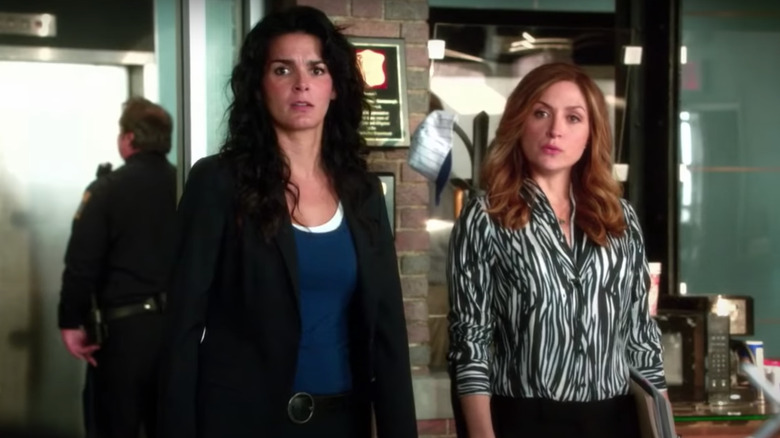 TNT
Upon leaving "Law & Order" in Season 11, Angie Harmon cited her desire to expand her film career. "I left 'Law & Order' because I really honestly did want to do movies and did want to be a movie star since I was a little girl," the actress told Cinema Confidential. Harmon did just that, and in the years following her stint on "Law & Order," Harmon appeared in films like "Agent Cody Banks," "Fun with Dick and Jane," and the 2006 Western "Seraphim Falls."
Still, the siren song of television was strong, and in 2010, Harmon returned to TV to star in her own series: "Rizzoli & Isles." The crime drama series aired for seven seasons from 2010 to 2016 and followed Detective Jane Rizzoli and Chief Medical Examiner Maura Isles (Sasha Alexander). For her performance as the caustic Rizzoli, Harmon earned a Gracie Award in 2012 and a People's Choice Award for favorite cable TV actress in 2015.
In 2021, after years of collaborations with Lifetime, Harmon signed a multi-picture deal with the network, beginning with 2022's "Buried in Barstow." Still, the actress hasn't forgotten her "Law & Order" roots and even teased a return to the long-running series. "I would love to revisit Abbie," Harmon told Entertainment Tonight. "She was just so fun and wonderful." The actress reportedly expressed interest to the "Law & Order" team when they reached out to her: "I was like, 'Look, guys. I mean, I would love to maybe do an arc or something.'"