Brooklyn Nine-Nine Could Be Saved After Fox Cancellation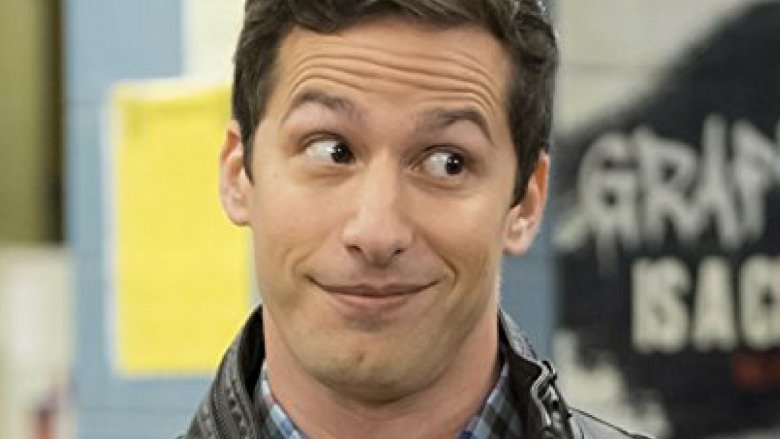 Brooklyn Nine-Nine might not be dead after all. According to The Hollywood Reporter, Hulu, TBS, Netflix and more are potential new homes for the cop comedy, which was canceled by Fox after airing five seasons.
Brooklyn Nine-Nine stars Andy Samberg as Jake Peralta, a detective in Brooklyn's 99th Precinct. The show follows the exploits of the staff of the precinct, which also includes Andre Braugher as Captain Ray Holt, Stephanie Beatriz as Detective Rosa Diaz, Terry Crews as Detective Sergeant Terry Jeffords, Melissa Fumero as Sergeant Amy Santiago, Joe Lo Truglio as Detective Charles Boyle, Chelsea Peretti as Gina Linetti, Dirk Blocker as Detective Michael Hitchcock, and Joel McKinnon Miller as Detective Norm Scully.
The show came from from Dan Goor and Michael Schur, both formerly of Parks and Recreation. The series was never a huge ratings hit, but it was a critical success, winning two Golden Globes, including Outstanding Comedy Series, in its freshman run. The series has also earned Braugher three Emmy nominations for Outstanding Supporting Actor, and it has won two Emmys for Outstanding Stunt Coordination.
Fan outcry after the show was canceled was enormous, with calls to renew the series setting it trending on Twitter. The fan outpouring was so huge that, just hours after the cancelation, multiple outlets were reportedly calling producers Universal Television to talk about picking up the series for a sixth season. Potential homes include Hulu, where the series has an SVOD deal; Netflix, which is home to Universal TV's Unbreakable Kimmy Schmidt; TBS, whose president, Kevin Reilly, developed the series; and NBC, also home to Schur's The Good Place and the upcoming multi-cam Abby's.
Hulu is said to be one of the most likely candidates, having swooped in to save the day for Fox's The Mindy Project, which ran for three additional seasons on the streamer after Fox canceled it. Netflix also has history with saving comedies, picking up Unbreakable Kimmy Schmidt after NBC passed on it. (Netflix could be a long shot, though, because Hulu holds SVOD rights.) TBS also airs re-runs of Brooklyn Nine-Nine, making them a good potential home as well.
Fox trimmed their comedy slate with their cancelations, also cutting the cord on Will Forte's Last Man on Earth and Kaitlin Olson's The Mick. Although neither show elicited the same response as Brooklyn Nine-Nine, both comedies were critically acclaimed, and THR sources say that there has been discussion about either of them finding new homes as well.