Star Trek Actor Brent Spiner's TNG Spin-Off Would See Daniel Craig As Picard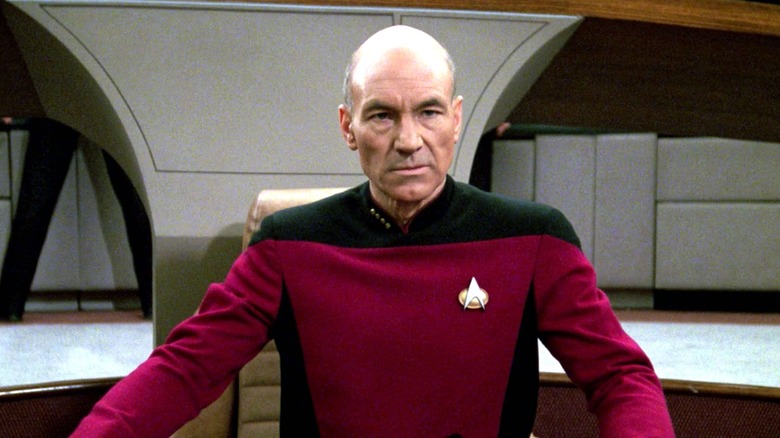 Paramount Domestic Television
In 2021, Brent Spiner wrote a book. It's his first book, a strange book, entitled "Fan Fiction," which combines biographical aspects of his life with a heavy dose of surreality. Biographically, it contains truth, sure, as Spiner did spend a great portion of the 1990s as part of "Star Trek: The Next Generation," but it also purports that Patrick Stewart studied and mastered martial arts as part of his time in the Royal Shakespeare Company. So, uh, there's that.
The mostly fabricated tale follows Spiner as he encounters an obsessive fan who promises to kill him. To better understand the absurdity of it all, the original threat is packaged with the detached genitalia of a very unfortunate pig. Reviewers (such as NPR) found the read engaging and memorable, if not wholly bizarre. What's more bizarre is that Spiner wants to take another swing at his book, but this time as a televised miniseries. In an interview with Inverse, Spiner said, "I think it would be great if it was a series. I like this metafictional world. And I like being Brent Spiner as a lead character. I got to do things I've never done."
And while there's nothing official in the works, Spiner's already mentally cast who he considers to be the perfect actor for a young (comparatively speaking) Patrick Stewart: Daniel Craig.
A passing resemblance, perhaps?
Netflix
"I'm already thinking that Daniel Craig plays Patrick," Brent Spiner told Inverse in late 2021. He offered no preamble to this statement, nor any further elaboration. So let's connect a few dots. Craig is an actor best known for his many years starring as James Bond, the world's most famous fictional spy. During his tenure as 007, the man was notably more aggressive, which might offer some explanation as to why Spiner wrote Patrick Stewart as a martial artist.
But it's not Craig's preference for martinis shaken, not stirred, that would make him an ideal match for a project as odd as Spiner's "Fan Fiction" — it's his post-Bond career. In 2019, Craig starred in "Knives Out," a murder mystery written and directed by Rian Johnson. In this film, he portrayed Benoit Blanc, a detective with a larger-than-life personality. He returned to the role in the 2022 film "Glass Onion: A Knives Out Mystery" where audiences were treated to even sillier antics with Blanc.
Although "Glass Onion" was not yet released when Spiner claimed Craig for his dream project, "Knives Out" offered ample proof that Craig could hold his own in more stylized dramas. Of course, Spiner could have also just noticed that Craig bares a passing resemblance to his old "Star Trek" coworker. It's gotta be the eyes, right?