The Good Doctor Is Angling Toward A Spinoff Series, The Good Lawyer
CBS
Since 2017, "The Good Doctor" has told the story of Dr. Shaun Murphy (Freddie Highmore), a gifted medical doctor on the autism spectrum. Now in its 6th season on CBS, the series is preparing for another entry in the "Good" universe focusing on a character far outside the San Jose St. Bonaventure Hospital. For fans eager to get a glimpse of this new series, you're in luck — next week's episode of "The Good Doctor" is set to act as a "back-door pilot" for the upcoming spin-off.
A back-door pilot is an episode of an already-established series that takes a slight detour to showcase new characters, settings, themes, and conflicts (think "Arrow's" "The Scientist," which ultimately launched "The Flash," or "The Office's" ill-fated Season 9 attempt "The Farm"). Though it will likely continue Dr. Murphy's story, the primary purpose of this installment is to introduce audiences to "The Good Lawyer."
The Good Lawyer will star Kennedy McMann and Felicity Huffman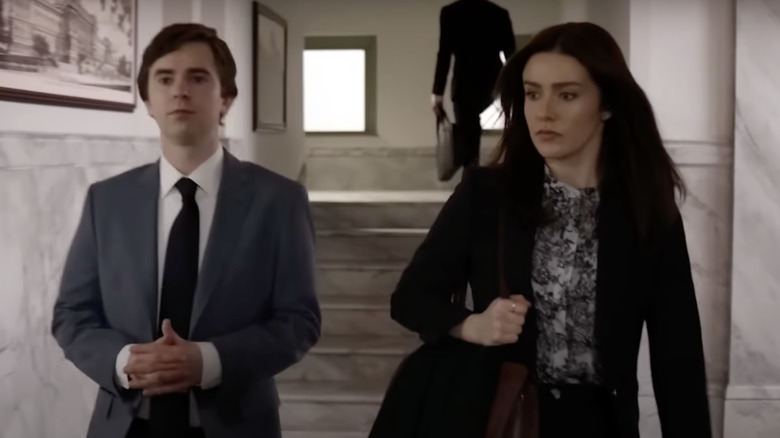 CBS
Directed by Ruben Fleischer (of "Zombieland," "Venom," and "Uncharted" fame), "The Good Doctor" Season 6, Episode 16 will see Kennedy McMann ("Nancy Drew") guest star as a young lawyer named Joni DeGroot. She is enlisted by Dr. Murphy to represent him in a malpractice trial. Though she lacks any courtroom experience, Dr. Murphy is confident that her obsessive-compulsive disorder (OCD) will give them an edge in their defense.
The episode will also introduce Felicity Huffman's Janet Stewart, a far more experienced attorney and Joni's superior whom hospital president Dr. Aaron Glassman (Richard Schiff) initially recommends to Dr. Murphy. This is Huffman's first role since the 2019 "Varsity Blues" college admission scandal, which saw her plead guilty to honest services fraud (prosecutors alleged she had paid $15,000 to increase her daughter's SAT scores).
"The Good Lawyer" back-door pilot is set to air this coming week on March 13, 2023. In addition to Fleischer directing, "The Good Doctor's" co-showrunners David Shore and Liz Friedman served as writers. CBS has already released a promo for the episode, which shows the two series leads meeting for the first time.