Mr. Bean - 14 Facts About Rowan Atkinson's Classic Comedy Character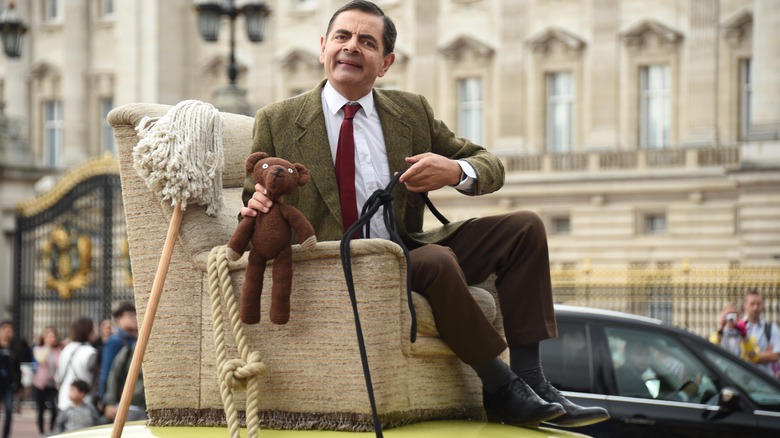 Stuart C. Wilson/Getty Images
Rowan Atkinson's Mr. Bean character has become beloved around the world since debuting on the small screen in 1990 with the "Mr. Bean" series on the ITV channel. While the sporadic nature of the show's production meant that it ran for just 14 episodes (plus a clip-show special) over the course of five years, there was still enough goodwill to have the character make a leap to the big screen in 1997 with "Bean," then have Atkinson revisit him a decade later for 2007's "Mr. Bean's Holiday." 
In between these two feature film outings, Mr. Bean was turned into a cartoon ("Mr. Bean: The Animated Series," which ran for over 100 episodes) and popped up in all manner of additional media over the years. Today, he remains a relevant cultural touchstone.
The slapstick comedy stylings of Mr. Bean, in all of his incarnations, have proven enjoyable for children and adults alike. While Atkinson has embodied other characters over the years in everything from "Johnny English" and "Blackadder" to American studio comedies like "Rat Race" and "Love Actually," none have had quite the same level of staying power and universal appeal. Below, some facts about Bean that may have thus far flown under your radar.
Bean is Atkinson's favorite character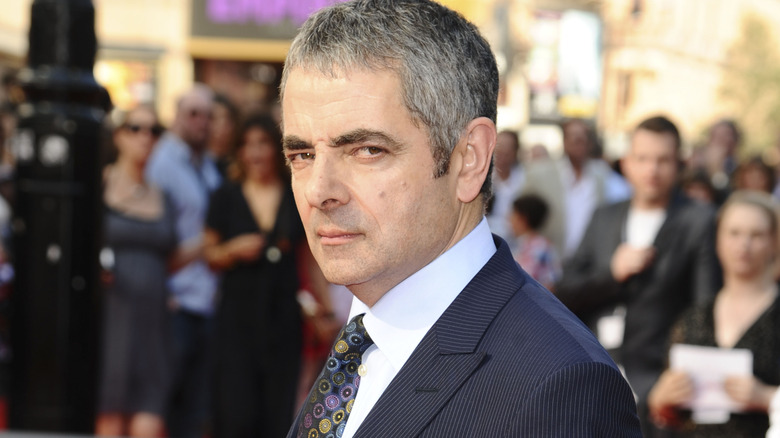 Featureflash Photo Agency/Shutterstock
Rowan Atkinson has built an impressive career over the years, one that has found him tackling an array of comedic characters. As demonstrated through various iterations of "Bean," Atkinson is blessed with an exceptional talent for physical humor. Although Bean doesn't play to his secondary strength, he has proven himself to be adept at dialogue-driven fare as well. In fact, two of his most beloved characters from British television — Mr. Bean and Edmund Blackadder — are polar opposites in that "Blackadder" is wall-to-wall verbose banter, while "Mr. Bean" is nearly wordless.
Atkinson's most popular, longest-lasting character is Mr. Bean (he still plays him from time to time to this day), and he insists that he doesn't mind that when most people see his face, that's who they think of first.
"I've probably enjoyed playing Mr. Bean the most, because he's the character who's furthest away from my own character," he said in a 2022 interview, before addressing the character's darker impulses. "As a person, I don't like him at all."
Bean has appeared on various shows around the world
The non-verbal, physical nature of Bean has allowed the character to travel well, blurring international boundaries of comedy around the world. Atkinson has not only appeared as Mr. Bean on other U.K. shows like "Live & Kicking," but also spent time in the late '80s/early '90s popping up on the Danish show "Talkshowet," the German show "Schmidteinander," and more.
The purpose behind some of these Bean appearances was to promote the home video release of his show to international audiences. In Australia, Atkinson's Bean hosted a special introduction and promo for the show's VHS line, in which he appeared much more verbose. "I don't normally talk very much, do I?" he said. "But I'm going to talk a lot now!" 
The character similarly flexed his vocabulary on the Norwegian talkshow "Rondo," destroying parts of the set to cobble together a VCR out of the rubble so he could show clips from his "Mr. Bean" TV show.  He performed a similar routine when he went on the Swedish talk show "Blix Från Klar Himmel." 
He appeared in the British Airways safety video
British Airways is one of the U.K.'s largest airlines, and when it came time for them to update their in-flight safety video in 2017, they looked to a national treasure. Instead of a stuffy corporate video, dryly laying out mandatory safety information, they teamed with the British comedy-centric charity Comic Relief to update the video viewed by passengers. The result was a star-studded affair that played out like a comedy sketch, albeit one that still explained how to locate the exits and put on oxygen masks dropping from the ceiling.
Big names like Gordon Ramsay, Ian McKellen, Thandiwe Newton, Chiwetel Ejiofor, Gillian Anderson, Jim Broadbent, and more comprised the flashy cast. The final celebrity to make an appearance, however, was Rowan Atkinson in character as Mr. Bean — which is notable, since the other celebs were all appearing as themselves, but Atkinson was chosen to give his most beloved character a unique sort of tribute. Capping off the video, after all the safety information is out of the way, Mr. Bean pops up at the very end to act out a short, wordless slapstick bit on a small set with two rows of airplane seats.
Mr. Bean was part of the 2012 Olympics
When the city of London played host to the 2012 Summer Olympic Games, Atkinson made a memorable appearance as Mr. Bean. This was no small gag, as he took center stage for the opening ceremony. 
Alongside acclaimed conductor Simon Rattle, getting a grand musical number underway to kick off the Olympics, Mr. Bean was revealed to be a member of the London Symphony Orchestra. Filling in as a keyboard player, Bean became bored by the monotony of playing a single note over and over throughout the iconic "Chariots of Fire" theme.
To occupy himself, Mr. Bean mocks the other musicians, takes a selfie on his phone, and finds other means of distraction while continuing to play that single note. He even falls asleep at a certain point, transitioning into a dream sequence that parodies the iconic run on the beach from the film. The song eventually concludes with Mr. Bean playing that last musical flourish before ending on a sour note. It was a schtick he had honed for years; in prior appearances, Atkinson had performed various musical comedy bits on stage, including playing an invisible piano  and an invisible drum kit in pantomime sketches.
The character was revived for a web series in 2018
The official Mr. Bean channel is something of a juggernaut on YouTube, boasting over 30 million subscribers — several videos bringing in well over 100 million views.  Much of the channel's content consists of repackaged clips from the "Mr. Bean" TV show, "Mr. Bean: The Animated Series," and other old footage of Atkinson playing the character in various media appearances. Alongside all of those repurposed clips is a sprinkling of original content created especially for YouTube, including the "Handy Bean" web series, which launched in 2018.
The episodes, typically between five and ten minutes long, take the form of poorly-executed DIY, baking, and craft tutorials. While Atkinson's personal involvement in the series seems minimal (he appears at the beginning and ending of each episode, in short green screen clips that don't always correspond to the video topic) and the character's "hands" clearly aren't his, the videos have nonetheless proven quite popular.
The character existed before the TV show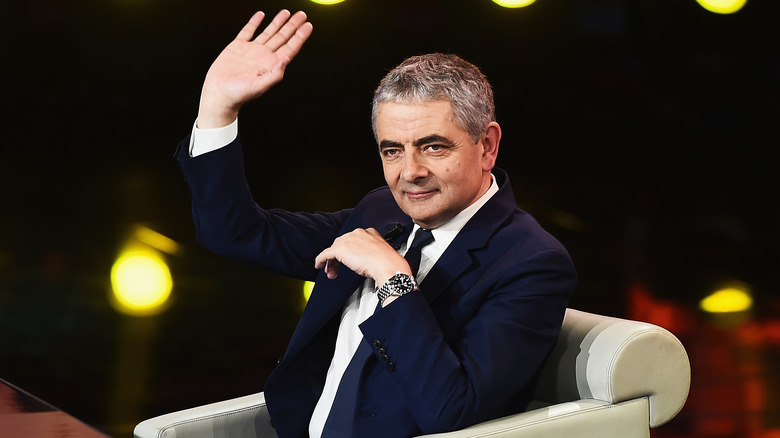 Stefania D'alessandro/Getty Images
The first time Atkinson played a variation on Mr. Bean was all the back in 1979, more than a decade before the fully-defined character made his television debut in 1990. In the beginning, it was part of the many stage shows the actor has performed in throughout his career, typically playing multiple characters in a one-man-show-like performance. Some sketches typically involve speaking, while others have unfolded in relative silence. 
There are a few comedy sketches from this period that Atkinson would go on to perform practically verbatim in the "Mr. Bean" TV series. In fact, the first two Mr. Bean bits that Atkinson ever performed on stage were beach and church sketches, and both appeared relatively intact in the first episode of the TV series. 
Mr. Bean was born when Atkinson was asked to fill five minutes in a stage show shortly after arriving at university; he only had 48 hours to prepare. He didn't consider himself a writer, so Atkinson tried to come up with something he could perform physically and without words. After spending time in front of a mirror making faces, he hatched the initial version of the character that would become Mr. Bean.
Mr. Bean is an anarchist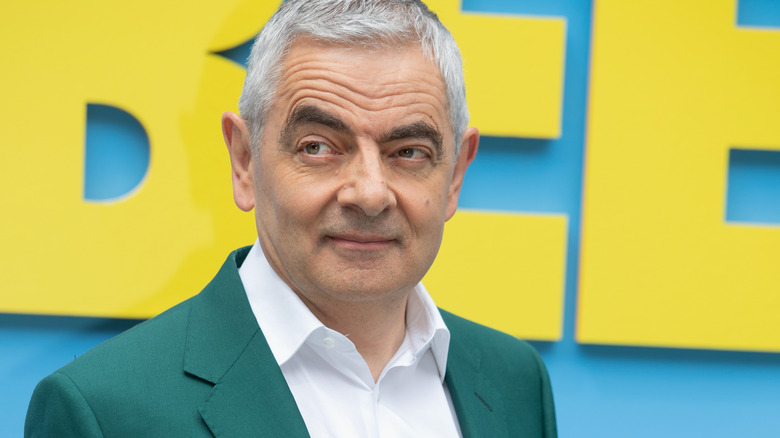 Dave J Hogan/Getty Images
"Mr. Bean is an anarchist," says fan (and "Tall Guy" co-star) Jeff Goldblum in the 2012 documentary "The Life of Rowan Atkinson". "Unintentionally, I guess though. He's not trying to create chaos. He's just trying to make his own life work."
"I always imagine him as a 9-year-old boy," Atkinson says of how he creates the outrageous scenarios Bean finds himself in. "[Nine-year-olds] are anarchists at heart, and I think that's what Mr. Bean is; he's an anarchist. He obeys the rules, as long as they suit him."
While it's easy to think of Bean as wide-eyed, innocent and lovable — something akin to Will Ferrell in "Elf" — what sets Bean apart is the salty, selfish impulses that often manifest themselves when he thinks he can get away with them, similar to how a child might behave when he thinks he's not being watched.
Another defining characteristic of Bean, perhaps, is stupidity. But this is another key area, apparently, where the real life Rowan Atkinson is quite different. By all accounts Atkinson was an excellent student (he was a classmate of Tony Blair), holding a Bachelor's Degree in Electrical and Electronic Engineering from Newcastle University, and a Master of Science degree in Electrical Engineering from Oxford; reportedly, he has an IQ of 178, which if true would place him 78 points higher than the average person and 18 points higher than the reported IQs of geniuses like Albert Einstein and Stephen Hawking. Apparently, it takes a big brain to craft such inspired stupidity.
Atkinson nearly died making Mr. Bean's Holiday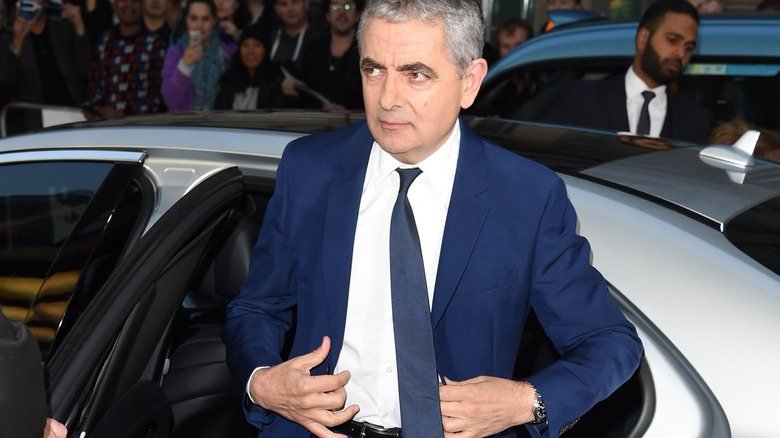 Featureflash Photo Agency/Shutterstock
While making the second "Mr. Bean" movie in 2007, Atkinson worked himself to near death for one particular physical gag. 
"We did a sequence in Provence which was where he gets caught up with a peloton of cyclists," Atkinson recalled in 2022 of the stunt. "He overtakes them with great ease. I didn't overtake them with great ease. I had to put in a tremendous amount of effort, and once we'd done a couple of takes of that, I was absolutely dead." 
Rather than using any sort of special effects or camera trickery, Atkinson tried desperately to pedal faster than the professionals while making it look effortless. "In those days, we tended to do things for real," he explained. "Because it was cheaper and CGI didn't really exist with the sophistication that it now has."
"I'm not a cyclist, I'm not fit, I'm not an athlete," he added. "I remember thinking that I nearly killed myself with the exhaustion."
Atkinson has played Mr. Bean for charity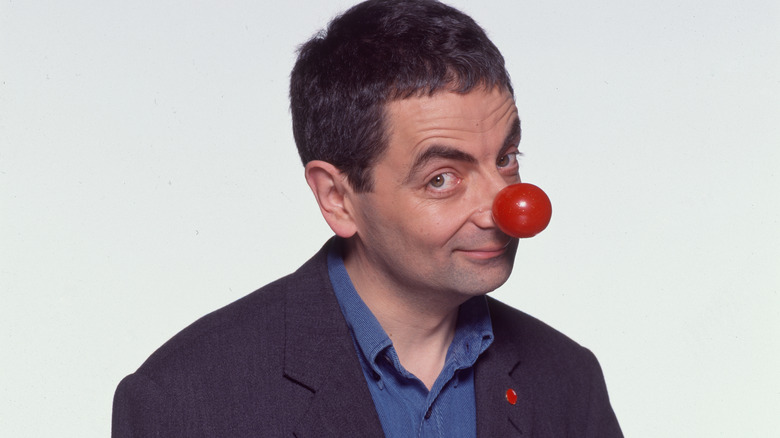 Comic Relief/Getty Images
Though there were only 14 official episodes of the "Mr. Bean" TV series, Atkinson has played the character in a seemingly endless number of additional media appearances. One of the most common reasons for such reprisals is charity, most commonly in association with the U.K.'s Comic Relief charity.
Some of the character's charity appearances are well worth hunting down, as they feel like unearthed deleted scenes straight out of the original "Mr. Bean" TV show. These include sketches like "Funeral" and "Mr. Bean's Wedding," the latter of which featured future "Succession" star Matthew Macfadyen as a groom who accidentally punches a priest and his new wife because of Mr. Bean's antics. Other charity sketches took Mr. Bean out of his element, placing him within the context of other shows — such as when he appeared on a fake installment of the popular British dating game show "Blind Date," alongside an early-in-career Alan Cumming.
Mr. Bean was inspired by Mr. Hulot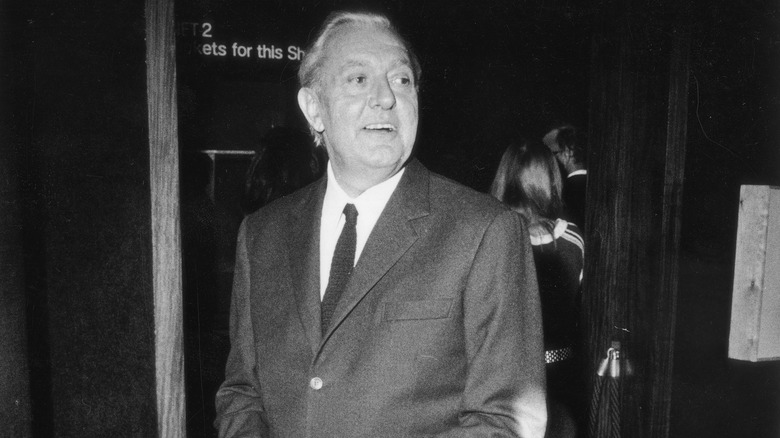 Evening Standard/Getty Images
Monsieur Hulot was a classic, hugely-influential character created by writer, director and star Jacques Tati. First appearing in 1953's "Mr. Hulot's Holiday," he would go on to star in three additional feature films; the surreal imagery, largely silent physical comedy and smart, dim-witted goings-on of Hulot would influence everyone from Peter Sellers to Wes Anderson to Steven Spielberg and David Lynch. 
Mr. Hulot also has a great deal in common with Mr. Bean. Both characters wear trademark outfits, hardly ever speak, and are hilarious in their penchants for non-verbal antics and slapstick comedy. The two each feel like silent film characters engaged in physical humor with a world full of sound. Mr. Bean could be seen as Rowan Atkinson bringing back that comedy style for the next generation in England, as opposed to Tati's France.
In a documentary about his life, Atkinson described the influence of "Monsieur Hulot's Holiday" on him when he discovered the film while in high school. "It just struck a chord with me... It was a kind of uncompromising comic attitude... that I really admired." He called the film's influence on him subliminal, and said that it wasn't until years later at university that the spark it had given him for physical comedy returned and took shape in his performance style.
The character popped up in music videos
Atkinson has also played Mr. Bean in a good number of music videos over the years, some made for the Comic Relief charity. One, entitled "I Want to Be Elected," had Bean campaigning for parliament as The Bean Party alongside a cover version of the Alice Cooper song "Elected," the music video featuring the vocals of Iron Maiden singer Bruce Dickinson.
He also appeared in the music video for the parody song "The Stonk" by Hale and Pace, an '80s/'90s sketch comedy duo. In it, Mr. Bean plays the drums alongside musicians like Brian May and Roger Taylor of Queen, David Gilmour of Pink Floyd, and Tony Iommi, Neil Murray, and Cozy Powell of Black Sabbath.
Outside of charity songs, perhaps the biggest band that Mr. Bean became associated with was Boyzone, crowned in a 2012 survey as the number two most popular boy band in British history.  Bean appears in the music video for their song "Picture of You," which begins as a traditional boy band video, then suddenly has Mr. Bean inexplicably wandering into the middle of it. The reason behind the crossover, as it turned out, was tied to the 1997 "Bean" movie, which featured "Picture of You" as an original song. The track subsequently won the Ivor award (for excellence in British and Irish songwriting) for best original song for a film or broadcast.
His name is clouded with ambiguity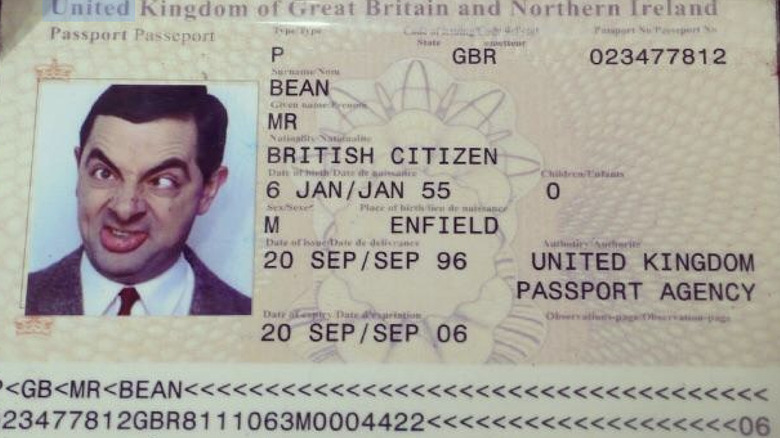 Gramercy Pictures
It may not have quite the same ring in retrospect, but believe it or not, before the character was named Mr. Bean, he was nearly called Mr. White. 
When Atkinson first began playing him on stage, he didn't require a name, since the sketches were entirely silent. It wasn't until the character became the subject of a TV series that Atkinson realized he needed a name, if only to give the show a title. In a career retrospective for British GQ, Atkinson revealed that Mr. White was considered for character's name for a time, during the planning stages of the show, but it was scrapped after deciding it was too commonplace. He said, "We thought of, you know, vegetables, and Mr. Bean seemed to be short, sharp, and to the point."
Within the TV show, Mr. Bean hardly ever speaks. When he does speak, it is often just to say his own name, a trait shared by Mr. Hulot. This has yielded a great recurring gag: Whenever Mr. Bean is asked for his first name, he always replies "Mister"; a shot of his passport in the first "Bean" movie reveals it to be his legal given name. So, calling him Mr. Bean is more than just a sign of respect; you're actually addressing him by his full legal name.
Richard Curtis was key to Mr. Bean's success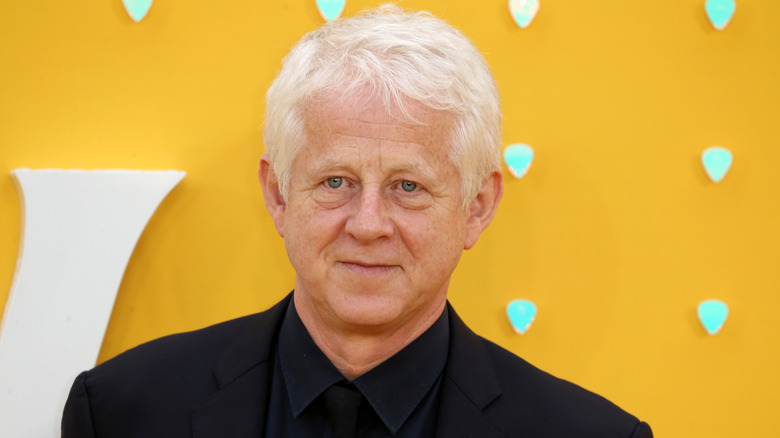 Fred Duval/Shutterstock
Since they are so intrinsically linked, it can be hard to separate Mr. Bean from Rowan Atkinson, but the character was in fact co-created by filmmaker Richard Curtis, who has since gone on to mastermind his own impressive career, writing and/or directing films like "Love Actually," "About Time" and "Yesterday." 
Atkinson and Curtis met as students at the University of Oxford, both part of a small comedy troupe on campus. The dynamic between them was instantaneous; Curtis was outgoing and talkative, while Atkinson was largely silent but adept at holding the attention of an audience.
When it came to acting together, Atkinson was the primary performer, with Curtis sometimes playing the straight man opposite him on stage. Atkinson has always said he isn't much of a writer and is more of a performer, so Curtis was always there to flesh out the writing and give context to Atkinson's wild physical antics. After they created the Mr. Bean character together on stage in the late '70s, Atkinson and Curtis spent the '80s working together on the beloved "Blackadder" TV series, then returned to their co-creation for the "Mr. Bean" TV show in 1990.
Atkinson, of course, continued performing, but Curtis moved away from acting altogether once their stage days were behind them. Instead, Curtis found success writing the screenplays to big movies like "Bridget Jones's Diary" and "Notting Hill" and writing and directing "Love Actually," "About Time," and "Pirate Radio," released in some countries (including America) as "The Boat That Rocked."
Mr. Bean's crazy driving was real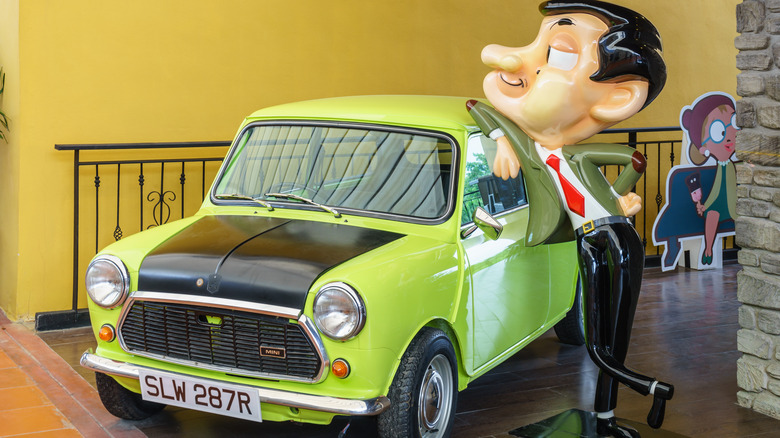 Tooykrub/Shutterstock
The "Mr. Bean" TV show featured many gags that revolved around the titular character's tiny car, a customized Mini that was orange in the first episode and a greenish-yellow throughout the rest of the series. 
Bean uses a padlock on the door, road-rages against his faceless nemesis in a blue three-wheeler, and gets up to all manner of dangerous driving antics throughout the series. Some of the wildest driving gags involve Mr. Bean getting changed, hanging out of the window, and brushing his teeth while driving, or sitting in a chair on the roof and driving with a mop and rope attached to the steering wheel.
Most people would probably assume these driving stunts were faked somehow, but, as crazy as it sounds, they were done for real. Some of the closeup shots were taken under safer conditions, but the majority of the driving was done by Atkinson himself — on real roads — without any trickery. It was faster and cheaper to do it for real, so Atkinson got it done. It helped, perhaps that Atkinson is a skilled driver in real life; he has a history of professional race car driving that stretches back four decades, helping keep his "Mr. Bean" road antics both silly and quite skilled.