Ana De Armas Is Beyond Stunning As Poison Ivy In Imaginative Fan Art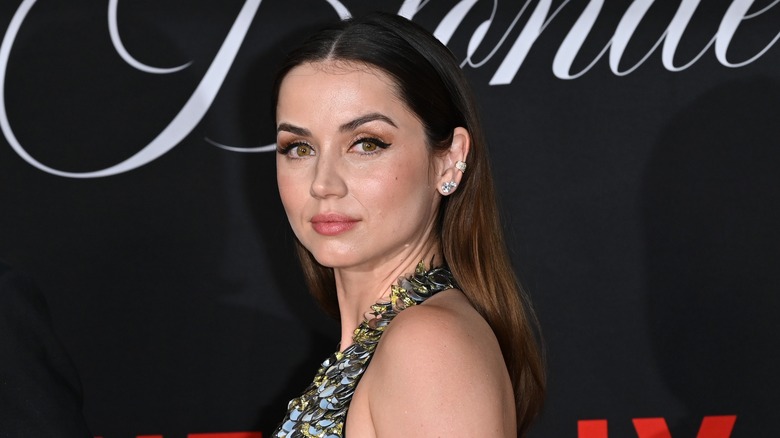 Featureflash Photo Agency/Shutterstock
Poison Ivy is probably Batman's coolest villain (Mr. Freeze puns notwithstanding). She's a super-powered eco-terrorist who punishes any who abuse the earth's natural resources. She's also well-educated, which totally justifies all the murdering she does. After all, Dr. Pamela Isley knows best!
Unfortunately, despite her powerset being a visual feast, Ivy seems to be almost wholly relegated to the small screen. Clare Foley, Maggie Geha, and Peyton List portrayed her at different points in time for "Gotham," a live-action DC TV series that aired on Fox for five seasons. Bridget Regan and Nicole Kang portrayed her in "Batwoman," a live-action DC TV series that aired on the CW for three seasons. Arguably, Ivy's most notable TV appearance is in "Harley Quinn," an ongoing animated series in which she's voiced by Lake Bell. All that's great, certainly, but when are we going to get to see Poison Ivy on the big screen again? After all, it's been almost 30 years since Uma Thurman donned the leafy corset to do glorious battle against George Clooney's Batman! 
During this depressing, Ivy-less interim, all we really have is fan casting. Fortunately, though, some of that fan casting comes packaged with incredible fan art. Here's one artist's interpretation of a possible Poison Ivy, as portrayed by Ana de Armas. She's the star of films such as "Knives Out," "Blonde," and the upcoming "John Wick" spinoff, "Ballerina." Why not add a superhero flick to the list? 
Clearly, it could work
Before diving in, credit is due. The fan art in question was created by Mizuri — a digital artist who fashions no small amount of pop culture-themed work — and posted to Instagram in August 2021. Now, the piece depicts Ana de Armas as Poison Ivy. The image itself is a close-up view of de Armas' face and exposed collarbone. She's running one hand through her hair, which falls over her shoulders. She's staring at the viewer with an almost taunting apathy.
De Armas' skin is altered to appear pale and sickly green. Her hair is now a deep autumn red. She's wearing smokey eye makeup and dark pink lipstick. The most interesting change, however, is that Mizuri overlaid a new set of veins on de Armas, which mirror the vascular tissue of a leaf. The midrib (the middle, larger vein from which all the others spread, like a skeletal Christmas tree) crawls up her sternum, up her neck, across her cheek, and ends just beneath her left eye. 
Since de Armas has not yet appeared in the newly revamped DC Universe (or any version of the DC Universe, for that matter), it's not outside the realm of possibility that the role could fall in her lap. Maybe someone should send this fan art to Margot Robbie, who hasn't still hasn't picked who she would like to play Harley Quinn's healthiest romantic partner.