Margot Robbie Is Working Hard For A Harley Quinn And Poison Ivy Romance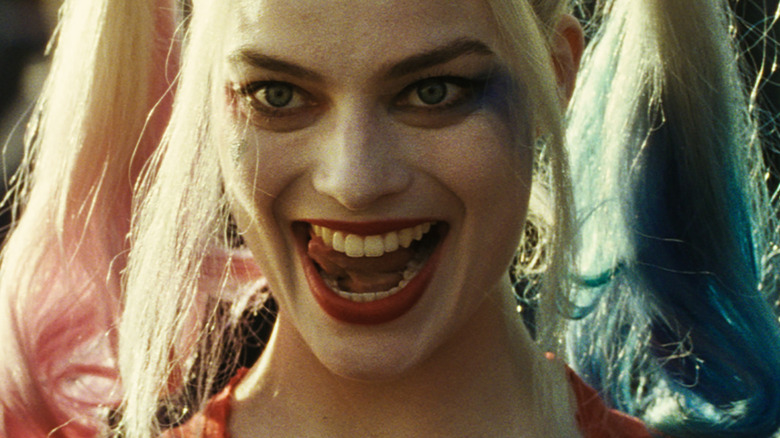 Warner Bros/HBO Max
Comic book love stories don't get much better than Harley Quinn and Poison Ivy; the pair's flirtation dates back to the '90s, but the past decade made it official. HBO Max's "Harley Quinn" built off DC's embrace of these illustrious supervillains. It finally gave the lovers an on-screen treatment, complete with a rendezvous in the Fortress of Solitude.
While the mediums of comics and streaming series have given the couple their due, films have been less than generous. Harley Quinn has been front and center in some of DC's best projects — including James Gunn's "The Suicide Squad" and Cathy Yan's "Birds of Prey (and the Fantabulous Emancipation of One Harley Quinn)." Meanwhile, Poison Ivy seems relegated to the poorly received "Batman & Robin." While rumors have put the character appearing in various projects and sequels to "The Batman" and "Bird of Prey," there's still an endless development hell surrounding Poison Ivy's cinematic return (via The Hollywood Reporter).
Fans pushing for a Poison Ivy and Harley Quinn cinematic romance do have a powerful ally working to bring the lovers to theaters. Actress Margot Robbie is revealing her thoughts on the pair's debut: her attitude on the couple and a possible Poison Ivy addition should delight supporters.
Margot Robbie wants a Harley and Ivy cinematic romance
Margot Robbie first debuted as Harley Quinn in David Ayer's 2016 version of "Suicide Squad." Since then, she's given the role a life of its own. It's boosted the character's popularity even further than those critical first appearances on "Batman: The Animated Series." Robbie's dedication to the role is also evident in her constant vigilance toward the character's portrayal and backstory.
The actress is speaking out about that popular pairing. During promotion for the upcoming "Babylon," Robbie talked about her years-long push for a Harley and Ivy romance. While she might be certain about having them appear on screen as a couple, she's far from certain about who should play the character. "Honestly, when I pictured, I always picture like Poison Ivy in the comics," she said during a Comicbook interview. Robbie, who got producer credit on "Birds of Prey," should have a say in who takes the role. She elaborated, saying no actress currently comes to mind for the part.