Seinfeld Wanted Rebecca De Mornay So Bad, They Named A Character After Her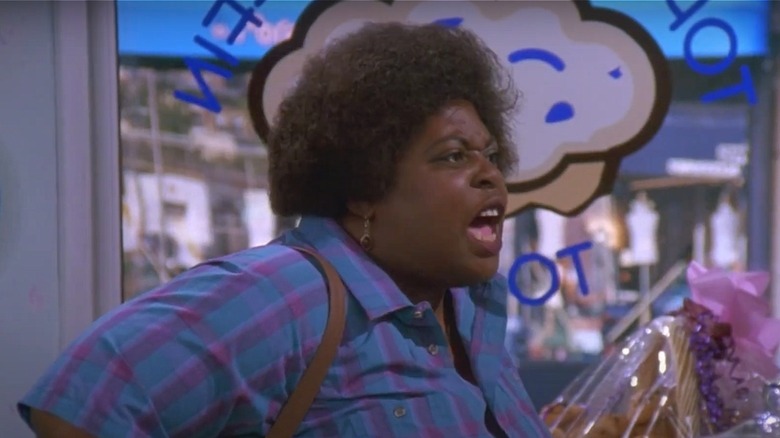 NBC
For a sitcom like "Seinfeld" that ran for as long as it did, there were countless guest star roles that interacted with the main cast over the years. For fans to consider a guest appearance memorable, it was usually due to their storyline, behavior, or how they interacted with Jerry (Seinfeld) and friends. On at least one rare occasion, an actor was not only memorable for her performance but also because of the character's name. The actor was Sonya Eddy, and she portrayed a character named Rebecca De Mornay over two separate episodes. For those who don't know, De Mornay is an actor best known for the films "Risky Business" and "The Hand That Rocks the Cradle."
Eddy, who is best known for playing the role of Epiphany Johnson on "General Hospital" for 543 episodes, first played Rebecca De Mornay in Season 8, Episode 21 ("The Muffin Tops"). Here, her character storms into a local muffin shop that sells only the tops of the treat. Eddy's character complains about the muffin bottoms being delivered to the homeless shelter where she works. In Season 9, Episode 17 ("The Bookstore"), she plays the same character who then refuses to take George's (Jason Alexander) book donation, which has been flagged for being taken into a restroom. The interesting thing about Eddy's character was that she was not given this name during the audition process — it was added shortly before it was time to film.
The hope was to bring the famous star to the show
Around the time Sonya Eddy auditioned for this guest star role, "Seinfeld" was well into its long run. That may be why there were around 50 other actors there trying out for the same part. However, she explained to "This Podcast is Making Me Thirsty" that she knew she did well based on the reaction of the producers. "I don't remember what I did, but I made Jerry laugh," she recalled. "And then Larry [David] laughed too." Obviously, she got the role, but her character's name didn't change until during the rehearsal process. "I remember Jerry saying to me, 'What do you think about us calling you Rebecca De Mornay?'" Eddy wasn't put off by the random name change — she was more concerned with the show getting sued.
For many viewers, the comedy of a random character having the name Rebecca De Mornay was funny enough. But Eddy also revealed that she felt Jerry had bigger intentions. "They were trying to get her [De Mornay] to come to the show," she said. "I don't know, to be on the show or to be in the audience and for it to be a little treat for the audience." Eddy went on to reveal that De Mornay never did show up, and she was kind of bummed out about that. Despite the no-show, Eddy would continue to enjoy a coveted spot in "Seinfeld" history — up until her untimely death in 2022 (via The New York Times).