9-1-1 Fans Fear Buck Could Be Leaving The Show After S6 Episode 10's Cliffhanger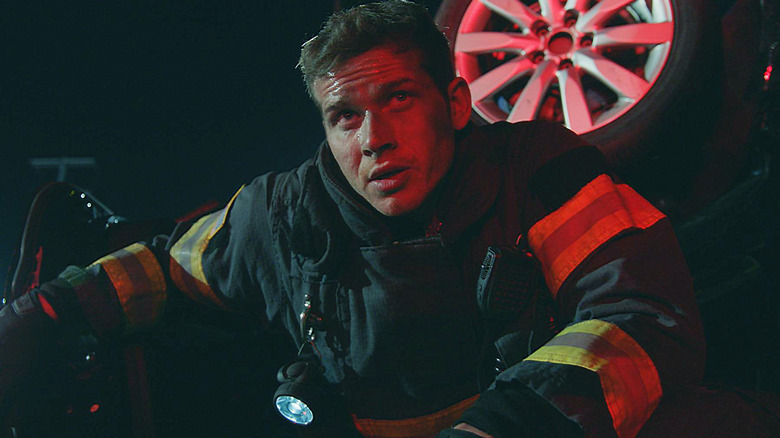 Jack Zeman/ FOX
"9-1-1" has been on winter break for the past few months, but it came roaring back with a vengeance on March 6. The Fox drama series returned with a highly promoted episode, titled "In a Flash," involving a dry thunderstorm rolling through Los Angeles. Lightning strikes hit various areas, and it's up to the crew to protect lives and put out any fires that may crop up. The danger lasted until the episode's final moments. As the team attempts to put out a fire at an apartment building, Buck (Oliver Stark) is hit, causing him to topple over the ladder. Eddie (Ryan Guzman) also receives some blowback, but the question on everyone's minds is whether Buck will make it out of the scenario okay.
The team manages to get Buck to a hospital, but the final shot of the episode is Buck's helmet left on the street. It's certainly a foreboding image that could signal the end of the long-running, beloved character. Fans certainly aren't ready to see him go, as many took to social media to voice their support and admiration for Buck.
Fans can't stand Buck's fate being left in the air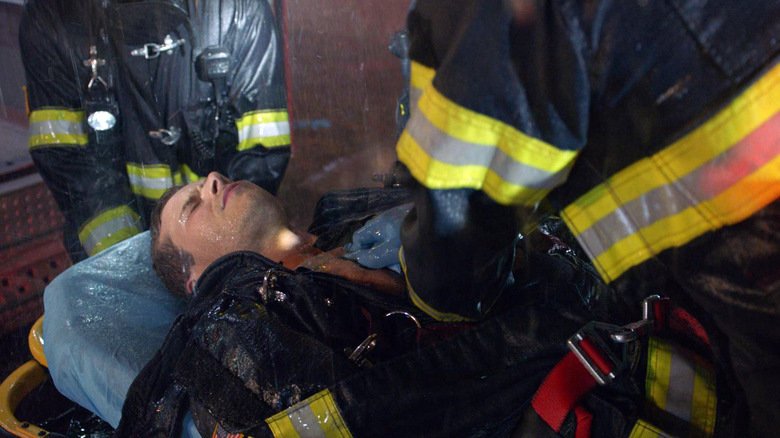 Jack Zeman/ FOX
"In a Flash" showed Buck sustaining a pretty serious injury. It's the kind of thing that could either result in the character's death. Even if he makes it out alive, Buck could decide to leave the force for his own safety. There's still a lot viewers don't know, and they'll have to wait a whole week until the next episode comes out to receive any clarity. But for now, viewers are taking to social media to voice how much they like Buck and don't want to see him go. 
Waiting months for new "9-1-1" was one thing, but waiting one more week is absolute torture for @cheetahhhhB3: "That ending was torture pure evil as a cliffhanger no less ...on 911 shows behalf I'm crying actual tears why buck hmm." A lot of fans didn't find it fair, especially seeing how often Buck finds himself in precarious predicaments. @Hannah_N_14 wrote, "What are y'all doing to me??!! Everything happens to Buck, and my heart can't take it anymore."
Buck has been on the show since the very beginning, and it would be a major blow to fans to see him go. @LoveWammie likely summed up a lot of fans' feelings writing, "Y'all didn't not just do that to Buck!!! I'll knock everything over if he is gone!" Buck will be featured in next week's episode, "In Another Life," with a plot description reading, "As Buck's life hangs in the balance, he dreams of a world where he never became a firefighter, for better and worse." It sounds like a heavily Buck-centric story, and hopefully, it's not the last time we see him.