Sons Of Anarchy's Michael Ornstein Was Initially Slated For Just One Episode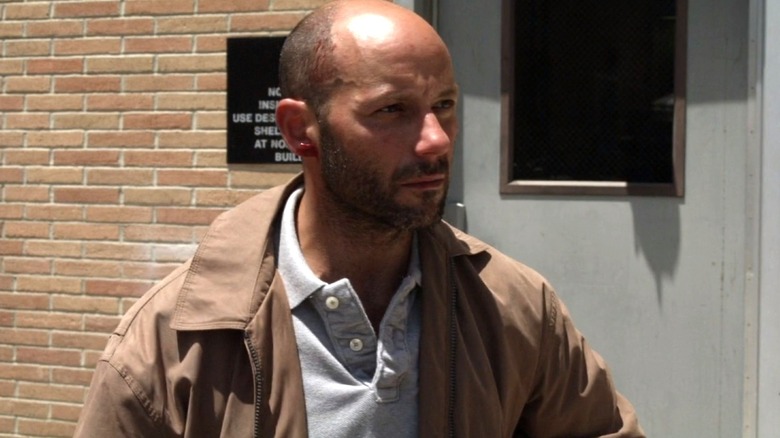 FX
Sometimes, TV characters are destined to be remembered for more than just an R-rated compulsive disorder. This is certainly the case for Chucky Marstein (Michael Ornstein), who Clay Morrow (Ron Perlman) and SAMCRO are unwittingly introduced to in Season 1, Episode 5 ("Giving Back") of "Sons of Anarchy."
At a glimpse, Chucky seems like a guy who's brought into the plot for brief comedic value. He also serves as a reminder that, when crossed, SAMCRO doesn't show any mercy. When we first meet Chucky, he's getting clobbered in prison by some Triads, a regular occurrence he fears will continue on the outside upon his release. However, incarcerated SAMCRO member Otto Delaney (Kurt Sutter) ensures that — in exchange for a massive sum of money that Chucky knows is hidden in a Triad-controlled eatery — Clay and his biker brothers will offer him protection.
Anyone in the vicinity of Chucky for more than a few minutes gets an uncomfortable experience due to his perverse tick. Because of this, SAMCRO's patience with him quickly wears thin. But it completely disappears upon learning that the money in the kitchen is counterfeit and the Triads are after him for stolen printing templates. Without hesitation, Clay throws Chucky into Triad hands.
Given Chucky's crimes against the Triads, it's easy to assume this is the last SAMCRO would see of this man. In fact, Ornstein was slated to appear in just one episode. However, Chucky finally goes against his catchphrase of "I accept that" and becomes a staple figure in Charming throughout "Sons of Anarchy." 
Chucky Marstein survives the Triads and becomes a vital SAMCRO ally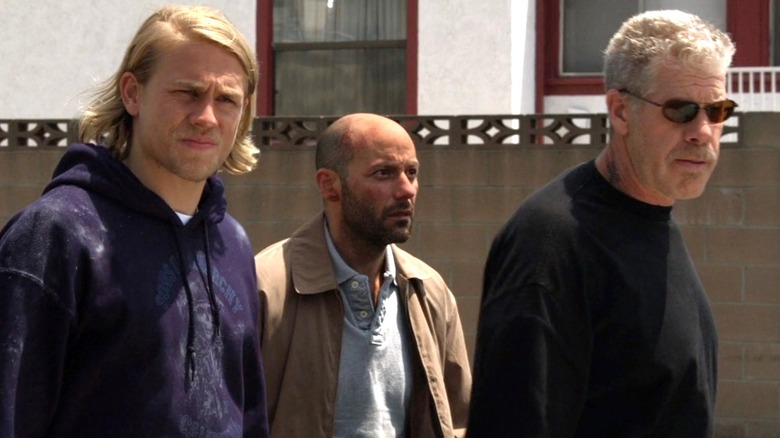 FX
Chucky's fate might look bleak when he's put into the back of Triad leader Henry Lin's (Kenneth Choi) car, but that's not the end of his story. This quirky character returns for every following season, ultimately becoming one of SAMCRO's most trusted allies. Gemma Teller Morrow (Katey Sagal) even fashions him some prosthetic fingers after the majority of his are cut off by Lin. According to Michael Ornstein, Chucky's unexpected trajectory almost didn't happen.
In an interview with Collider, Ornstein said, "I was just hired to do that one show in Season 1, and that was it. ... What I did on the last show, when they threw me in the car, was that I said to myself, 'Well, this is not a guy who would just sit in the car and let them take him away.' So when they threw me in the car, I just opened the other door and took off out of the car, and they chased me. I thought that was what this guy would do. He's a survivor."
Many "Sons of Anarchy" fans feel that Chucky is, surprisingly, one of the best characters on the show and are grateful to Kurt Sutter for bringing him back. On Reddit, u/semma333 used words like "unsung hero" and "emotionally compelling" to describe Chucky, who is there for SAMCRO through thick and thin. This user called attention to a particularly endearing Chucky moment when he comforts Abel (Evan and Ryder Londo), son of Jax Teller (Charlie Hunnam), during a stressful lockdown. "Despite being somewhat of a background character mostly meant for comedic relief, he gets right to my heart," said u/semma333.