JK Rowling Was Tossed Out Of A Harry Potter Forum After Joining With A Fake Name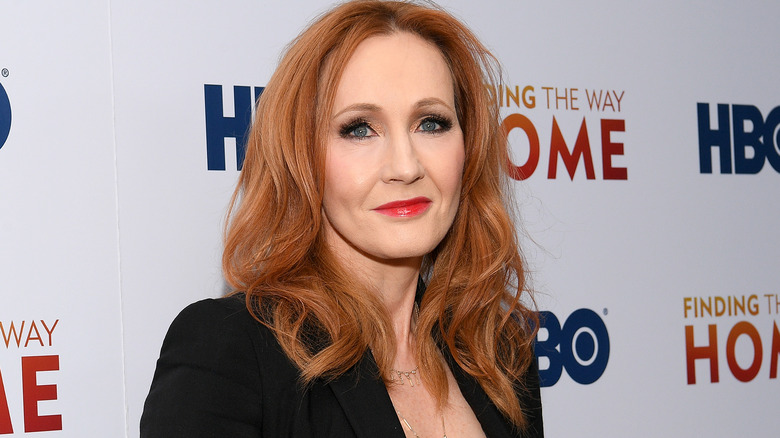 Dia Dipasupil/Getty Images
Characters in J.K. Rowling's "Harry Potter" books are constantly fighting for the little man (or the little elf). In "Harry Potter and the Goblet of Fire," Hermione Granger memorably created an organization that advocated for the rights of house elves at Hogwarts and beyond. The organization, known as the Society for the Promotion of Elfish Warfare (or SPEW), didn't last long — but it supported a central thesis of the "Harry Potter" series. Oppression, whether in the form of the authoritarian Dolores Umbridge or the elitist Draco Malfoy, is a plague on culture. Bullying is just another form of it.
Ironically, Rowling herself has claimed that she was once the target of bullying when she anonymously joined a Harry Potter forum in the early aughts, only to be swiftly rejected and all but ejected from the online fan club. In an episode of the documentary podcast "The Witch Trials of J.K. Rowling," the author described the sensation she felt after being told she had inadequate knowledge of the books, among other things.
Rowling left a chatroom after being insulted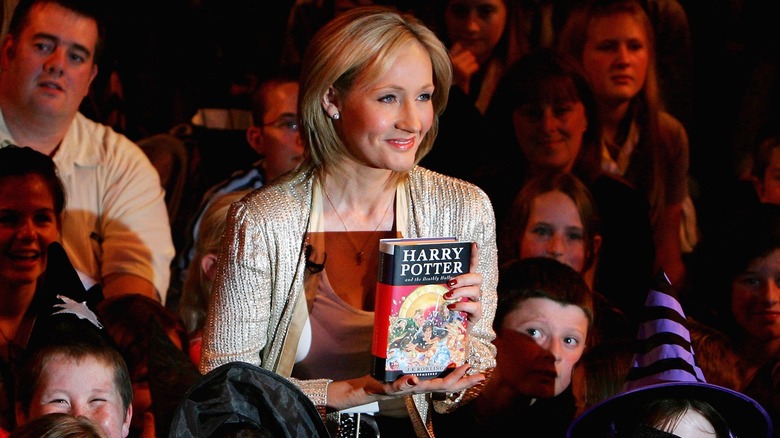 Cate Gillon/Getty Images
In an episode of "The Witch Trials of J.K. Rowling," the titular author discussed an odd memory from early on in her career, when she had a strained run-in with a group of particularly critical "Harry Potter" fans. After adopting a fake name and sharing an opinion on the books in a "Potter" chatroom, Rowling said she "got rounded on by users who told [her] in no uncertain terms to get out." Apparently, fans accused the anonymous Rowling of not knowing enough about the "Harry Potter" novels to be part of the group.
"I left," Rowling recalled. "And I was thinking, I've written three-and-a-half books where bullying is such a theme from the very first page. Where bullying — and authoritarian behavior — is held to be one of the worst of human ills, and look what just happened, from these people who call themselves such fans of this franchise." Rowling then added that she didn't feel particularly hurt but that the experience made her worried for younger fans who might feel rejected by such a group.
For Rowling, the memory of experience lingered because of the ostensible hypocrisy that the chatroom fans displayed. "They just kicked someone out because they were new," she explained. "I thought that was so interesting, that you're passionate about these books and yet, in the course of living, you are behaving in a way that I depict as one of the worst and most stupid human behaviors."
Other Harry Potter fan groups have denounced Rowling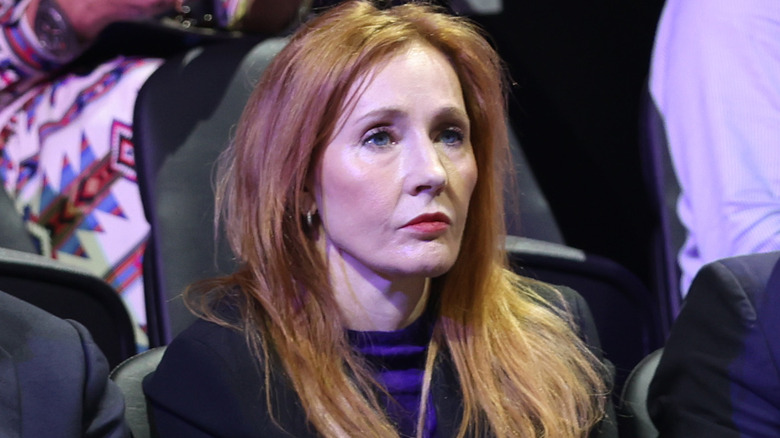 Clive Brunskill/Getty Images
The memory that J.K. Rowling shared of a toxic chatroom at the turn-of-the-century is far from the only time that the "Harry Potter" author has found herself at odds with the online fan community, though many of these other instances have come much more recently and for very different reasons. In recent years, the writer has turned vocal on the matter of transgender rights, and things have only gotten worse for Rowling in the court of public opinion as a result. Her stance, which has been overwhelmingly viewed as anti-transgender, has been a substantial source of controversy, with some critics arguing that Rowling is guilty of engaging in the same sort of bullying and oppression that her books firmly stand against. 
In 2020, after Rowling voiced opinions on transgender rights in a personal essay, major "Harry Potter" fan sites distanced themselves from the author. Both The Leaky Cauldron and MuggleNet released a joint statement affirming support of transgender individuals and noting that they would no longer provide coverage of Rowling's personal life and non-"Harry Potter" works. "Although it is difficult to speak out against someone whose work we have so long admired, it would be wrong not to use our platforms to counteract the harm she has caused," the statement reads. "We stand with 'Harry Potter' fans in these communities, and while we don't condone the mistreatment JKR has received for airing her opinions about transgender people, we must reject her beliefs."