Ina Garten's 60 Minutes Interview Had Viewers Fighting Back Tears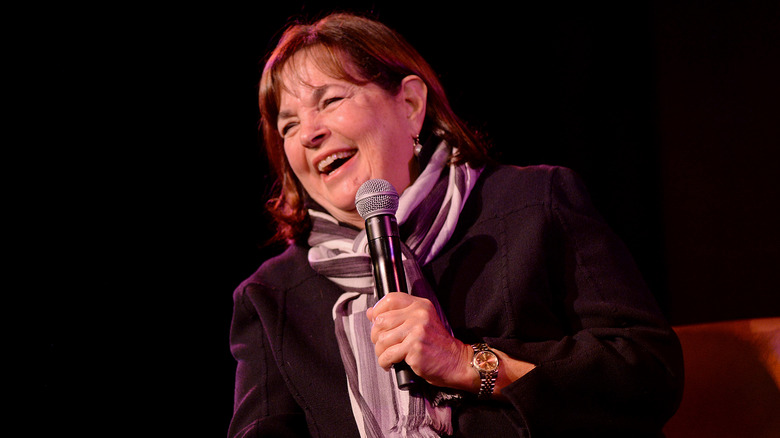 Brad Barket/Getty Images
Cooking can be an intimidating venture for many — not all of us were born like Remy from "Ratatouille." So it helps beginners to have someone on their side to make the process both easy to grasp and comforting. And for over 20 years, Ina Garten has invited millions of viewers into her kitchen to offer such an experience.
Alongside her numerous magazine columns, accolades, and New York Times-bestselling cookbooks, Garten is perhaps best known for her Food Network series "Barefoot Contessa." Beginning in 2002, the multi-Daytime Emmy-winning program remains one of the Food Network's longest-running shows. Whether she's whipping up elaborate French cuisines, a Thanksgiving potluck, or delectable desserts, Garten approaches her craft with an inviting and gentle nature, helping her stand out from similarly popular cooking shows.
But as if that isn't enough to endear yourself to Garten, the story of how she came to be made some viewers wonder if someone was cutting onions.
Garten's wholesome moment is just too sweet
In a 2022 60 Minutes special, interviewer Sharyn Alfonsi is brought through the luxurious home of Ina Garten. The acclaimed cook showcases everything from her kitchen techniques to her lush secret garden. But the true meat and potatoes of the segment is Garten herself.
While Garten's cooking seems effortless, the approach to her craft is surprisingly more arduous. She comments, "I know people don't believe this, but I'm really a nervous cook, and I'm sure every recipe is going to turn out wrong." We also learn of her story, from working in the White House State Department to opening her specialty food store Barefoot Contessa, which eventually became the name of her show.
Things take an especially wholesome turn when Garten's husband of 50 years, Jeffrey, enters the room and shares a cocktail. Viewers on the YouTube upload couldn't hold back their feelings, such as @floridafamilyfun1597, who commented, "When Jeffrey called her 'the center of the home' I actually teared up. I just love them both so much!" Similarly, @bracita15, who also admits to tearing up, praises the couples' lasting relationship, commenting, "I had no clue they've been together since she was 16 and married at 20. Wow!"
More than anything, the infectious energy for her work has continued to help Garten stand out. As she tells 60 Minutes, "Well, I just think if you're not having fun, then what's the point?"