Raegan Revord Doesn't Love Young Sheldon's Nostalgic Fashions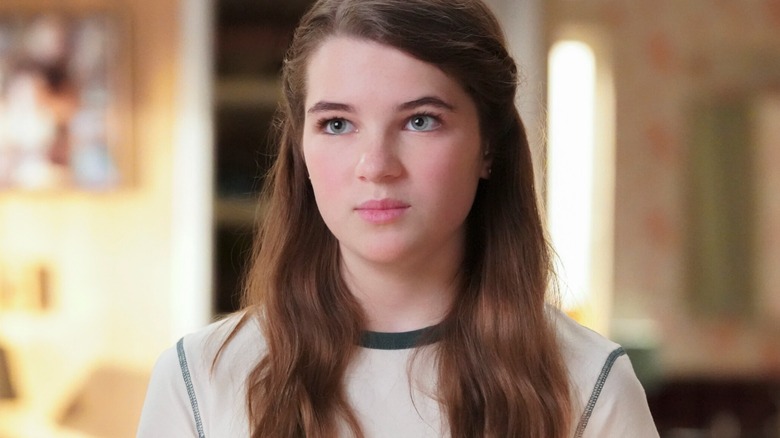 Bill Inoshita/CBS
When "The Big Bang Theory" came to an end in 2019 after 12 years on the air, fans weren't entirely left out in the rain. Sure, the iconic sitcom was over, but its reference-filled prequel series, "Young Sheldon," was still going strong. At the time of this writing, it's up to six seasons and surpassed the 100-episode mark some time ago, giving audiences a look at the childhood of Sheldon Cooper (Iain Armitage) quite effectively. Not to mention, it has also fleshed out his entire family beyond what "The Big Bang Theory" could provide.
Throughout "Young Sheldon," all the members of the Cooper family have taken the spotlight for some amount of time. As a result, fans have gained a better understanding of, and in some cases, appreciation for, characters like Meemaw (Annie Potts) and George Cooper Sr. (Lance Barber). Sheldon's twin sister, Missy Cooper (Raegan Revord), is no exception, having led storylines all her own over the years. While Revord has voiced her love for the role, the show at large, and the legendary co-stars that she's learned so much from, she hasn't shied away from expressing the odd complaint.
For example, Raegan Revord has admitted that when it comes to the antiquated sense of fashion that "Young Sheldon" — which is set between the late 1980s and mid-1990s — has to offer, she's not a fan.
Revord says her Young Sheldon wardrobe isn't the comfiest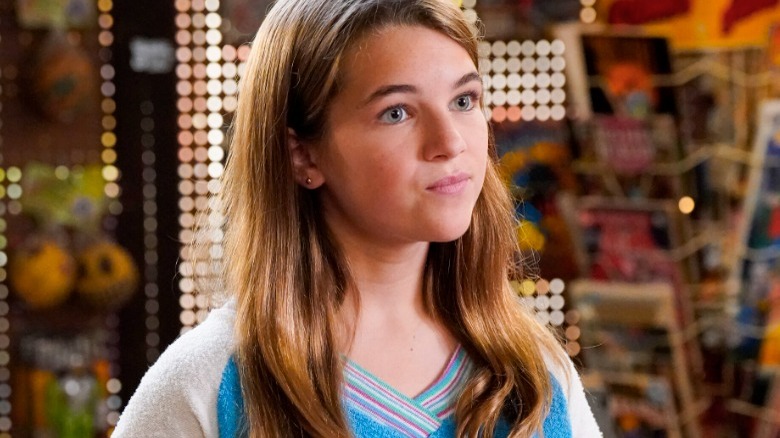 Robert Voets/CBS
During an interview with Sense of Self Magazine, Raegan Revord spoke on her "Young Sheldon" wardrobe. All in all, she didn't have the most glowing assessment of the outfits of yesteryear — largely due to the materials used and the proportions. "I'm not a huge fan of the clothes from the '80s, though. Everything is so tight and itchy," she told the publication. Although, she mentions that since her mom grew up in the era that the series is set in, she does have some nostalgic fun whenever there's a costume fitting.
While the bulk of her "Young Sheldon" wardrobe isn't all that comfy, it does still have some high points in Revord's eyes. As she shared with Koji Arsua, she has an affinity for scrunchies since she's gotten to wear them so often on the show. Outside of strictly fashion, Revord has also shared that she's a big fan of the music of the "Young Sheldon" era and older. "I love Queen. I love the Beatles. I love Journey, Fleetwood Mac, the Cranberries," she said, lamenting a cut scene where Missy would sing "Faith" by George Michael.
Her Missy Cooper outfits may not be the comfiest, but Raegan Revord seems to be managing. Hopefully, the "Young Sheldon" costuming department will come up with some better clothing for her in the coming years.