Many Young Sheldon Fans Strongly Dislike Dale (& Their Reasoning Is Solid)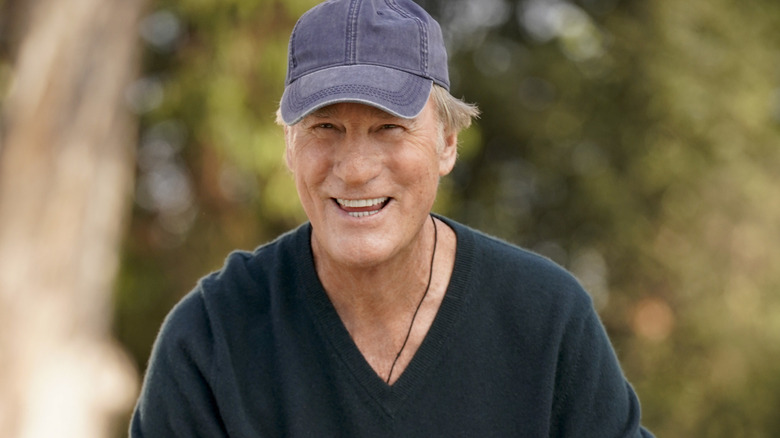 Robert Voets/2022 Warner Bros. Entertainment Inc.
It's no secret that Connie Tucker, aka "Meemaw" (Annie Potts), is one of the most beloved figures in the life of her grandson, Sheldon Cooper (Iain Armitage). She embraces his quirky mannerisms and endearingly refers to him as her "Moonpie." Meemaw might be at the top of her game when it comes to grandparenting, but her choice in men leaves something to be desired.
For much of "Young Sheldon," Meemaw is dating Dale Ballard (Craig T. Nelson), owner of Ballard's Sporting Goods and coach of Missy Cooper's (Raegan Revord) baseball team. Overall, Dale has some positive traits, most notably his ability to hold his own against his firecracker significant other.
Meemaw isn't the easiest person to get into a relationship with, but he often tries to set things right when they get into a tiff. A prime example is when Meemaw asks Dale to let Missy sit out at the impending baseball game. Missy fears that if she strikes out her crush, he won't like her back. Though Dale is at first against the idea, he obliges in the end, much to Meemaw and Missy's delight.
Despite these occasional sweet moments involving Dale, "Young Sheldon" viewers strongly dislike him for some pretty solid reasons.
Young Sheldon fans think Meemaw deserves better than Dale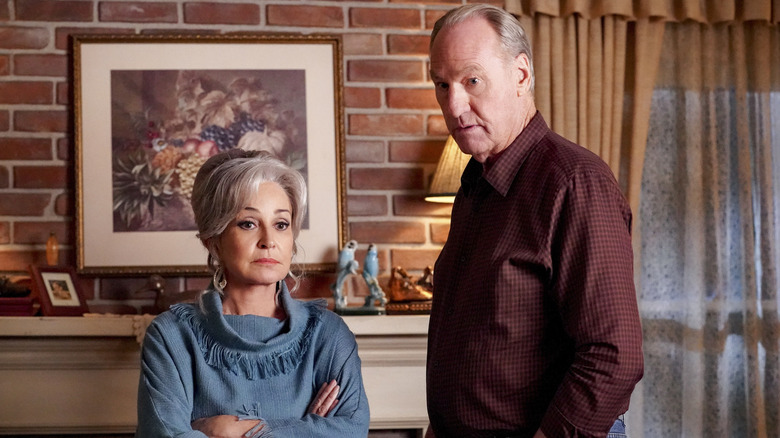 Bill Inoshita/2021 Warner Bros. Entertainment Inc.
Many "Young Sheldon" fans agree that Dale Ballard isn't a very likable person, let alone a good match for Meemaw. On numerous occasions, his actions are extremely unfavorable, particularly in Season 5, Episode 4 ("Pish Posh and a Secret Back Room"), which sees Meemaw take ownership of the local laundromat and its hidden gambling room. She's excited over this venture, but Dale has his qualms. In fact, he asks his police officer friend Jake (Bill Fagerbakke) about the legality of it all. Thanks to Dale spilling the beans, Jake shuts down Meemaw's operation to strengthen his campaign for sheriff.
On Reddit, u/ceaidemusetel_cu_ok said, "What the hell's wrong with him?? ... Dale does not apologize in the tiniest way! He gets the prize for the world's biggest snitch. ... Whenever I see him on the screen I just KNOW he'll get on my nerves." U/FunKyChick217 added, "I think he's jealous that she's gonna have something occupying her time other than him."
Fans highlighted other unfavorable Dale moments, including when he fires Georgie Cooper (Montana Jordan) for allowing the sporting goods store to get robbed under his supervision. Though Georgie gives Dale money from his own pocket to make up for the incident, Dale doesn't care. There are also concerning boundaries regarding Dale and his ex-wife June (Reba McEntire), who he helps shower after she breaks her leg.
Dale actor Craig T. Nelson completely understands that he'll never be anyone's favorite character on "Young Sheldon." But that's part of why he wanted to take on the role. He told TV Insider, "This guy is a jerk, but he's a fun jerk."