Modern Family's Jesse Tyler Ferguson Thought He Was Going To Be Fired After A Holiday Episode
Up until around 2009, you could show a stranger a picture of Jesse Tyler Ferguson and ask "who is this?" and more often than not, they'd ignore you and tell you to leave them alone. Then came "Modern Family," and everything changed — strangers would still tell you to leave them alone if you held up a picture of Jesse Tyler Ferguson in their faces, but they'd open by saying "what's with the picture of the 'Modern Family' dude?"
Yes, starring on the hit ABC sitcom certainly did a number on Ferguson's career. Eleven seasons of wildly successful television work will do that. But for one remarkably crumby day during "Modern Family's" early seasons, the future five-time Best Supporting Actor in a Comedy Series Emmy nominee was fully certain that he was about to lose his job. Why? For the same reason that we all think we're going to get fired from a new gig at some point. His alarm didn't go off.
Jesse Tyler Ferguson thought he was history on Modern Family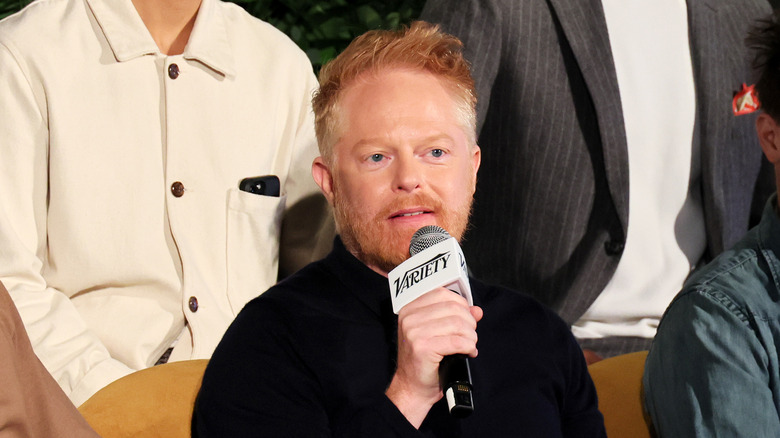 Dia Dipasupil/Getty Images
Jesse Tyler Ferguson recounted his tragic tale in an exclusive interview with Mashed way back in December of 2022. It was the early days of "Modern Family," and the show was shooting a holiday episode at a mall. It's the kind of setting that you take for granted as a viewer, but which comes with some pretty incredible production hurdles if you want to make it look real. Further complicating matters was the fact that Ferguson lived, by his own estimation, far from the set.
"For some reason, my alarm didn't go off that day. I overslept and they were calling me, and I was an hour away from the set," Ferguson told Mashed. "It wasn't like I was keeping a few of my cast members waiting — it was a scene with tons of extras. We were at a mall; there were all these extras that were playing shoppers and people visiting Santa Claus."
How did he respond? "I was like, 'Oh my God, I'm going to get fired. This is so unprofessional'" the actor recalled. "[...]They were like, 'Mistakes happen, but don't do it again.' Every time I watch that episode, I get anxious about how long I kept people waiting."
Let that be a lesson to any young professionals just entering the industry: Show up on time and ready to work or you, like Jesse Tyler Ferguson, might get stuck with more than a decade residuals and the opportunity to act in "Spamalot" on Broadway.
Static Media owns and operates Looper and Mashed.