Shawn Levy Is Grateful For This Is Where I Leave You's Second Wind On Netflix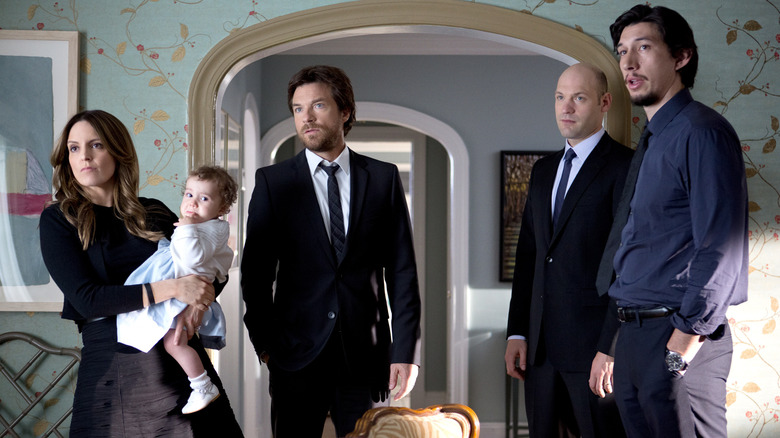 Warner Bros. Pictures
Before teaming up with Ryan Reynolds for "Deadpool 3" and building a "Stranger Things" universe on Netflix, Shawn Levy directed an all-star cast in the comedy "This Is Where I Leave You."
The movie follows the members of the Altman family, who return to their childhood home after their father's passing. Each sibling brings their personal baggage home with them. Judd's (Jason Bateman) wife recently cheated on him, Wendy's (Tina Fey) husband chooses work over their family, Paul (Corey Stoll) is trying and failing to conceive with his wife, and Phillip (Adam Driver) is a failed entrepreneur. The film uses the funeral setting and its impressive roster of comedic actors to tell a heartfelt story of family, grief, and love.
Unfortunately for Levy, critics didn't look so kindly on "This Is Where I Leave You," which scored a 44% on Rotten Tomatoes. Many cited that, although the movie features an ensemble cast, it fails to deliver the powerful message it set out to, resulting in a subpar dramedy. However, audiences didn't feel the same when the movie came out in 2014, loving the film and its impressive cast that includes — outside of the Altman siblings — the likes of Jane Fonda, Rose Byrne, and Timothy Olyphant.
Netflix recently added "This Is Where I Leave You" to its ever-growing archive of movies, and audiences have once again shown their love for Levy's work, making it the streaming service's No. 1 movie.
Shawn Levy loves that audiences are enjoying This Is Where I Leave You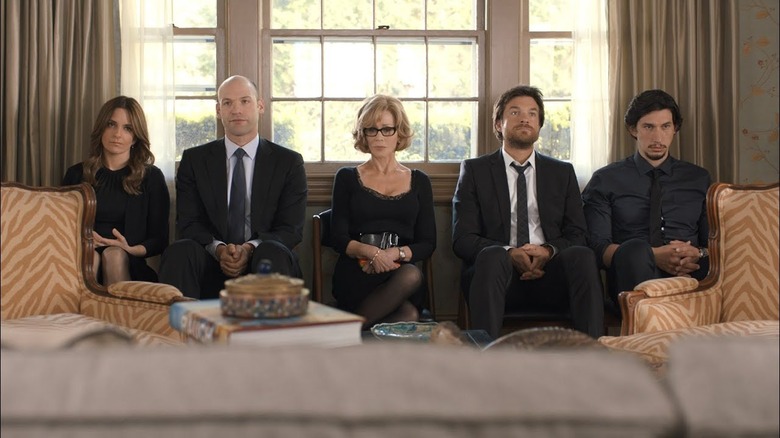 Warner Bros. Pictures
"This Is Where I Leave You" director Shawn Levy took to Twitter to express his gratitude to audiences for making it the most popular movie on Netflix. "Took a minute, but I'll take it!" the director wrote. "Thanks everyone who's watching and sending such kind words about our long lost little movie." 
The film premiered in 2014, earning just over 40 million dollars at the box office. Even though it made over double its budget, it didn't attract much attention from casual moviegoers. Thankfully, the dramedy found new life on Netflix, with many fans replying to Levy's tweet, expressing their love for the under-looked comedy. @RelayTS simply stated, "Just watched it last night, it's incredible," while @Smileesalot1 listed "This Is Where I Leave You" as one of their favorites, loving the movie's character interactions. @Chris53891059 pointed out how impressive the ensemble cast is, while @CreativLicense_ focused on Adam Driver, saying, "Adam is so good at comedy, and TIWILY shows that off." 
Many, like @ItsRyanUnicomb, loved the movie's depiction of family, saying, "I've told you before! That last scene with Jas & Adam is one of the most raw & realistic family moments I've ever seen. I appreciate it more and more." For others, like @Alexx_A and @Julie_Gins, "This Is Where I Leave You" helped them through similar family tragedies. The former reminisced on seeing it in theaters with their brother after one of their parents passed, making for a memorable experience. 
It's clear that "This Is Where I Leave You" showcases the beautiful side of streaming services, giving once passed-over movies a second chance to find a well-deserved fan base.