NCIS: LA's Showrunner Assures Fans A Hetty Storyline Will Be In The Series Finale
CBS
Patrolling Naval bases probably sounds like a fairly boring job to some people, but they've probably never watched the popular "NCIS" show and its spin-off, "NCIS: Los Angeles." Currently in its last and final season, "NCIS: LA" certainly has quite a few plots and story arcs that it needs to wrap up, with one story in particular commanding the lion's share of attention — that of Operations Manager Hetty Lange (Linda Hunt). In the past few seasons, Hetty has been somewhat absent from the show on account of her covert missions. But she used to take a far more active role in the series, which is probably why people will want to see Lange come back into the picture.
Speaking with Entertainment Weekly, showrunner R. Scott Gemmill announced that Season 14 would be the final season of "NCIS: LA." "My deepest gratitude to the cast members, who have brought our characters to life with their impassioned performances — thank you for your talent, professionalism, and continuous enthusiasm," he said. "And to our loyal viewers who loved our characters and followed their journeys, thank you. We look forward to delivering an end to the series that is both satisfying and does justice to these beloved characters." Luckily, Gemmill recently clarified the future of Hetty, and it certainly sounds like good news.
Hetty's story will reach a satisfying conclusion, according to the NCIS: LA showrunner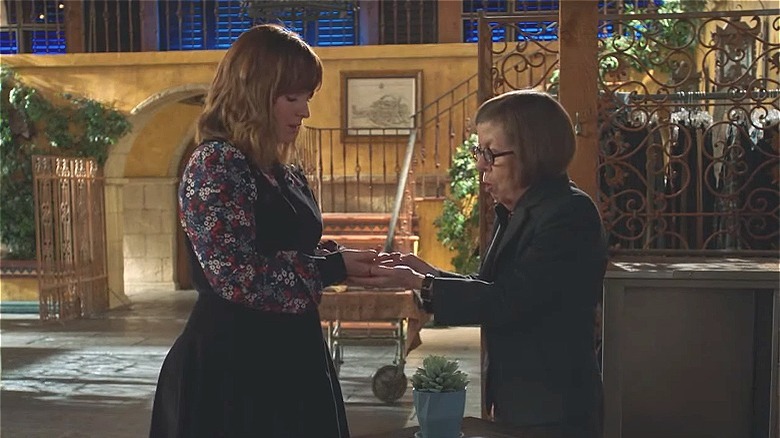 CBS
In a recent interview with Parade, R. Scott Gemmill spoke about the upcoming ending of "NCIS: Los Angeles" and what fans can expect from the final episodes. Of the topics covered, Gemmill mentioned that there would probably be a wedding at some point, but they also brought up Hetty Lange. Within the context of "NCIS: LA," Lange is utilizing her connections and elite training on secretive missions, which results in her former co-workers being left completely blind as to her whereabouts or her ultimate goals. However, it does seem like Lange and her fans won't be left in the dark.
When asked if the team of "NCIS: LA" will have to rescue Hetty or engage in some dangerous behavior or scenes involving the character, Gemmill replied, "We don't get to that point, but it's put in motion. Let's put it that way. We are going to have steps taken to resolve Hetty's storyline in a way that I hope leaves fans feeling excited." This statement makes perfect sense considering the nature of Hetty's current work. It sounds like it won't get to a place where Hetty is in danger and needs to be rescued, but there will be some event that occurs that brings Hetty back into the picture. Either way, the showrunner of "NCIS: Los Angeles" seems confident that fans will be happy, and one can't really ask for more.