Family Guy, The Simpsons, And Bob's Burgers Collide In A New Must- See Clip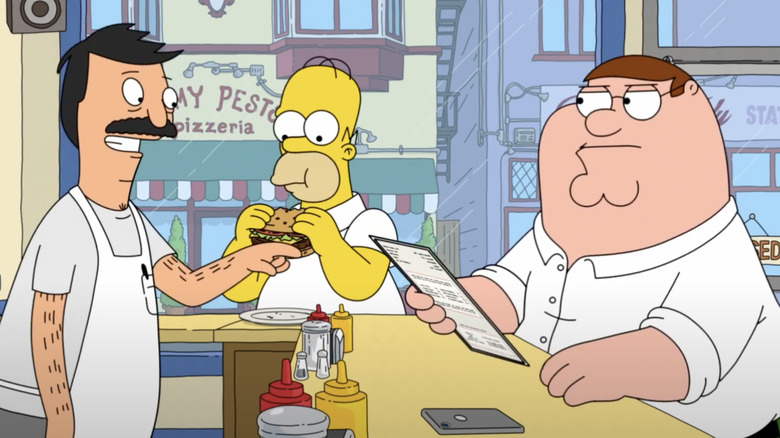 Fox/YouTube
Titans of adult-animation have united in a clip from an upcoming episode of "Family Guy."
The long-running Fox comedy series, created by Seth MacFarlane and now in its 21st season, has the ambitious crossover taking place at the beginning of Episode 15, "Adoption." Set to air March 12th, Fox has made the scene in question available online, which features not just two, but three major universes colliding.
Peter Griffin (MacFarlane) can be seen sharing the proverbial stage with fellow dads Homer Simpson (Dan Castellaneta) of "The Simpsons" and Bob Belcher (H. Jon Benjamin) of "Bob's Burgers." All three programs air on Fox, making their union a no-brainer for "Family Guy" co-showrunner and executive producer Rich Appel. "Bob and Homer are justifiably two of the most popular and recognizable faces of animated comedy," he told Entertainment Weekly while unveiling the clip. "[E]ven folks as jaded as Hollywood sitcom writers get a thrill seeing them together in the same scene."
Peter has to leave his own show to escape his wife
In the scene (the cold-open of the March 12th episode), Peter makes a slow, bored escape as Lois (Alex Borstein) attempts to tell him about a particularly mundane dream she had the night before. Step by step, he walks backward down the street past Quagmire, Joe, and Cleveland, until he miraculously finds himself in the titular restaurant from "Bob's Burgers." Peter explains that he has backed up "all the way into the show before us," before Bob acknowledges an eerily unspeaking Homer. Maybe Dan Castellaneta wasn't available to record? In any case, it all sets up a hilariously self-deprecating punchline in which Bob informs Peter that Emmy-winners receive a special discount — dejectedly, Peter orders black coffee and toast (unlike "Bob's Burgers" and "The Simpsons," "Family Guy" has never received an Emmy).
"It's the same sort of excitement you feel when a Chicago policeman and a Chicago fireman are in the same scene on a Chicago-themed program," said Appel to Entertainment Weekly. On the subject of further appearances from other animated series' characters, Appel joked, "We don't have any more crossover appearances planned, but we reserve the right to change our minds if a new Fox animated show premieres and is a huge hit and we feel that shoehorning one of its characters into our show could bring us even the slightest bit of reflected glory."