Melanie Lynskey Has A Lot Of Darkness To Draw On For Her Yellowjackets Role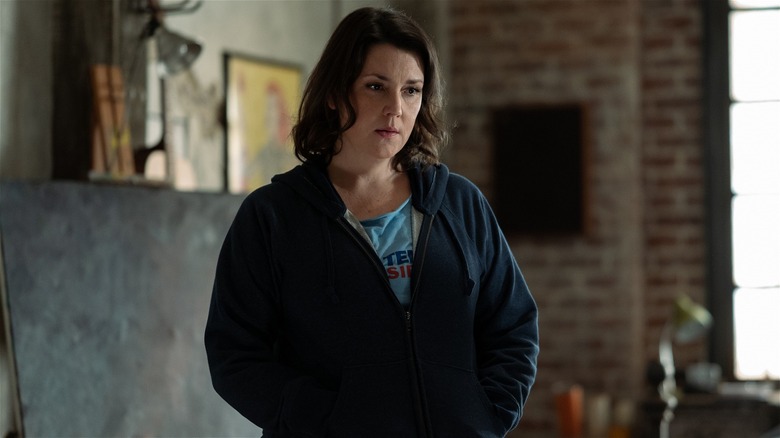 Kailey Schwerman/Showtime
Cannibalism, murder, and cults are just some of the concepts viewers need to accept to watch Showtime's newest sensation, "Yellowjackets." Taking a page from movies such as "Alive," the first season of the series depicts the 1996 plane crash of a high school girls' soccer team and the ramifications that are still present 25 years later. In the present timeline, the remaining women convince the press that they scavenged and they starved for 18 months until they found rescue. But the reality was quite different. Teenage girlhood turns even more savage when factions start to form and survivors start dropping left and right.
And that was just the end of Season 1. According to actors coming on the scene for Season 2, "Yellowjackets" will reportedly be more intense than one might think. Thankfully for Melanie Lynskey, she is old hat with dark material. The actor got her start in Peter Jackson's disturbing true crime story, "Heavenly Creatures." Now she appears as "Yellowjackets" lead, Shauna, who finds that she has a great talent for sharp-edged weapons. The darkness that Shauna brings back from the wilderness is a feeling that isn't totally unfamiliar to Lysnkey. And as all good actors do, she drew from what she knew.
Adolescence is tragic for everyone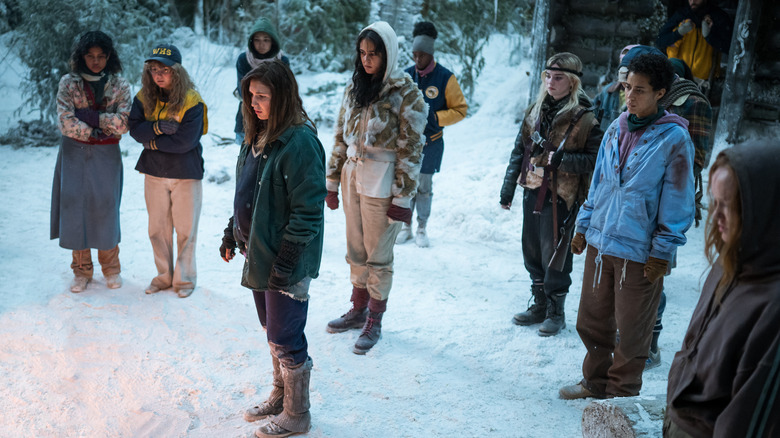 Kailey Schwerman/Showtime
If anything is a metaphor for the difficulties of being a teenage girl, it's "Yellowjackets." Sure, the New Jersey girls' soccer team is thrown into impossible circumstances when they crash-land in the Canadian wilderness. However, this is only the icing on the cake of adolescence. Especially as a teenager, it is easy to be insecure, questioning if your friends like you or if it's all pretend. Melanie Lynskey understood these complex dynamics that she struggled with in her youth.
"I wasn't a very light teenager. I was quite sort of depressed a lot of the time," Lynskey told NPR. "If you've ever been shy or awkward, it's almost impossible to stop feeling that way." Even without the tragedy of a plane crash, it's unlikely that Shauna would remain friends with her best friend, Jackie (Ella Purnell). Before they get on the plane, young Shauna (Sophie Nélisse) and Jeff (Jack DePew) have already slept together behind Jackie's back. Natalie (Sophie Thatcher) already has the trauma of watching her father's brutal death. And Misty (Samantha Hanratty) is already ... well, Misty. Being a teenage girl is one of the most harrowing experiences one can go through, as anyone who has been through it knows. Even into adulthood, Shauna can't reconcile what she went through. Not every teenage girl knows what it's like to find your best friend frozen to death, but everyone knows what it's like to have doubts.