The Last Of Us Fans Can't Get Over What Joel Said To Ellie In Episode 8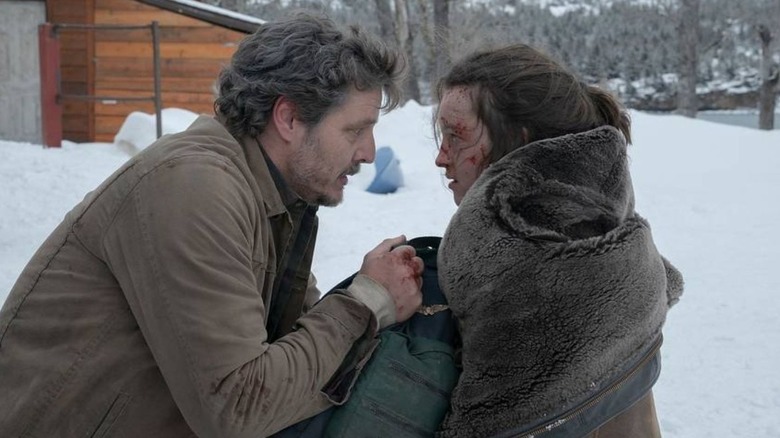 HBO Max
Like clockwork, HBO Max's "The Last of Us" had viewers in absolute shambles on Sunday after they released yet another emotional installment of Craig Mazin and Neil Druckmann's lauded adaptation. Druckmann, the visionary writer and video game designer behind Naughty Dog's 2013 game of the same name, has managed to translate the most important narrative beats in a way that seems to resonate with fans old and new.
Sunday's Episode 8, "When We Are In Need," delivered an incredibly impactful beat after the story's darkest chapter yet. While trying to keep Joel ("The Mandalorian" himself, Pedro Pascal) from succumbing to a nasty stab wound, Ellie (Bella Ramsey) encounters two men who seem to offer salvation: David (Scott Shepherd) and James (original Joel voice actor Troy Baker). It is soon revealed, however, that David is the leader of a cannibalistic, pseudo-religious cult seeking vengeance against Joel for a previous encounter.
There is a pivotal "Last of Us" moment where Ellie and David eventually come to blows in a burning steakhouse, where the young girl is forced to defend herself by hacking at her assailant with his own machete. The act is clearly psychologically damaging for Ellie, even as Joel rushes to her aid. Cradling Rasmey, Pascal delivered an iconic line from the games, bringing former players and keen-eared viewers to tears.
Fans think Pedro Pascal and Bella Ramsey nailed this scene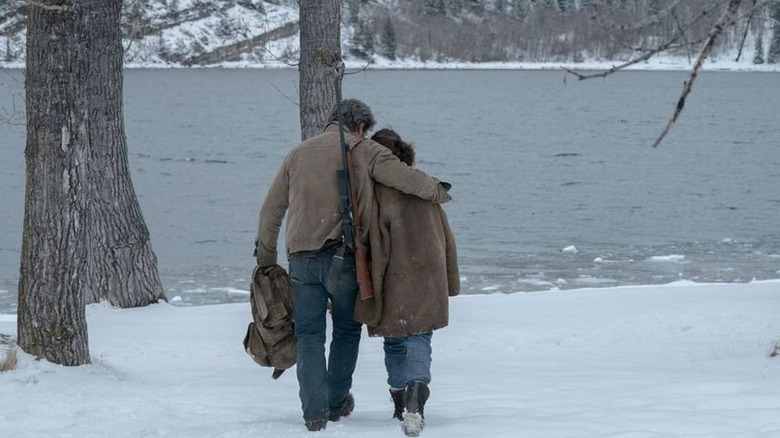 HBO Max
Steadily recovering from his injury (thanks to a quick dose of penicillin, courtesy of James and David), Joel arrives at the steakhouse just in time to pull Ellie away from the newly mutilated corpse of David. Trying to calm her down, Joel holds her tightly and calls her "baby girl." The name has a special meaning, as "baby girl" is what Joel once called his daughter, Sarah (Nico Parker).
Twitter user @thebyerscat commented, "Something about Joel not saying "baby girl" for twenty years since Sarah died and saying it to Ellie because she's hurt and she needs him, and that's his daughter too, and I'm not crying, you're crying, leave me alone, we're ALL CRYING." Another fan, @fcbformulaEri, quoted the scene alongside a gif of Rick Grimes from "The Walking Dead" sobbing.
Clearly, the episode brought out strong emotions from fans online, and for some, it even solidified Pedro Pascal and Bella Ramsey as the perfect Joel and Ellie. User @wrathsemilia stated, "After this episode, I don't want anyone to ever question Pedro Pascal as Joel and Bella Ramsey as Ellie ever again." Their performances garnered similar praise from @ellievjoel, who virtually exclaimed, "... BOTH PEDRO AND BELLA'S DELIVERY HERE IS IMPECCABLE."
Another user, @joelsmiller, brought up a direct quote from creator Neil Druckmann to highlight what makes the moment so effective. "'[I]t became more interesting that Joel saves Ellie emotionally & NOT physically,'" they relay. "'[D]avid's face becomes the punching bag. This is for Riley; this is for Tess; this is for Sam; this is for Henry; this is for my mom."