Creed III Stars Michael B. Jordan And Jonathan Majors Are Planning Future Collaborations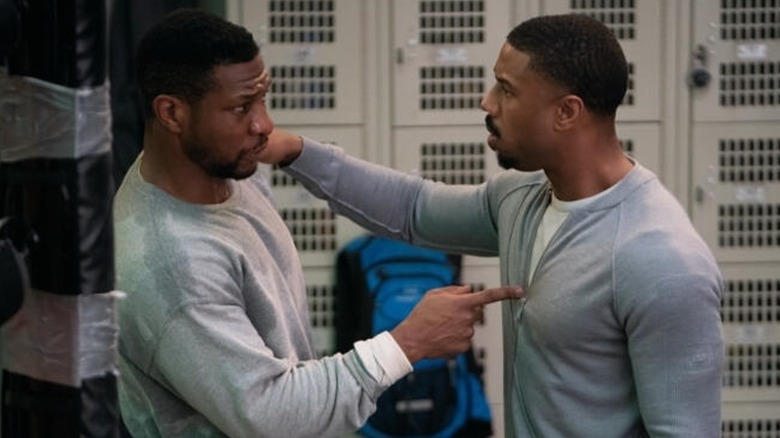 Metro-Goldwyn-Mayer Pictures
After conquering the box office with a smashing $58.6 million debut weekend in theaters domestically, it appears that "Creed III's" star and director, Michael B. Jordan, and his co-lead, Jonathan Majors, will be teaming up again on the big screen.
In the first two films in the "Rocky" series spinoff, Jordan stars as Adonis Creed, the son of Rocky Balboa's (Sylvester Stallone) late adversary-turned-friend Apollo Creed (Carl Weathers). In "Creed III," Adonis is going at it alone and is forced to confront his past when his old friend, "Diamond" Damian Anderson, resurfaces after a long stint in prison. Once a promising boxer, Damian wants Adonis — who retired from boxing and is now a powerhouse promoter — to give him a shot at the title. Adonis is leery of doing so because of his friend's volatility and lack of professional experience. Complicating matters is a past criminal incident involving the teenage Adonis and Damian, for which only the latter paid the heavy price.
Despite playing adversaries in "Creed III," Jordan and Majors are good friends in real life. After sharing a positive experience making the film together, it appears that they've formed a working relationship akin to two Hollywood icons.
Michael B. Jordan and Jonathan Majors feel that they have developed an Al Pacino and Robert De Niro-like working relationship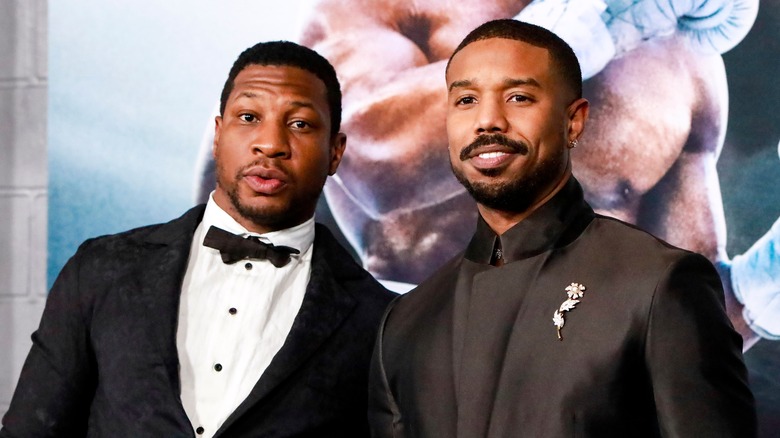 Joe Seer/Shutterstock
Naturally, Michael B. Jordan and Jonathan Majors have been making the interview rounds together to discuss their work on "Creed III," and noticing their rapport, an interviewer with the New York Times said to them, "The way you two talk about each other, it sounds like this is the first of many collaborations to come."
"It is. We plan on it," Jordan responded, while Majors added, "De Niro and Pacino."
While their characters' scenes were presented in different timelines, "The Godfather: Part II" in 1974 marked the first time Al Pacino and Robert De Niro appeared in the same movie. The duo shared the same space for the first time 21 years later in the classic crime thriller "Heat" in 1995 before reuniting again in the 2008 detective thriller "Righteous Kill" and the historical crime drama "The Irishman" in 2019.
Michael B. Jordan and Jonathan Majors plan on doing some 'damage' together
While the number of projects Michael B. Jordan and Jonathan Majors do together in the future is yet to be seen, the collaborators are determined to put out the same impactful work as Al Pacino and Robert De Niro.
"We're excited about that [type of work], and I have those conversations with him," Jordan told the New York Times of his plans with Majors. "Acting is such a solo journey, where you're fighting for your place on that call sheet for such a long time. So when you've got somebody that doesn't care as much about that stuff, it's like, 'Let's go. How much damage can we do together?'" to which Majors responded, "All of it."
With the success of "Creed III" at the box office, Majors has accomplished the rare feat of having starring roles in the top two domestic films. He also plays Kang the Conquer — the nemesis of Avenger Ant-Man (Paul Rudd) — in this weekend's No. 2 film, "Ant-Man and the Wasp: Quantumania."