What Happened To Nolan Gould After Modern Family?
The cast of "Modern Family" are certainly an eccentric bunch, but few can quite match the mindset of the Dunphy's youngest addition, Luke (Nolan Gould). While ultimately a good-hearted individual who is only looking to have some fun, Luke's antics have been questionable, to say the least. Throughout the show's over decade-long run, he has gotten into all manners of mischief, from accidentally claiming his mom called his dad's new wife a gold digger to leaping on a trampoline wearing nothing but a box on his head and some underwear. But despite all the chaos the character has started, fans wouldn't want him any other way.
And much of his lovable personality is undoubtedly thanks to the lively performance of Nolan Gould. Having portrayed the character since the show's start, audiences have not only gotten to see Luke evolve as a character but have also been able to witness Gould himself grow up before their eyes. When the show concluded in 2020, so was the end of seeing Luke's classic screw-ups. But thankfully, Gould's own career has continued over the years, with some surprisingly impactful projects amongst the actor's more recent catalog.
Gould has starred in some socially-relevant projects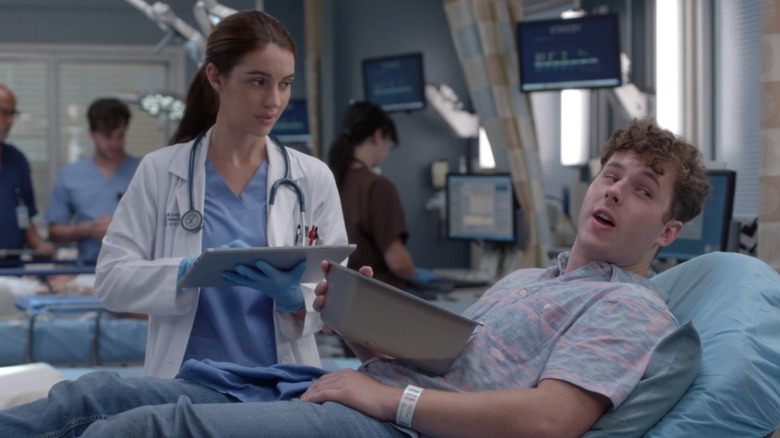 ABC
It seems only natural that after appearing on a show with as much diversity and social discussions as "Modern Family," Luke Dunphy actor Nolan Gould would seek out similarly relevant projects to star in. His next show following "Family" would be the series "What's Up North?" Co-created and starring Disney Channel star Trevor Tordjman, the Instagram TV — IGTV — series acts as a variety show that discusses relevant social issues with a comedic flair. Gould appears as Travis Tordjman in three Season 2 episodes.
He then made a special appearance on Season 19 of the long-running medical drama "Grey's Anatomy." On the episode "Wasn't Expecting That," Gould portrays Chase Sams, a college student who believes he and his roommate got food poisoning. After examining him further, it is discovered that he had a rash spreading throughout his body that would require him to be put in the ICU. Despite needing surgery to combat the issue, Sams makes it out okay in the end.
Gould's latest project is the 2023 film "Miranda's Victim." The film, which also includes such names as Abigail Breslin, Luke Wilson, Andy Garcia, and Donald Sutherland amongst its cast, showcases the tragic event that ultimately birthed the Miranda's rights. Gould, who portrays the character James Valenti, was thrilled to be a part of the project, falling in love with its important message and finding the film to be a refreshing diversion from his usual comedy roles.