Jennifer Lawrence's 60 Minutes Interview Left Fans Stunned Over Her Story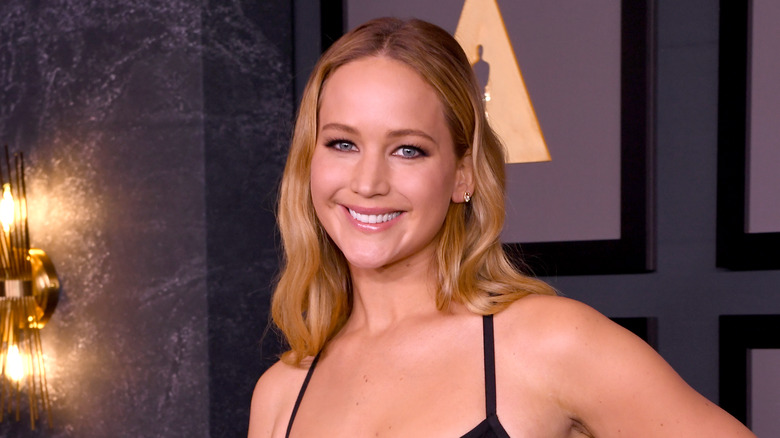 Jon Kopaloff/Getty Images
From "The Hunger Games" to "Mother!," there are few performers out there with quite the range of Jennifer Lawrence. The actress has been working since the late 2000s, but it would be the 2010s that won Lawrence worldwide critical and audience acclaim. After making an Oscar-nominated splash with 2010's "Winter Bone," Lawrence lent her talents to a wide array of high-profile films ranging from billion-dollar blockbuster franchises to smaller-scaled indie projects. 
From taking on the role of Mystique in the "X-Men" films starting in 2011's "X-Men: First Class" to portraying real-life millionaire Joy Mangano in 2015's "Joy," Lawrence's place in the entertainment world couldn't have been any more sealed. During that time, she even made some history, becoming the second-youngest best actress winner at the Oscars for her work in 2012's "Silver Linings Playbook" and becoming the world's highest-paid actress in 2015 and 2016. 
It's hard not to be inspired by what Lawrence has been able to accomplish in such a time. But for the "Don't Look Up" actress, it wasn't always smooth sailing. And an interview with Lawrence on the CBS show "60 Minutes" reveals the major sacrifice she made during her childhood to pursue her passions.
Lawrence doesn't have an issue with missing out on high school
It doesn't take more than one viewing of a Jennifer Lawrence performance to grasp how much the actress has given to her field. And that urge to go above and beyond for her work started out long before Lawrence became the beloved actress many know her as today.
In an interview with 60 Minutes, when asked if she finished high school, Lawrence responds, "I dropped out of middle school, I technically don't have a GED or a diploma." When asked if she regrets not partaking in the high school experience, Lawrence, who describes herself as a self-educated individual, honestly replies, "No, I really don't. I wanted to forge my own path, I found what I wanted to do and I didn't want anything getting in the way of it." To the "Causeway" star, her career was her priority, mentioning later in the interview that acting mattered to her even more than her friends for quite some time. 
As if Lawrence's stellar performances and inspirational characters aren't enough to admire, the commitment to her craft is more than enough to make her success all the more deserving. On the interview's YouTube upload, user Saoirse Kavanagh perhaps puts it best, commenting, "At 14 she knew exactly what she wanted to do with her life and went out there and did it, and succeed beautifully at it. For that she deserves credit."